Ghostland Observatory @ Republic NOLA!!
Submitted by mike on Wed, 04/08/2009 - 06:09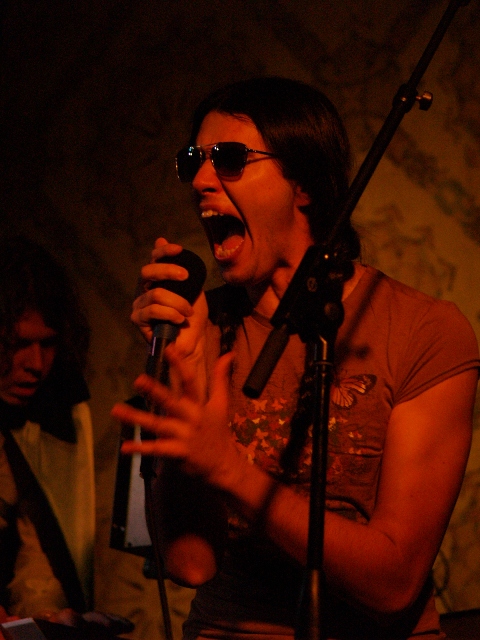 Ghostland Observatory is not a band, but an agreement between two friends to create something that not only heals their beat-driven hearts but also pleases their rock 'n roll souls. Working from their studio in Austin, Ghostland Observatory released two albums just in the last year and moved audiences from coast to coast with their live performances and unique style. In 2007, the band made its national television debut on NBC's Late Night with Conan O'Brien and released their first live DVD, Live from Austin, TX.
Ghostland Observatory is the duo of front man Aaron Behrens and producer/drummer Thomas Turner. Behrens' vocal style and stage performances are unique and uncompromising, and he has drawn early comparisons to Freddie Mercury and Prince. Turner is heavily influenced by electronic artists such as Daft Punk, Laurent Garnier and Green Velvet, as well as rockers such as The Animals, David Bowie, and The Clash.
With its spectral blend of electronics, drums, guitar and vocals, Ghostland Observatory has emerged with a sound that is the culmination of past influences and present inspirations, and can only be described as AWE-DACIOUS.
Don't miss this unique performance at Republic NOLA!
And remember, this year the Backbeat Jazzfest Series will be offering music lovers and the musicians they love smoke-free environments at all shows.
Advance tickets are $25 and can be purchased at www.backbeatpresents.com or www.ticketweb.com.
Additional details and information about the events can be found at www.backbeatfoundation.org or by visiting the Foundation's Myspace and Facebook pages. Additional information and updates about the series can be found at the Backbeat Jazzfest Series 2009 group page.
To learn more about Ghostland Observatory please visit their website at www.ghostlandobservatory.net.
The Louisiana Campaign for Tobacco-Free Living (TFL) and the Louisiana Department of Health and Hospitals Tobacco Control Program (LTCP) coordinate their efforts in tobacco prevention and control by providing statewide coordination of existing tobacco control initiatives, funding innovative community programs for tobacco control, and improve the overall health and quality of life in Louisiana. For more information visit, www.tobaccofreeliving.org.