The Gibson Brothers' new album in stores Now
Submitted by mike on Thu, 05/07/2009 - 05:38
Bluegrass duo The Gibson Brothers' talk about the "feel" of their new album, Ring the Bell. "It makes me think of being young and growing up in our small farming community in New York," explains Leigh. "It evokes memories of fellowship with the men who knew my Grandfather Gibson at church on Sunday mornings.  We'd see folks at the hardware store or the bank during the week and then see them all again at church each Sunday."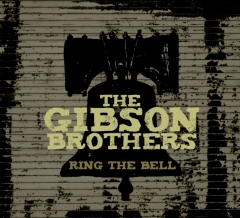 Eric agrees that there is an elated intensity to the album. "There is a lot of joy in the music. I think you can tell in listening that we poured our hearts out - not that you can't tell on our other records - but the joy in our playing and singing. At the same time, it feels like our most hard-driving bluegrass album; there's more thump on it, a bigger sounding record than we've ever had."
That bigger sound comes from having the whole band - Mike Barber (upright bass), Clayton Campbell (fiddles), and Joe Walsh (mandolin guitar), and guest Mike Witcher from Missy Raines & The New Hip (resonator guitar) - playing on every track. "I'm very proud of how the band served each song," agrees Eric.  "There's not a lot of 'look at me' acrobatic playing.  It's more 'let's support the vocals, let's support the message of the song, the feel of the song'."
While Eric admits to loving all of the songs on the album, he cites the title track as one of his favorites. "It feels so uplifting to me," he says "and I love my brother's harmony on it." Leigh adds, "This song is a call to action for coming together in a world that sometimes seems intent on tearing itself apart. More than just nostalgia, it's a song about love of fellow man."
Produced by the two brothers plus bassist Mike Barber, Ring the Bell features six originals (including a co-write with Bob DiPiero) and new songs by Shawn Camp/Paul Kennerly, Chet O'Keefe, Joe Newberry, and Marshall Warwick, and a relatively obscure Tom Petty song, "Angel Dream." Staying true to their upstate New York farm boy roots, The Gibson Brothers recorded two agricultural-themed songs for this record, one written by Leigh ("Bottomland") and one by Eric ("Farm Of Yesterday"). "Bottomland", originally recorded for an unreleased Skaggs record, is given an old-timey treatment here and touches on the lives of sharecroppers. "Farm of Yesterday" was written as a tribute to their parents and the family dairy farm that belonged to the Gibson family from 1865-2000. Eric showed the song to Leigh who was moved but said, "it might be too personal to put on the record."  Eric replied, "Laying it out there could be the difference between a good record and a great record." "Farm Of Yesterday" is Leigh's favorite song on the album: "I told Eric he'd now written one Haggard would sing."
Of the album as a whole says Eric "I think everything about it - from the album cover to the songs - is an attention getter and I hope folks will notice. Brother bluegrass acts are almost as old bluegrass itself, but I feel like we've carved out a special niche for ourselves. We've hung in there and toughed it out - we're still in our 30's but I feel like we're bluegrass lifers."