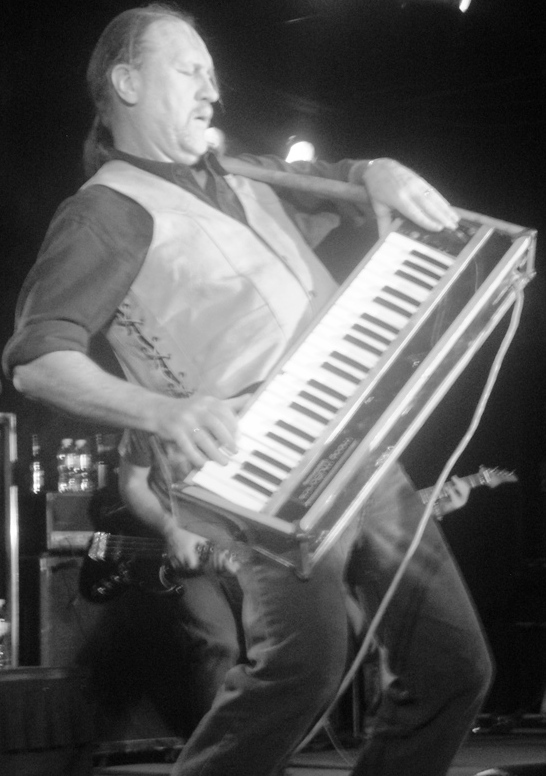 Just looking at them, the five members making up the current line up of 1970's band Head East may look like a bunch of older guys with long hair and guitars. Get them plugged in and playing though, and they give a performance just as impressive and rocking as ever before. The audience collected at Denver's Grizzly Rose for the band's show this Friday night surely didn't pack the bar, though it did represent old time fans and people simply looking for a good time. Aside from the Motley Crue look-alike members of opening metal band Angels & Bullets and a table of young couples in their twenties, the main body of the crowd was middle age spouses and singles. Ages among the crowd may have been more confined, but styles varied greatly, from cowboys and cowgirls to aged hippies and bar flies. Lifestyles, age, and dress aside, an endless flow of liquor and beer got the audience loose and dancing to Head East's flat out well performed set in an enjoyable atmosphere of fun and enjoyment.
To the less dedicated of followers of Head East, the highlights of the one and one half to two hour set was the group's two most commercial tunes: "Since You Been Gone" and "Never Been Any Reason." For those bigger fans however, it was a night to remember with a performance of the band's collection of greatest hits and newly recorded songs. Whether the songs were new, old, known, or unknown didn't make a difference though when it came to the music itself and the good time both the band had playing it and the people had listening to it. Classic, old songs remained true to their sound while new songs took on fresh subject matter with various musical styles that, even though written and recorded more than thirty years after their prime, carried on elements that too convey their original sound. Among such elements standing out in performance was ongoing instrumental solos, vocal harmony, and show of diverse musical styles.
In no particular songs did the main solos on lead guitar, keyboards, and drums come to the front line in performance. Rather, nearly each song, followed one after the other, had some bearing of solo work. With this was there an aspect of collectivity in the sound of playing between each musician; individual members brought their personal elemental style of playing into the greater sound of the group as one unit. Drummer Eddy Jones not only supplied the driving rhythm and strong backbeat, but impressed the audience with a short but intense solo stint that showed he knows how to work the drums and has a good time doing it. Jones' role and importance should not be underestimated, nor should the imperative position of bassist Greg Manahan, however it was the timbre of keyboard player and band leader Roger Boyd and guitarist Glen Bridger that more so stood in the forefront. Pounding it out on multiple sets of keyboards, Boyd played with such power and intensity that added depth and clearly apparent passion to the music, most notably in his highly energized performance of "Never Been Any Reason." Playing lasting riffs with a hook to them and consonant melodies to excellence was Bridger on guitar, with shrill, high tension solos of speed and agility that reflected where his abilities and excitement as a musician lie. Fronting the group with high rang vocals and a distinctive voice was Darren Walker. A cross between the singing voices of Geddy Lee of Rush and Bruce Dickinson of Iron Maiden in their classic song, "Run to the Hills," Walker's vocal range showed to be very dynamic. Making use of such pitches can be disastrous, but Walker showed control and used his vocals in a beneficial way that formed with the music rather than having contradicted it. Walker's vocals were not alone though, for it was in such songs as "Brother Jacob" that everyone banded together in a smooth, impressive harmonic texture.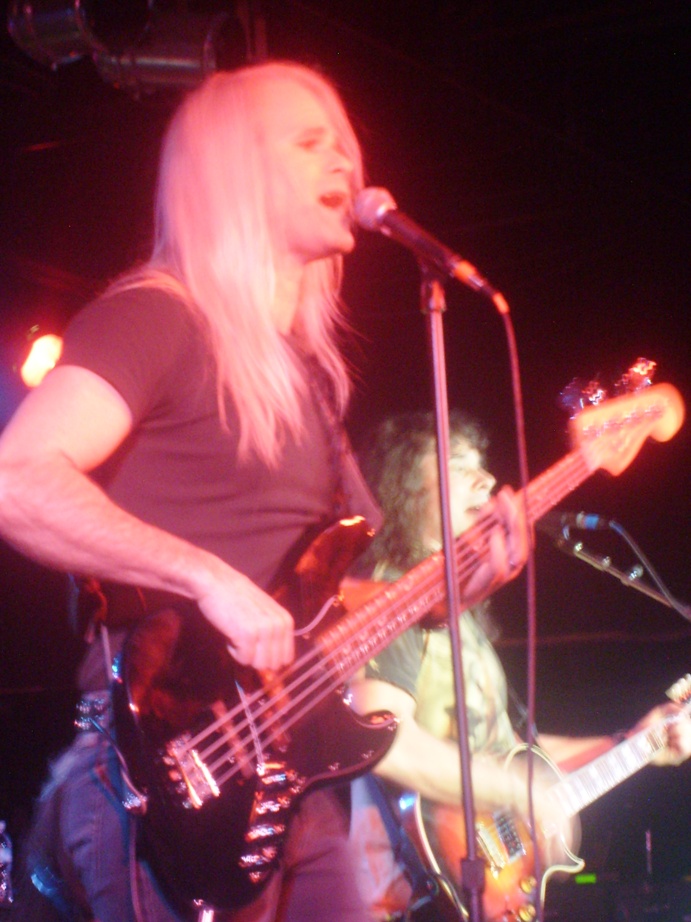 Against this backdrop of solos and vocal instrumentation the band played across a variation of musical styles. Their classic songs gave a taste of their archetypal sound, while new songs such as "Me and My Whiskey" reflected a much heavier rock style and others as "Prisoner" (written by Walker) took the tempo down to reflect more of a ballad. For as well as both the old and new songs were received, it was only a small group of people that gathered on the dance floor in front of the stage to be part of the intimate performance. As for the rest, the show was just as well viewed from the bar and small side tables. It was only during the performances of a cover of Stevie Ray Vaughan's "Pride and Joy" and the band's own "Never Been Any Reason" that the dance floor temporarily packed in more of a standing audience. Having drawn a greater part of the crowd with their biggest hit of the 70's, Head East's performance easily may have taken on the image of a group of old one hit wonders. Even as such, heart felt performances from each musician and a tight (though not eminent) set from the group as a whole made for a fun atmosphere that showed Head East's pure, honest joy in what they do regardless of their measure of fame.