Grateful Dead Set To Release "Dave's Picks Volume 1" - 5/25/77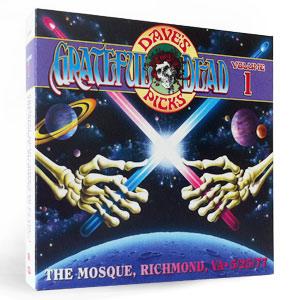 Chances are if you're a Dead Head you're already well-versed in the glorious spring of 1977. Back a year since their mid-'70s performing hiatus, and fresh from recording their Terrapin Station album in L.A. with producer Keith Olsen, the Dead returned to the road invigorated and excited that spring. There were fantastic new songs (including the "Terrapin Station" suite, "Estimated Prophet" and "Fire on the Mountain") and their older tunes seemed imbued with new vigor and vitality. Every stop of the tour, which stretched from the third week of April (beginning at the Spectrum in Philadelphia) through the first week in June (back at Winterland in San Francisco), presented some new wrinkle or interesting variation on the repertoire, as songs were moved around, unusual combinations were explored and the septet continue to solidify and mature. Which is a fancy way of saying the band was on fire—y'see, there's a reason why this is the ninth show from that tour to be released!
The three-disc Dave's Picks, Volume One was mastered to HDCD specs by Jeffrey Norman, includes a colorful booklet with photos and a lively historical essay, and comes in a digipak made of 100% recycled and PCW materials. This and future Dave's Picks releases will be limited to just 12,000 individually numbered copies, so if you don't want to get gauged on eBay lookin' for one of these babies in a couple of years, order your copy now! For the complete rundown of what songs appear on which disc, as well as ordering info, click here.