Grayson Capps | Live At The Paradiso
Submitted by mike on Wed, 11/25/2009 - 02:52
Hailing from South Alabama and spending over a decade in New Orleans, acclaimed singer-songwriter Grayson Capps has found listeners the world over enthralled by his stinging tales of the Southern Gothic. Nowhere is this more evident than in Holland where his shows draw impassioned fans who hang on every lyric.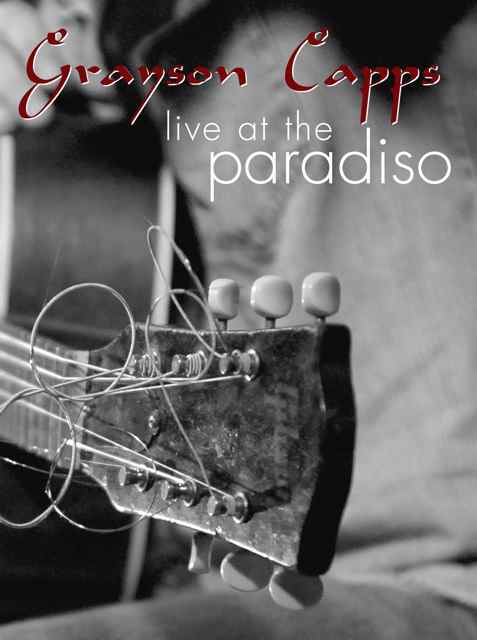 In May 2008, Grayson headlined the legendary Amsterdam music venue, The Paradiso, for a solo acoustic performance. Playing for over two hours, he enthralled the audience with stories from his life and song favorites from the entirety of his repertoire, including "Get Back Up," "Poison," "Washboard Lisa" and "A Love Song For Bobby Long."
The performance was captured on a high definition five camera video shoot, but inexplicably the master footage disappeared shortly thereafter. Just as inexplicably, a DVD from the filming turned up this summer at the Hyena Records' Amsterdam office.
The footage has been rescued for release and, as a memento to fans, it will finally be available on December 8 as DVD entitled Live At The Paradiso.  A companion audio recording of the performance will also be released as an mp3 exclusive album download at all major digital music stores.
Listen to: Washboard Lisa from Live At The Paradiso {play}images/mp3/20 washboard lisa.mp3{/play}
Grayson Capps | Tour Dates
November 27 | The Living Room | New York, NY
November 29 | Tin Angel | Philadelphia, PA
December 3 | Le Chat Noir | Augusta, GA (w/ Sarah Lee Guthrie & Johnny Irion)
December 5 | UU Coffee House | Columbia, SC (w/ Sarah Lee Guthrie & Johnny Irion)
December 10 | | USA Faulkner Campus | Fairhope, AL (w/ Sarah Lee Guthrie & Johnny Irion)
December 11 | D.B.A. | New Orleans, LA
December 12 | Pirate's Cove | Josephine, AL
December 13 | Callaghan's | Mobile, AL
January 2 | The Grey Eagle | Asheville, NC
January 6 | The Double Door Inn | Charlotte, NC
January 7 | The Berkeley Cafe | Raleigh, NC
January 8 | The Garage | Winston Salem, NC
Jan. 14 | Thirsty Hippo | Hattiesburg, MS
Jan. 15 | Pirate's Cove | Josephine, AL
Jan. 16 | Soul Kitchen | Mobile, AL