St. Patrick's Day is celebrated more in the city of Chicago than in Dublin Ireland. That's the way it felt Saturday March 12, 2011 when a triple bill of Mountain Sprout, J Roddy Walston & the Business, and Great American Taxi rolled into the Double Door Chicago.
Unfortunately, I missed the short set of Mountain Sprout. J Roddy and the Business from Arkansas drew several of my friends from the Chicago area out so my curiosity was piqued. You have to admire a band that is led by keys. They had this rowkass screaming Stevie Wonder sort of Seattle style to them. To be sure there was a lot of head banging and a lot of hair on stage, but I don't want to give you the wrong impression here. The pure rock n roll of rain dancing and J Roddy was counterbalanced with smooth piano haunting type melodies. The crunchy guitars danced on top of J Roddy on the keys, who looks a bit like Eddie Vedder now that I think of it. He puts that passion into the microphone with hair flips and neck veins bulging similar to the ol' Pearl Jam front man. The microphone stand was not cooperating with him and that was amusing to watch. The guitarist and bassist seem to engage in a friendly competition of who showers the least, but my favorite was the drummer. He was a cross between that actor from Grandma's Boy, a skate shack employee, and Animal from the Muppets. His drumming was on cue, from slower temps where he still appeared as though he was going nutz to faster tempos, when he was… just going nutz.
Making my way through the crowd with an oversized yellow poster, a fella near the bar stopped me to ask, "What's the big poster all about?" I explained, "I'm writing a review about the show tonight, it'll be posted on (show him the poster) Gratefulweb.com." It could have been that simple, but of course it was not. The bad beer breath in my face proceeded to tell me, "Grateful Web? You couldn't possibly know anything about the Dead. Do you know who these guys are? Do you know Leftover Salmon? Do you know Vince Herman? I've seen Vince Herman in his boxers. Have you seen Vince Herman in his boxers?"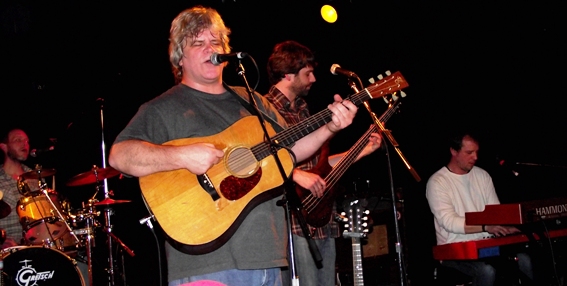 "No, I have not seen Vince Herman in his boxers. I have had the pleasure of chatting with him a couple times and I do confess Vince Herman is the object of my idolatry when it comes to writing about bands. In such a sense that I am reminded of a Tom Waits quote, "Most vagabonds I knowed don't ever want to find the culprit that remains the object of their long relentless quest. The obsession's in the chasing and not the apprehending, the pursuit you see and never the arrest."
Vince Herman is a great man, musician, and friend. I hate to break it to that fella by the bar, but this band is called Great American Taxi. I wonder what he knows about the Taxi.
Bustling through the country with their own thoughts and ideas of the way the world works, Great American Taxi first formed back in 2005. Chad Staely and Vince found themselves on stage doing a benefit all star jam for the Rainforest Action Group in Boulder CO. Since then, they have put out 2 albums; the latest one, Reckless Habits, is #8 on the Americana charts. Great American Taxi rolls into each city with a familiarity of a cabbie. They are geographically friendly and they put on a great show.
When Taxi whizzed into Chicago on this St Paddy's day celebration, they apologized for our Super Bowl disappointing team, the Bears. Interlaced with the lyrics, Vince connects with the crowd, "Goin to Madison if I can!" Taxi shows solidarity with each city it plays, not in an overt politically charged sort of way, but in a family friendly you-belong-here-sort of way. I love taking a Taxi ride, however, this being the first time I have seen Taxi in Chicago, I must say, the show was tailored for a Chicago crowd. I have never seen the bluesy, hippie, jammed-out side of the Taxi the way I did at this show. Chad Staely animated the vocals for Brown Eyed Women nice and easy which made for a relaxed jam that honestly was worth the ticket price right there. It was a sausage fest show, but when that song came on- the ladies came stepping to the front and everything just seemed to move.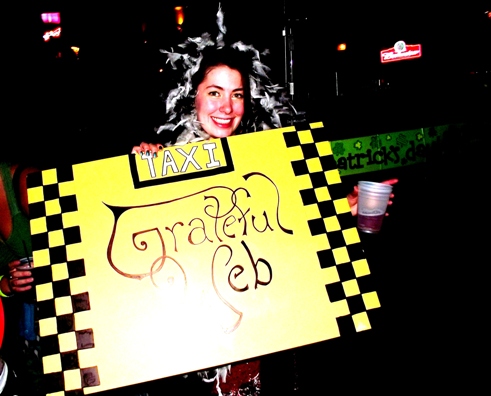 Vince's mandolin playing was executed with determination and grace. One can tell how he has stepped out on his own since Drew Emmitt is no longer sharing the stage. Rumors flew that Drew was sure to show up considering he had played the Abbey Pub in Chicago the night before. There was no such luck.
Ain't Nobody's Problem but my Own, Shakedown teasers, and small talk of Charlie Sheen brought the house down for a fancy evening at the Double Door. Taxi book cased their original tunes American Beauty, One of These Days, Unpromised Land, and Appalachian Soul with Dead and other classics sandwiched inside.
"Just keep thinking about you, and the blues won't go away. Baby can you blame me I know you understand, I am lonesome weary rambling highway man…Doin' the best I can…Gonna drink whiskey if I can…Thanks for Riding Folks!" Happy St. Patrick's Day!