Great American Taxi - May 2010 News!
Submitted by mike on Wed, 05/05/2010 - 03:23
Great American Taxi is hitting the highway again tomorrow (seems like we just got back from North Carolina...we had a blast in the Midwest, Rust Belt and Southeast last month, thanks everybody!) and heading for a week in Texas.  We hope to see a bunch of the new friends we made last time down there with Todd Snider.  We will end the Texas run on Saturday May 8th in Tyler, TX at the Southbound Sound Music Festival where Taxi plays there own set at 3 pm and then backs up Todd at 5:30 pm.  Old 97s and Joe Ely among others are on the bill.  We'll also be heading to Amarillo, Dallas, Austin and Bryan.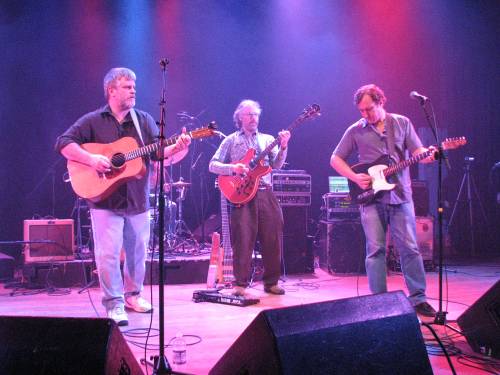 After that it's full festival mode with stops in Lincoln, NE on May 20th, Festy Fest in Lawrence, KS on May 21st and a one day festival on May 22nd at the always wild and fun Mishawaka Amphitheater with Motorhome, Dead Floyd, Patti Fiasco and the Wirefaces.  We are also making a one day stop at the Nelsonville Music Festival in Ohio with Todd om May 16th and then on to Memorial Festival Weekend at Schwagstock in Salem, MO for two days and Festi Di Bella Vida at beautiful Harmony Park in Geneva, MN (this one is almost sold out folks, 200 hundred tickets left).  We are also lining up a possible Memorial Day afternoon celebration in La Crosse, WI.
Lots of fun stuff lining up for the Summer and beyond.  We're feeling blessed and excited for Spring and Summer here in Taxi land.  Hope all is well in your world.  Don't forget to get your copy of "Reckless Habits" if you haven't already.  We are also helping the campaign for the miners' families who lost men in the Upper Big Branch Mine.  You can download "Appalachian Soul" from our debut record "Streets of Gold" (which will be available again for purchase in two weeks) for free if you promise to make a donation to the miners.  You can find more information out about that at www.greatamericantaxi.com as well as see our first music video and also watch a trailer to the upcoming documentary release "Coul Counrty".  All the very best to all of you.  Hope to see you all soon!
UPCOMING SHOWS
| | | | | |
| --- | --- | --- | --- | --- |
| Golden Light Cantina | Amarillo, TX | Tue May 04 10 | 08:00 PM | Tickets |
| Granada Theater | Dallas, TX | Wed May 05 10 | 08:00 PM | |
| Saxon Pub | Austin, TX | Thu May 06 10 | 12:00 PM | |
| Lakeside Icehouse | Bryan, TX | Fri May 07 10 | 07:00 PM | Tickets |
| Nelsonville Music Festival | Nelsonville, OH | Sun May 16 10 | 08:00 PM | Tickets |
| Bourbon Theatre | Lincoln, NE | Thu May 20 10 | 08:00 PM | Tickets |
| Festy Fest | Lawrence, KS | Fri May 21 10 | 08:00 PM | |
| Mishawaka Amphitheater | Bellvue, CO | Sat May 22 10 | 08:00 PM | |
| Camp Zoe | Salem, MO | Fri May 28 10 | 08:00 PM | |
| Camp Zoe | Salem, MO | Sat May 29 10 | 01:00 PM | Tickets |
| Harmony Park | Geneva, MN | Sun May 30 10 | 08:30 PM | |
| The High Life | Springfield, MO | Wed Jun 02 10 | 08:00 PM | |
| Wakarusa Music Festival | Ozark, AK | Thu Jun 03 10 | 08:00 AM | Tickets |
| Revolution Music Room (The Rev Room) | Little Rock, AR | Fri Jun 04 10 | 08:30 PM | Tickets |
| Blue Plum Festival | Johnson City, TN | Sat Jun 05 10 | 08:00 PM | |
| The Abbey Theater | Durango, CO | Thu Jun 10 10 | 08:00 PM | |
| Sheridan Opera House | Telluride, CO | Fri Jun 11 10 | 08:00 PM | |
| Old South Pearl Street BrewGrass Festival | Denver, CO | Sat Jun 12 10 | 01:00 PM | |
| The Filling Station | Bozeman, MT | Wed Jun 23 10 | 08:00 PM | |
| Downtown ToNight-Caras Park | Missoula, MT | Thu Jun 24 10 | 05:30 PM | |
| Groovefest | Cedar City, UT | Fri Jun 25 10 | 08:00 PM | |
| Red Butte Garden Ampitheatre | Salt Lake City, UT | Mon Jun 28 10 | 08:00 PM | Tickets |
| Elko Convention Center | Elko, NV | Tue Jun 29 10 | 07:00 PM | |
| Crystal Bay Club - Red Room | Crystal Bay, NV | Wed Jun 30 10 | 09:00 PM | Tickets |
| High Sierra Music Festival | Quincy, CA | Thu Jul 01 10 | 11:45 PM | Tickets |
| High Sierra Music Festival | Quincy, CA | Fri Jul 02 10 | 01:00 PM | Tickets |
| The Realm of Music Festival | Bond, CO | Sat Jul 03 10 | 01:00 PM | Tickets |
| Northwest String Summit | North Plains, OR | Fri Jul 16 10 | 07:45 PM | Tickets |
| Les Scwab Amphlitheater | Bend, OR | Sun Jul 25 10 | 02:00 PM | Tickets |
| Dead on the Creek | Willits, CA | Sat Aug 07 10 | 08:00 PM | |