Greensky Bluegrass Spells 'BLOODBATH' at their Halloween Show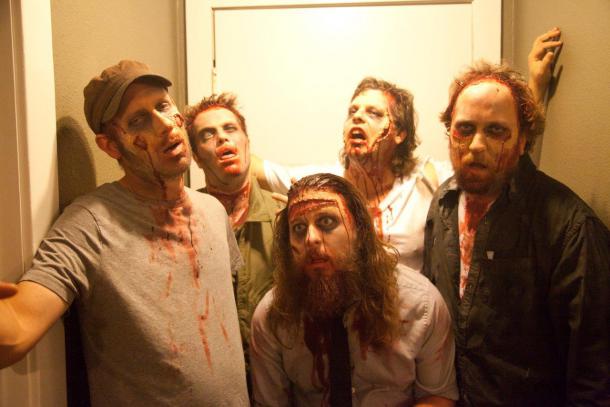 Greensky Bluegrass fans arriving to The Neptune Theatre on Halloween were greeted to a stage that looked like a scene from a horror film. Tables with bloody sheets covering what seemed to be bodies, rusty saws, axes, shovels and grinders strewn about.  With no official announcement of what the night held in store, it seemed right away the show would be taking a dark course.  Greensky entered the stage in darkness and began the show with an eery intro and when 'Beat It' kicked in, the lights came up to reveal an undead, bloody mess.
For the past two Halloweens, Greensky performed all 80s songs, and this year the first set was a selection of covers that spelled 'BLOOD BATH' with the first letter of each song's title, including Pink Floyd's 'One Slip' and Radiohead's 'High & Dry' among others.
Shortly before the second set began the band's crew passed out ponchos to the concert goers in the front row with only the explanation, 'end of first song.' Some put them on immediately and others wondered why they did not have one. Anxiety and tension arose. Greensky returned to the stage and began an all original set with their new song 'Windshield'. The song carried out into an instrumental piece accompanied by all the lights turned off. More fans put on ponchos. Others stepped back.
In the darkness figures began to emerge with 30 lit up carved pumpkins. Greensky segued into their song 'Bring Out Your Dead' complete with the slow creepy intro. The rest of the set included all the band's cheery song titles like 'Blood Sucking F(r)iends' and 'I'd Probably Kill You'. The set took a turn into fun dance party on the floor when fans figured out the 'blood bath' was only a joke. Greensky wouldn't throw blood on their fans. Or would they?
Set One:
Beat It
Light Up Or Leave Me Alone
One Slip
One Way Out
Driven to tears
Big Railroad Blues
Atlantic City
Time >
High & Dry
Set Two:
Windshield >
Evil jam >
Before Bring out our dead
Bring Out Your Dead
Tarpology
I'd Probably Kill You
Demons
Blood Sucking F(r)iends
Handguns
Broke>
Kerosene
Encore:
Down the Road
Second that Emotion
Broke Reprise