Why did you fall in love with rock and roll?
I ask that, not particularly sure you love rock and roll at all, in its purest definition, anyway.. It isn't heard all that often these days.. Music genres in recent years seem to have splintered into multitudes of subgenres, in some ways – diluting the original archetype. We 'think' we have the leaded coffee, cause we haven't tasted it in so long, we're sure nothing stronger, exists.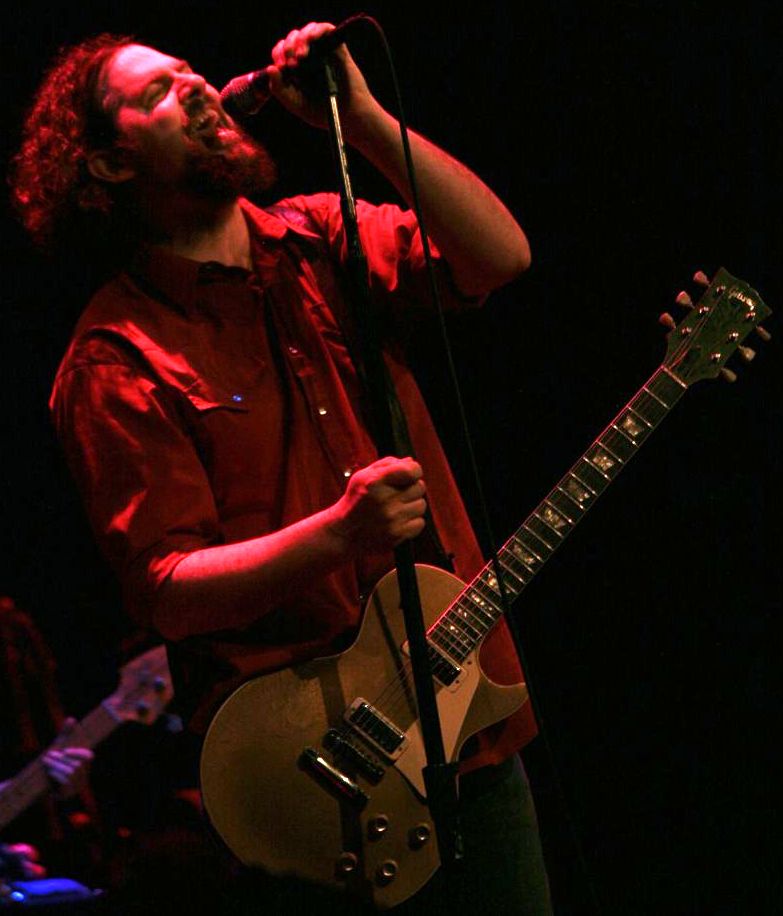 'Pop music' no longer means rock and roll. And that's ok, mind you. I like change in music. But the archetypes have their place, and their value. I was reminded of that in spades, by The Drive By Truckers. As I stood there, camera in hand, at Charlottesville, Va.'s Jefferson Theatre, I was schooled anew in my own mid 70s childhood musical heritage of sweat-soaked lead singers wielding their axes in one hand, and a bottle of Jack Daniels, in the other. And I was reminded how real, actual rock and roll, and in this case, Southern rock and roll, is alive and well, and quite relevant. In fact, it's the focus on those archetypical elements of rock and roll, made by the band, which ensures their relevancy, today. A classic, is always in style..
There's a lot to work with, when writing rock music through the filter of the 'southern experience.' Hood and Cooley have the gift to let The South flow through their music like water, tinging every surface with river water and white-trash soul. And it doesn't sound dated. I'll admit it. I had that question in my mind, as I arrived for my first Trucker show that night. Was this gonna be 'nostalgia music?' Chris Mc Call, of Ashburn, Virginia could have predicted my thoughts, as it turned out..
The thirty-seven year old marketing professional described the 'average' crowd at a Trucker's show. "You'll see half the crowd knows all the words to the songs and the other half completely surprised by how powerful the band plays – especially if they haven't seen them before and are expecting some type of Lynrd Skynrd cover band. We all end up singing along, pumping our fists, head banging, dancing and leaving completely wiped out and ready to see them again as soon as possible."
Fans of the band enthusiastically evangelize about the Athens, Ga. based band at every opportunity, I came to find. Mc Call continued, "I put on the Truckers at a garage party in my neighborhood last year for folks who'd never heard of them. And the next thing I know everyone was asking who they were and replaying their songs throughout the night." And fan loyalty appears to be broad-based and not merely centered on the shoulders of the charismatic Patterson Hood. Mc Call, continued, "The thing about The Truckers is that they have three singers (Cooley, Patterson and Shonna) and as you saw at the show first hand, people love them all. But there's no competition from fans trying to say one or the other is better. We like them all," he said.

Jared Clarkson of Purcellville, VA offered an even more impressive expression of fan loyalty as he recalled a story of a 9:30 Club show in DC, about a year ago where he,
".. got to the club first and found that Patterson was sick but Cooley and rest of the band were planning to go on without him. They were offering refunds but the club was STILL PACKED; I doubt that anyone went home," Clarkson said.
I pondered the significance of that. There are scant bands today, who wouldn't be playing to a mostly-empty house, should their 'lead' singer go down ill, before a show. Clarkson was two steps ahead of me,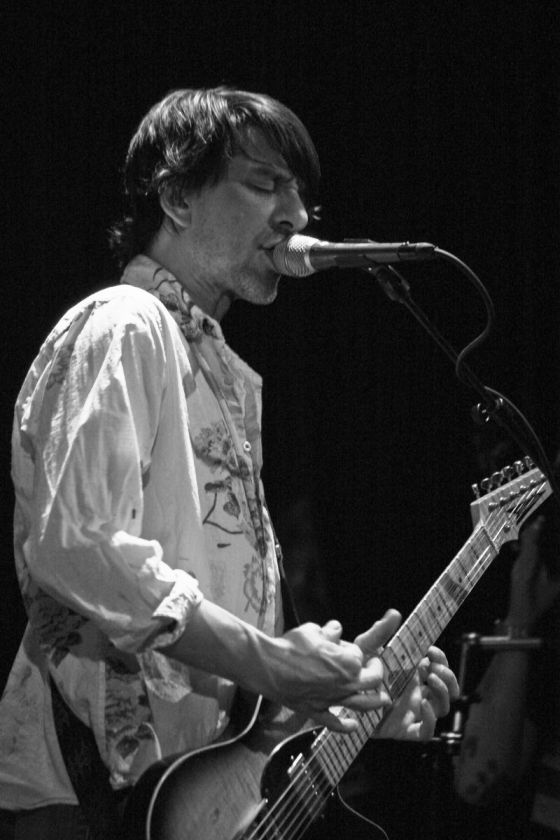 "How many other bands out there can have one of the fronting members go down and play back to back shows without them? And then Cooley came out and said something like "I don't need fucking Patterson to put on a kick ass show." And he DID...He played his entire catalog, Clarkson said.
It always starts with the songwriting. And in this case, there is much richness to speak of. Steeped in the tradition of Southern Gothic storytelling, Hood and Cooley paint pictures of modern southern life that are full of a gritty realism that is, at times, hard to take.
"The band has a way to take a really dark subject and turn it into something beautiful," Clarkson began. "There are songs about incest -- and trying to seduce 14 yr old girls...It's kind of hard to think about those being the subject of a touching song, but they are," he said. And Clarkson is right.
Southern Gothic tradition is full of those very kinds of uncomfortable mythologies and metaphors within a style that Tennessee Williams described as having "an intuition, of an underlying dreadfulness - in the modern experience." But don't let that sound depressing, or 'regional.' It's that rawness in Southern Gothic art that reveals the secrets everyone, be it from the North or South, wrestle with, whether we admit it, or not.
Hood and Cooley people their songwriting in a more modern and realistic manner — and everyone, lyrically, is smarter than they originally seem. In fact, one could identify a sense of intellectual redneck awareness in play. A little like the smart 'good ole boys and simpletons' in the works of William Faulkner, a master of the Southern Gothic writing style. There's a lot going on, behind those sweet as molasses grins. World-class poker faces.

And like many bands, there has recently been a lot going on behind the scenes. Patterson Hood told writer Christian Williams,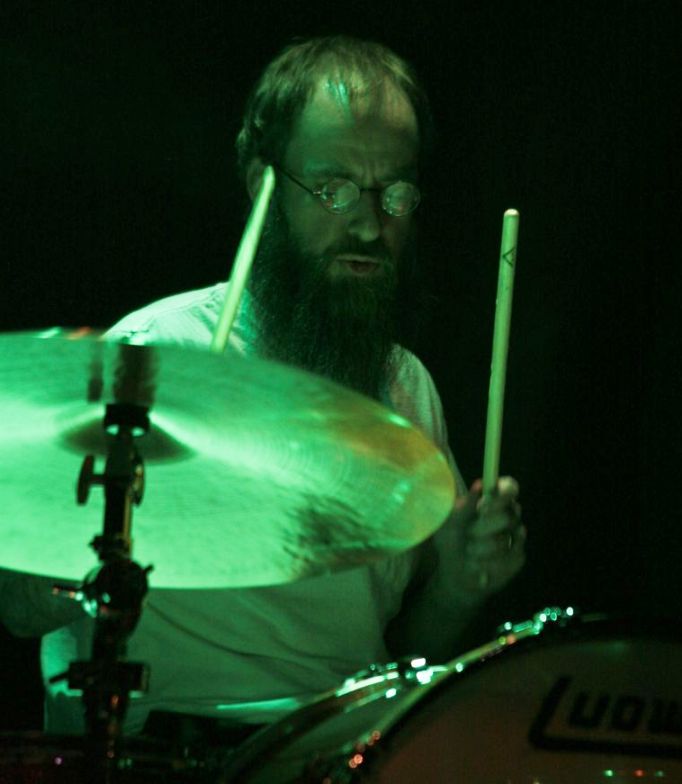 "We had our moment of reckoning in '06 when we really, seriously contemplated calling it and ending it. It's like, it was clear that Jason [Isbell] was going his separate way, and you know, we were all really tired. We'd been on the road nonstop and felt like we'd kind of hit a wall. I felt like the record we'd put out that year [A Blessing And A Curse] was the first time we'd ever put out a record that maybe wasn't quite as good as the record before it—because that was a bitter pill, because [Mike] Cooley and I had always vowed that when it's over, it's over. When the records aren't as good as they were, it's time to call it quits. I'll get a job. I'll do whatever, but we're not going to be a dinosaur act. We're not going to revel in the glory days, and we're not going to be one-hit wonders that never had a hit. [Laughs.] No-hit wonders. It's like, fuck that. Life's too short. I've spent a lot of time away from my family and everyone has to really sacrifice for me to get to do what I love doing, and if it's not making me happy, why the hell am I doing it? And that's where I was at that point. Instead, we decided we weren't ready to end it. It's as simple as that. It's not over till we say it's over and it's just not over."
It is most definitely is not, over. March 16th drops the latest release from the band, 'The Big To Do,' already leaked through the internet. Hood, in a nod to the leaked release, asked fans to buy the new CD, 'even if you already have a copy.' Only seems fair, if you ask me..
Saturday night's show was the second of a two night stand at the Jefferson Theatre. Informal polling after the show indicated a strong preference for the Saturday night show, over Friday's, although both nights were given strong reviews overall. Saturday highlights included "Buttholeville, "Lookout Mountain," and the angry 40-something anthem, "Hell, no I ain't happy."
My new friend Jared Clarkson appeared to be pretty happy with the shows he saw in Charlottesville. And despite his having seen the band some dozen times, he felt in some way that the band had something to prove to him, on this night.
"I gotta be honest; I've been a bit critical of the band lately. I didn't see why they needed to add a full-time keyboard player and I wasn't a fan of either of the latest releases - the Austin City Limits LIVE album/DVD and "Fine Print" -- which was a bunch of covers (in my opinion). So I was a bit skeptical and didn't know what to expect from the shows this weekend," Clarkson said. But "the band was very much the DBT of old...the band that I fell in love with 5 years ago when a coworker gave me a copy of "The Dirty South"..."He added.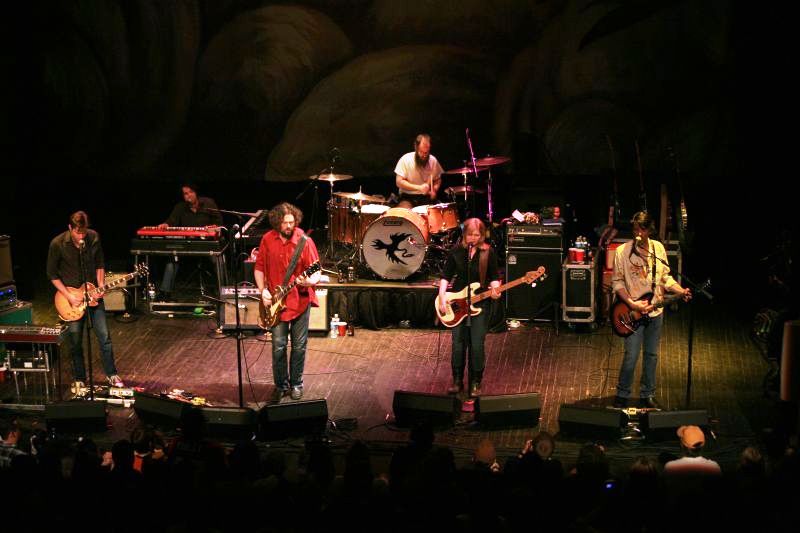 Chris Mc Call said, "Everybody who's seen a live show loves the Truckers. I'm a professional with an MBA and at truckers shows I'm singing along and just as loud as the guy next to me who may be a mechanic or a doctor somewhere."
Everyone's welcome, it would seem, as the human condition is universal, even if interpreted through the southern experience. Clarkson laid the real parameters of acceptance on the line, however, as an appreciation of "guitars and good lyrics."