It rained. It didn't pour and ruin everything, but it rained. As I was walking through the small amount of mud created by the rain I decided to just be thankful for it. So here I am on Saturday morning…thankful for all the great I get to experience this weekend. (And the morning sun.)
On Friday, my day started with Internet issues. While frustrating, I did get the opportunity to get to know some other media folks so….blessing in disguise! After a much later start than planned, my friends and I went to Main Stage to see Dirtfoot play. They're putting out a new album and it was nice to hear some of their new songs. Scotty was wailing on the sax and J let his hair down to properly play banjo like a boss. As usual, Dirtfoot was great fun.
Next up was Elephant Revival – one of my all-time favorite bands. They're playing again today and intend to be there for the entire show. I had to leave Friday's show early so I could go to a mandatory press conference. I didn't get to see Elephant Revival's best set, as there were lots of sound issues. Of course, they played through the storm and we all came out better for it. The band played at least one song I didn't know and one of my favorites, 'What Is Time.' During the press conference I got to hear a lot about how members from Tedeschi Trucks Band, Greensky Bluegrass and Turnpike Troubadors felt about playing at festivals. A member from Greensky said playing at festivals helps him keep reality written into his songs because you're really with the people instead of separated by a one-time show on a large stage.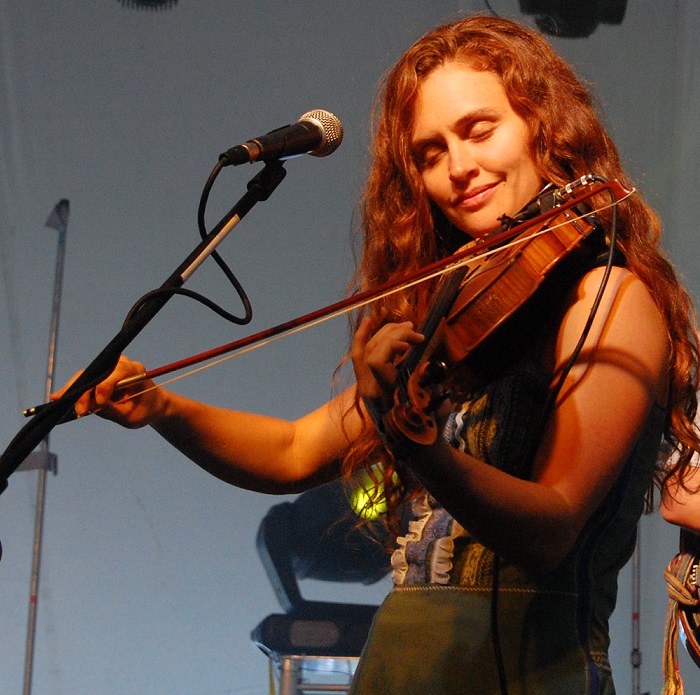 There was a general consensus from the artists about the many benefits (both personally and professionally) of playing at music festivals vs. regular concerts.
After the press conference I went to my favorite stage, Backwoods. It's canopied by trees and the acoustics are great! I saw a band I'd barely heard of called She's A Keeper…and was incredibly impressed. They played a cover by The Band, rocked sometimes, jazzed occasionally and switched up the genre but kept a foundation of bluegrass. I love bands who take you through multiple genres – it shows a great talent for understanding sound and instruments…not just the music they play.
Next up I caught a few songs from Fayetteville, AR band Groovement with a new friend I found sitting a field. ;/ They play high-energy, Andy Frasco-type music. The crowd was loving it, so hopefully they found a few new fans. After a few minutes at Groovement I caught some of Rosco Bandana. I feel like I've seen them before somewhere, but maybe I just had deja-vu. Either way, these guys were great fun. They played Americana with a twinge of bluegrass. Sometimes the drummer played banjo, always they ended their songs with lots of energy and a loud applause from the crowd.
By this time in the night it had been raining most of the day. Not great, but not bad either. The mud is manageable and the temperature is chilly but not unbearable. We settled into Main Stage at our spot for Yonder Mountain String Band. I've seen them a handful of times, and this show was no exception. I was expecting a lot of special appearances but we didn't get any for this set. Guess I'll go to the Saturday show too! As usual, the lights were amazing. And the songs impeccable. One of my friends said "It sounds like they've been prepping for this for a year." Another said of the banjo, "He was going balls-to-the-wall all night." How could you not have a great time at this show!? They played a Dylan cover, and a few I noticed as covers but couldn't place. These guys are masterful performers. They have been playing for so long a night on stage seems as simple as sleeping. The band voiced their gratitude to Tedeschi Trucks Band coming to play – they had a dream, the band said, and it came true. In the middle of the set YMSB played a song written for one of the members' future daughters. It was beautiful and incredibly heartfelt. We closed down the set and left for our lifeblood…BBQ NACHOS.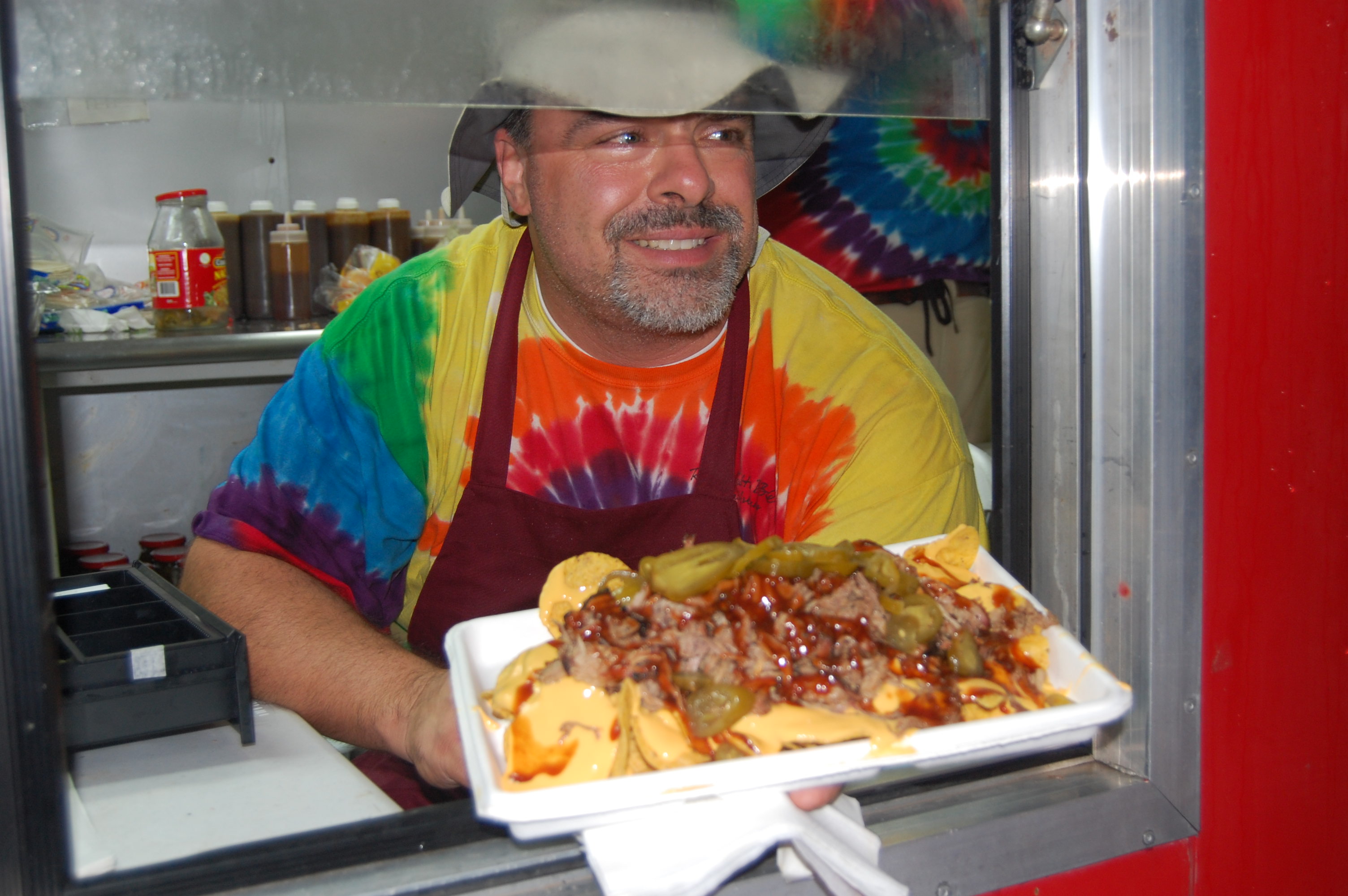 After eating an AMAZING plate of BBQ nachos from Rub-N-Butts BBQ. They were covered in legit smoked meat, cheese sauce, BBQ sauce and jalapenos. My mouth was so incredibly happy for the nachos! We traveled back to our campsite to chow down and waited for Tedeschi Trucks Band to start. They ended up beginning the show about thirty minutes late and in the rain. By that time, I just couldn't get out of my chair. (Remember how I got too tired to stay awake at 11 pm Thursday night…ugh, I'm so lame.) So we listened to the show from our campsite and it was amazing. Susan Tedeschi was a much more prominent feature of the show than I thought she would be. Her musicianship is incredible and her voice soulful and strong. I loved hearing her sing. And of course there's Derek Trucks – he played like it was nothing. Like he was doing the dishes and getting super paid for it. The backup for these guys didn't leave anything behind, either. They played just as well as Tedeschi and Trucks but simply weren't showcased the same (of course).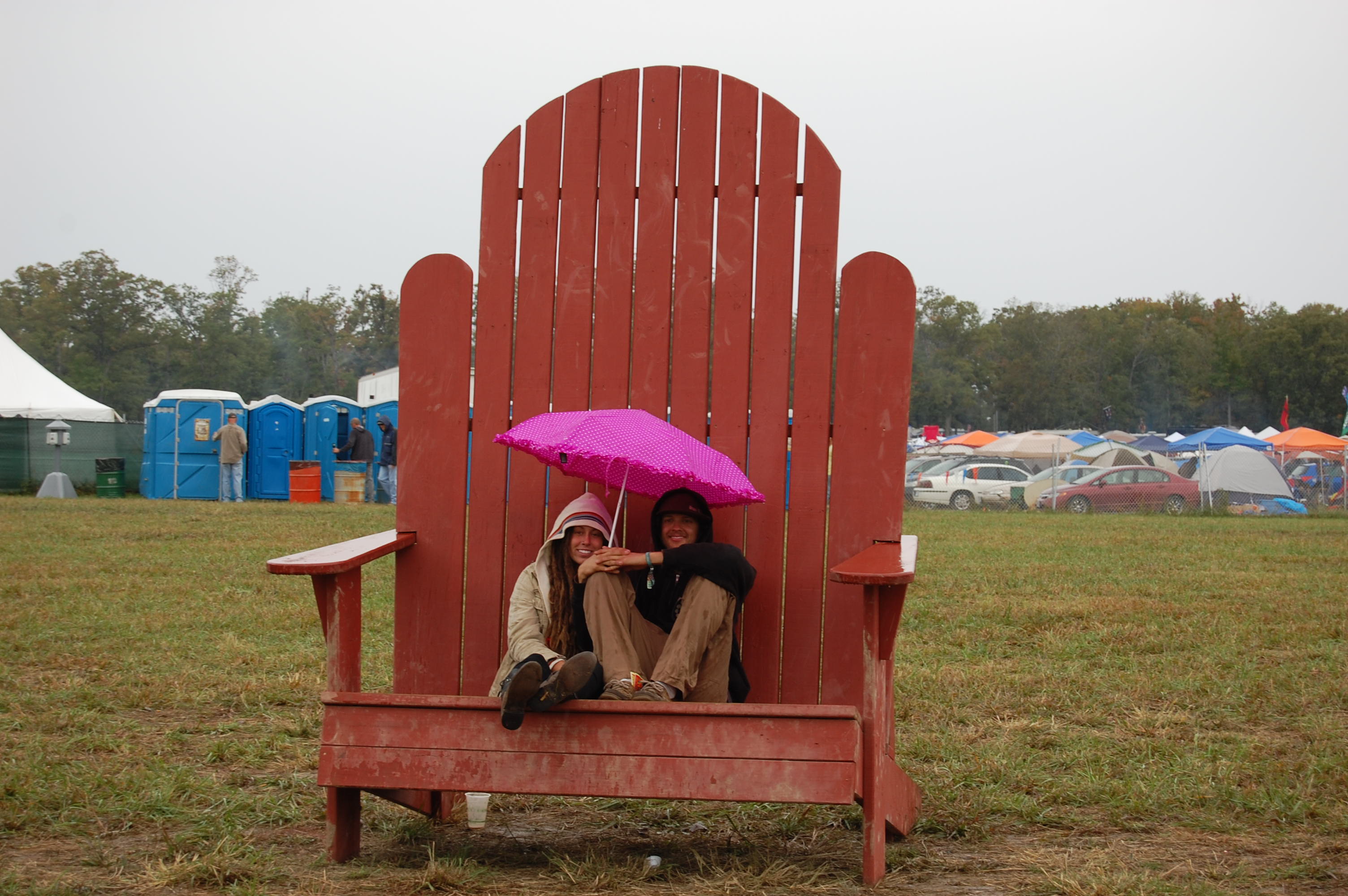 After Tedeschi Trucks Band my campmates and I all snuggled into our warm-ass sleeping bags and listened to the rain patter on our tents, lulling us to sleep. What a great day. It's Saturday morning now. We're cooking a breakfast of eggs, sausage, potatoes, veggies, peppers and cheese. Today I'm looking forward to Beats Antique (I hope they have their awesome, new stage setup!), Kopecky Family Band, Railroad Earth, Shook Twins, Everyone Orchestra and maybe Coyote Union (if I can stay awake!).