It's plainly obvious to see how hardworking Colorado acoustic quartet Head for the Hills has been this past year. They played their first main stage appearance at the 39th Telluride Bluegrass Festival, released their first official live album "Head for the Hills Live" and are hard at work assembling their third studio album. The guys have been growing collectively into their sound and as somebody who has seen them grow from humble beginnings here on the Front Range its great to see them taking everything to the next level. Joe Lessard, Adam Kinghorn, Michael Chappell, and Matt Loewen set their sound apart from other progressive jam-grass outfits by taking the bluegrass instrumentation outside of the supposed rules and standards set up by the Nashville scene. Breaking the rules sees Head for the Hills playing unusual cover songs, breaking free of traditional country conventions, and fusing their sound with genres that would never be attempted in acoustic format by any others. It's for these reasons that the guys are finally getting the big-time recognition they deserve from the biggies in the scene and they got that respect by being sincere to themselves and their fans. The Colorado music crowd has always encouraged bands to go wild and break expectations. Head for the Hills are our hometown boys.
Their tour keeps getting farther away from home as their popularity grows, and huge opportunities are presenting themselves more than ever. But the guys will never outgrow their love for their kinfolk crowd here in Boulder/Denver/Fort Collins. Having missed their Fox Theatre performance a few months back, I was excited to see that they announced a show at Cervantes Masterpiece Ballroom for a Saturday night 'welcome to winter' bash. A show that was reportedly undersold before day-of-show drew a huge sellout crowd at the Ballroom last Saturday. People had their game face on and opening act Iron Horse set the tone right with their trademark covers of Led Zeppelin, Modest Mouse, and other noteworthy classics. It was a nice double-bill that drew a large turnout for an opening act. The Cervantes atmosphere is always relaxed and generally pleasant. Crowds tend to get their rowdiest at this little-to-no rules venue in Denver's Five Points neighborhood. Luckily Head for the Hills draws a good, generally respectable crowd and nobody seemed anything but jovial.
The guys played two long sets after Iron Horse's opener. They really got the center of the crowd smashed together kicking up some dust. Favorites of the night included the Norman Blake cover "Randall Collins" and lengthy jam workouts on their original instrumental "Nooks and Crannies". I've seen this jam evolve over the years and every time they play on new musical themes and soundscapes. It's a testament to their mission of not playing their material the same way every time, or even any time. The guys have also upped the ante with their stage demeanor, turning toward one and other in bursts of musical excitement. The crowd certainly felt their enthusiasm and it's nice to see the guys genuinely enjoying each other's presence during their show. Like mentioned before, the guys have never stuck to conventions with their cover song selections and sure enough some funky cover songs were dusted off to the surprise of many. They even played Yes' 1983 classic "Owner of A Lonely Heart". And if it sounds campy, trust me, they totally pulled it off.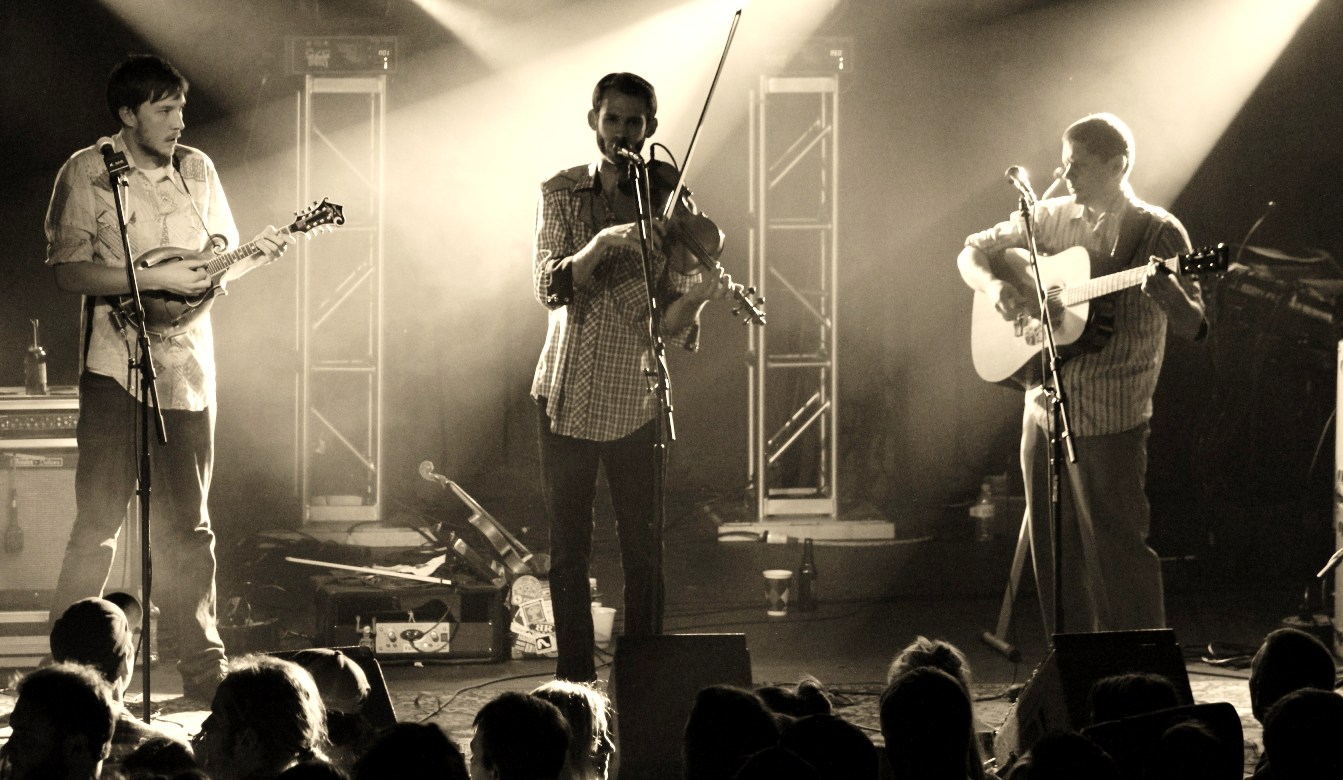 It's so cool to see the guys keep taking their material and playing to higher highs. Their sound throws back to so much classical, bluegrass, and folk music while remaining progressive and groundbreaking in approach. Old school bluegrass fans will appreciate their renditions of classics and the casual concert-goers will get a kick out of their unpredictable mode of performing, surprise cover songs, and general "we came to party" attitude. When the guys walked onstage for the second set they were all wearing jock running gear with a goofy headband to match. It's apparent they aren't trying to win their crowd over with anything that isn't genuinely their personality. If they don't have fun doing it, you probably won't see it. And audiences can read into that and nowadays there are plenty of grassy acts to choose between, especially here in Colorado. But fans keep coming back to see Head for the Hills. Who knows what the band has in store for 2013? Currently they're on tour in California and Arizona and are making it back home for a New Years Eve hoedown at the Warren Station Center for the Arts in the ski town of Keystone, Colorado. Another exciting up-and-coming is their participation in Toronto's 25th Folk Alliance International Conference where the guys will be performing, speaking, and jamming out with the best of them. Give a little love for these hometown boys and check them out on the road if you can, and be sure to be on the lookout for their third studio album coming soon.