Head for the Hills Prepare for 2012 Fall Tour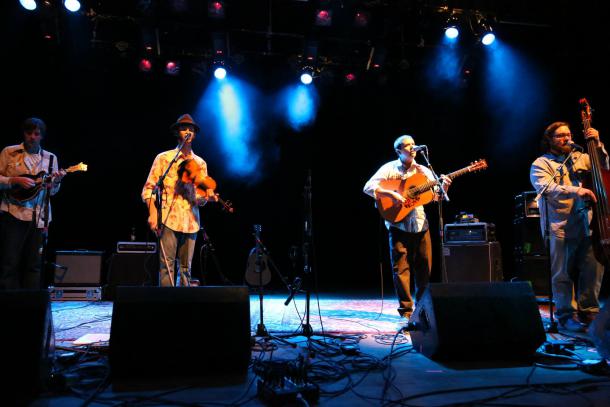 Colorado newgrassers Head for the Hills embark on their 2012 Fall Tour.  The tour comes in the midst of a busy & successful 2012, with appearances at Wakarusa Music Festival, Telluride Bluegrass Festival, SxSW & the release of their first live album entitled "Head for the Hills – Live."  The extensive tour sees the quartet making visits to the Midwest, Colorado, West Coast, Pacific Northwest & the Southwestern United States.
The tour kicks off October 16th in the Midwest where Head for the Hills will be joining San Francisco's Hot Buttered Rum for a string of shows through many familiar cities along with an additional run of shows throughout the region. Following that, the group makes a stop in their home state of Colorado for a two night run in the Front Range at the Aggie Theatre in Fort Collins & The Fox Theatre in Boulder.  A jaunt through Northern California connects the quartet with the Emmitt-Nershi Band in the Pacific Northwest for a string of shows, including a series of two night runs in Portland & Seattle. In December, the tour culminates with a Denver, CO performance and a trip to Southern California & Arizona, where the group will appear for a special show at the Orpheum Theater to celebrate the venue's 10th Anniversary.
The group also announced plans to launch a Kickstarter campaign, read more about here.
Complete H4TH Tour Dates
10.16 Gabe's-Iowa City, IA *
10.17 Old Rock House- St. Louis, MO *
10.18 Hangar 9-Carbondale, IL  *
10.19 Martyrs'-Chicago, IL *
10.20 Wooly's-Des Moines, IA *
10.21 Majestic Theatre-Madison, WI *
10.24 Cabooze-Minneapolis, MN
10.25 Miramar Theatre-Milwaukee, WI
10.26 DG's Taphouse-Ames, IA
10.27 Czar Bar-Kansas City, MO
11.02 KRFC 88.9FM Studios-Ft. Collins, CO
11.02 Aggie Theatre-Ft. Collins, CO '
11.03 Fox Theatre-Boulder, CO "
11.08 Sweetwater Music Hall-Mill Valley, CA
11.09 Crystal Bay Club & Casino-Crystal Bay, NV
11.10 Moe's Alley-Santa Cruz, CA ^
11.14 WOW Hall- Eugene, OR +
11.15 Mississippi Studios-Portland, OR +
11.16 Mississippi Studios-Portland, OR +
11.17 Tractor Tavern-Seattle, WA +
11.18 Tractor Tavern-Seattle, WA +
12.01 Cervantes Masterpiece Ballroom-Denver, CO
12.04 Mystic Hot Springs-Monroe, UT
12.05 The Mint-Los Angeles, CA
12.06 Winstons-San Diego, CA
12.07 Sail Inn-Tempe, AZ
12.08 Orpheum Theater-Flagstaff, AZ
*= w/ Hot Buttered Rum
'=w/ special guests MilkDrive
"=w/ special guests Fruition
^=w/ The California Honeydrops
+= w/ Emmitt-Nershi Band