Henry Wagons taps Alison Mosshart, on new EP, Expecting Company
Submitted by conqueroo on Thu, 11/29/2012 - 14:52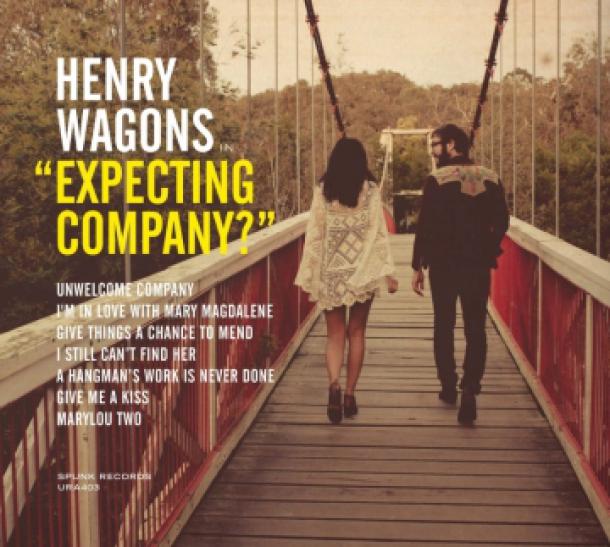 Open the door to Henry Wagons' first solo offering and who knows what awaits you. Following Wagons' critically acclaimed U.S. debut album, Rumble Shake & Tumble, with his band, Wagons, Henry will strike out on his own with a mini-album titled Expecting Company? Six of the seven tracks are duets featuring one of six stellar guests: Alison Mosshart (The Kills, The Dead Weather), Sophia Brous, Canada's Jenn Grant, Robert Forster (The Go-Betweens), Patience Hodgson (The Grates) and Australia's Gossling.
Expecting Company? is set for January 22, 2013 release in the U.S. through Thirty Tigers and in Canada by Six Shooter.
"Most of these songs were written in a slightly altered state," Henry reveals. Finally home, after a long stint on the road, Henry found himself sick and injured — "delirious with a bad fever and maimed due to a light bulb exploding in my hand." Resisting the urge to recover in bed, Henry harnessed "the twisted voices" in his head and wrote some songs instead. "They came from a different place, so they required some different voices," he explains.
"Having multiple voices in a song holds a certain power. They can represent a unique synergy and oneness, or have a certain schizophrenia or oppositional battle."
Another voice adds an extra element to Wagons' potent sound, with bubbling sexual tension and drama. "I do love a good duet," Henry smiles. "I particularly love the slightly fractured ones that reveal or give an insight into the complexity of human relationships."
There's melodrama, mirth and menace; gallows humor (the delightfully dark A Hangman's Work Is Never Done), misguided lust (I'm In Love With Mary Magdalene), longing (I Still Can't Find Her) and loss (Give Me A Kiss).
Henry recorded most of the release in his personal studio, self-producing and playing most of the instruments. He visited London to record Alison Mosshart's vocal at her house (the location that inspired the opening cut, Unwelcome Company); he met Jenn Grant while touring Canada; and he travelled to Brisbane to work with Robert Forster. The Go-Betweens great had previously praised Wagons in the pages of The Monthly, describing how he plays "the straight a little crooked and the crooked a little straight."
After six duets, Expecting Company? concludes with Marylou Two, a surprising reprise of the final track from Wagons' most recent album, Rumble, Shake and Tumble. Henry finds himself "back at home, all alone".
Henry Wagons, recently named one of Melbourne's Top 100 Most Influential People, is unanimously lauded as one of Australia's greatest and most entertaining performers. Along with his rare charisma he offers heavy doses of stomping outlaw country rock, irresistible crooning and classic songwriting.
Henry could never be named a shrinking violet. While many other frontmen take gentle place in the calm of a shady palm tree and sing humble acoustic love songs on their solo debut, the Melbourne born entertainer has far more bombastic plans. After five Australian albums with his band and a North American debut with the 2011 release of Rumble, Shake and Tumble, Henry strikes out on his own with Expecting Company?
In both the live forum and on record, Henry draws upon an uncommon range of influences including jumpsuit-era Elvis, the grit between the floorboards at the Grand Ole Opry, the spit in '70s trumpet sections, Cormac MacCarthy's psychedelic Westerns and Lee Hazlewood's dead but potent stares. Wagons' live show is a performance like no other, invoking both a Vegas showroom extravaganza and a bunch of fresh-faced undertakers letting loose at a rained sodden rock festival.
Having spent the last few years touring with the likes of Lucinda Williams, Justin Townes Earle, Edward Sharpe and the Magnetic Zeros, Calexico, Bill Callahan, Will Oldham, Okkervil River, John Hiatt, Jolie Holland, countless USA tours including SXSW and Americana Music Festival & Conference, it is safe to conclude that Wagons is a road-hardened formidable live act. U.S. tour dates in February and March will be announced shortly.
Expecting Company?
It won't be what you expect.