In a rare New Year's Eve performance, Cornmeal took the stage at Durty Nellie's in Palatine, IL on 12/31/2010. Born and raised in the area, the hometown crowd embraced the progressive jamgrass bluegrass five piece band that cranked out some covers and beloved originals. Davenport Ed opened for the band, taking the stage around 9:30pm. One member of Davenport Ed was fresh off a plane from Europe; that's dedication! They rocked their original tunes as well as a cover of Spacehog's In The Meantime complete with a steel guitar, three more guitars, a bass guitar, and a kit drum player.
As the Gregorian calendar says we have begun a new year, a rush of emotions comes over a lot of people. I have recently moved back home to Illinois from living all over Colorado for the past few years. For this New Year's I was reflecting on my changes and the changes in the music I love. If you had a chance to read my review of Cornmeal's Live in Chicago Vol. 1 album, you know that I was a regular at Griffin's to see this band every week. I have had the privilege to catch them a few times over the past 6 years but it's like a baby. When you watch a baby grow day by day you tend to overlook the growth. When you see a baby once a year you notice the leaps and bounds in which they have changed.
Cornmeal has perfected their unique original style of jamband wants while remaining true to the traditional bluegrass needs. There are moments of square dancing and it quickly evolves into slam grassing. For those of us that can dance and for those of us that cannot, there is something for us all. I giggled to myself at one point, a lil something new I don't remember from Cornmeal is the head banger's ball of it all. They are tough and tender and can so easily vary between the two. Cornmeal is tuned into their audience and to be sure, the audience is tuned into them!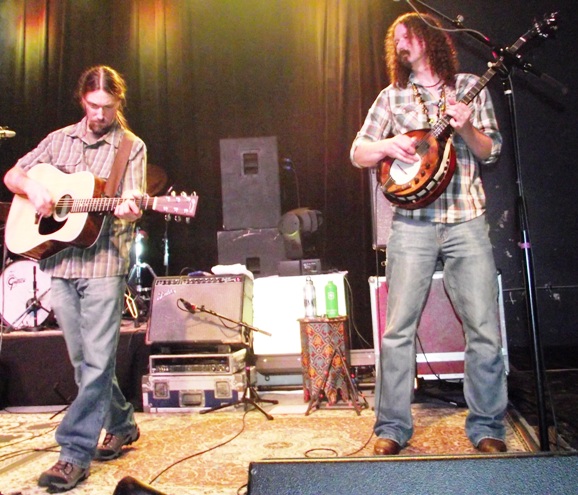 Cornmeal opened up the set list picks to the fans and asked that fans vote for their requests for opener and encore picks. They opened up the show with a taste of the Magic Stone Mountain, Midnight Moonlight, and at one point invited the steel guitarist from Davenport Ed up on stage with them. Throughout the evening Cornmeal did some fun covers including, Teach Your Children, by Crosby Stills Nash & Young (+ Garcia), Benny & The Jets – first done by Elton John, then famously covered by the Beastie Boys and now a fantastic blend of grassy funk re-done by Cornmeal. Although the best version I have ever seen was done by Phish at the 1999-2000 NYE show in Phlorida, Cornmeal did a slamming jam version of After Midnight that you can tell was a favorite of banjo player Wavy Dave. He put some banjo soul into it as he sang out with passion. They encored with Get No Better by John Hartford and my most favorite Cornmeal original, Girl with Short brown hair – I got a girlfriend tonight! Two Dollar Bill!
Walking the long road Cornmeal has, I can see how they have assimilated to grow and embrace more and more fans. The sentimental sweet moment was when bassist Chris Gangi announced how he had written this song, Shelter, for his parents. "This one goes out to my parents who are in the audience tonight. They have been married for a long time; they have overcome great struggles and made it. They continue to do so." He pointed up to the VIP section where they were sitting for the performance and the entire crowd looked up and waved as if they were also family members for the night. They are still the bluegrass slam funk band that played to an overcrowded north side Chicago bar but they have grown. Hey, out with the old and in with the new! Happy 2011 everyone, I look forward to reporting on more music for you throughout this upcoming year.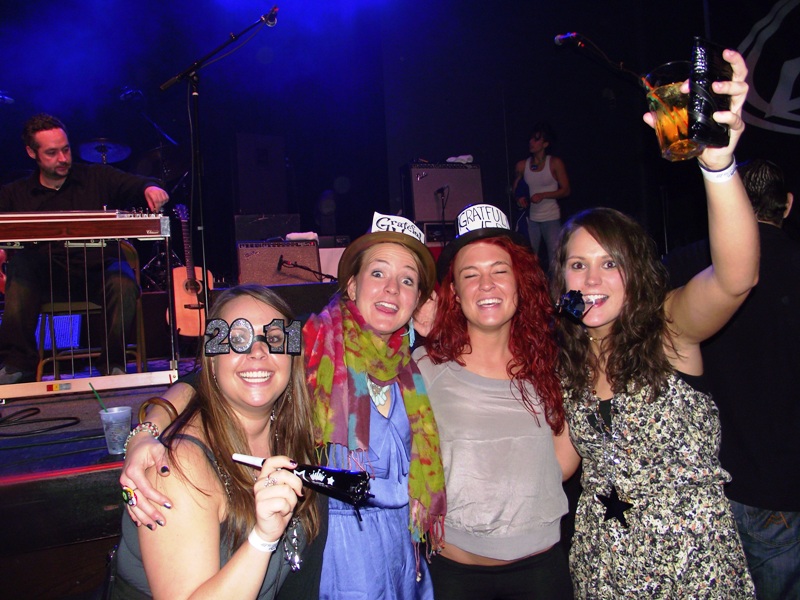 Check out more photos from New Years Eve, including yours if you were at the show.