I left the Boulder Theater with both ears ringing thoroughly and my head in a satiated state of buzz, and in fact I was bone sober (as far as intoxicants are concerned).
"We came here to get loud and be silly," announced Rhett Miller, front-man for Old 97's, to a packed house in on Thursday night. I don't know about the silliness, but the alt-country garage rockers from Dallas sure made good on the getting' loud. Nearly 20 years since their beginnings back in 1993, Miller and company showed that they can still rock the house with the same gusto as they did in did in their hey-days.
The energy coming off of the stage peaked from the start, and sustained throughout the evening, with songs from their 1994 debut studio album Hitchhike to Rhome and on through the catalog to their latest release, The Grand Theatre, Volume One (2010). The Old 97's are a freight train.
Miller and company unleashed so much energy that it's hard to believe they hit the whiskey as much as their lyrics might suggest. The well oiled rock and roll machine tore through classics like "Big Brown Eyes," and "Curtain Calls," as well as new tunes: "Champagne, IL," "A State of Texas," and "Every Night is Friday Night (Without You)."
Philip Peeples chugs hard on the drums, with inexhaustible gallops and shuffling train beats, and along with Murry Hammond's persistent bass-lines, lays the solid foundation for the debauchery.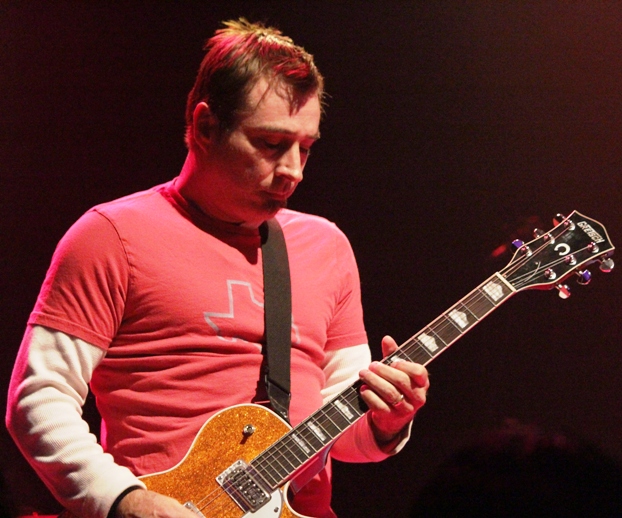 Guitarist Ken Bethea totes a double barrel—packed on one side with all of the classic punk and country chords and scales, which he can rip through at warp speed—and on the other side—enough on-the-fly improvisational talent to give his playing character. He's a powerhouse on his big-bodied Gretsch guitars, and an absolute pleasure to watch.
Miller's hip shakin' antics and drive were prominent throughout the evening as he didn't stop moving, sweating, or shaking his mop through song after song, switching between Alvarez acoustic and vintage Telecaster Deluxe, and wind-milling his arm Pete Townsend style. Miller obviously loves what he does, and never works a day in his life.
Hammond's songs slow it down a bit, and break it down to the nitty-gritty; he's the yin to Miller's yang, though he's rowdy too, just in a less jumping, sweaty manner. The Johnny Cash-esque "You Were Born to Be in Battle," "You Smoke Too Much" (The Grand Theatre, Volume One), "West Texas Teardrops" (Too Far to Care), and "Valentine," from Fight Songs, gave him his due vocal spotlight.
Miller conjures up a Gram Parson ghost for me—though no one seems to agree—in a sense of his honest, sullen lyrics, teetering on depression, though at the same time optimistic. "I am worried now/but it won't be long/It takes a worried man, you know/to sing a worried song" (Big Brown Eyes). He is as great of a storyteller as he is a front man.
The sounds all come together and it's powerful, and the energy in the joint is bumpin'—girls in perky urban-cowboy gear, guys who have "been seein' these guys since '96"—it's an underground, devout union of an audience, with an strong air of kick-ass, fried chicken, southern hospitality. Whiskey and women aside, these guys are cemented in the top-tier of alt-country. So listen up and take note—good tunes, good times—check 'em if you haven't, or die in regret.