The Hollows | Neverending Show | Review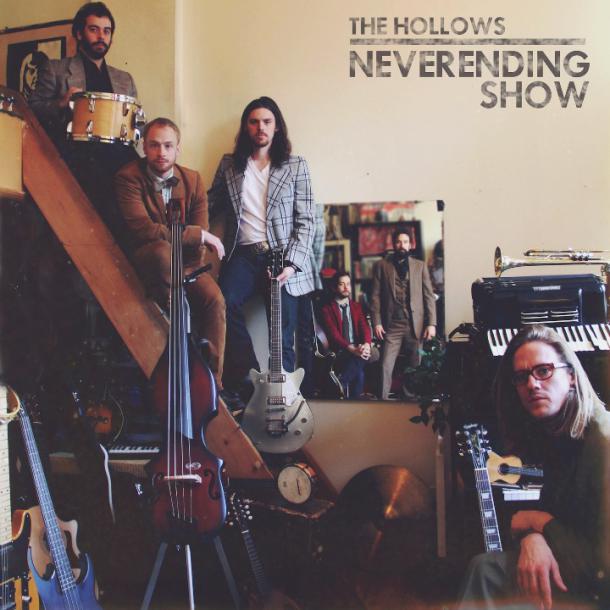 Along the lines of Woody Guthrie's this Land Is Your Land, The Hollows came together from a few regions of the United States.  Coming together at Hope College in Michigan, the band's members have roots from the states of Illinois, New Jersey, Indiana, Michigan, Massachusetts, New York and North Carolina.  With the mix of folks from the North, South and Midwest; along with multiple instruments popular within the bluegrass and folk genre and instruments beyond, The Hollows do Woody Guthrie proud.
The Hollows are:
Jeffrey Kurtze-bass, vocals
Daniel Kwiatkowski-banjo, guitars, vocals, harmonica
Rob Morrison-mandolins, guitars, harmonica, vocals
David Paarlberg-piano/keyboards, harmonica, vocals, guitar, dulcimer, accordion, trumpet
Erik Saxvik-guitars, piano, vocals, harmonica, accordion
Justin Aaronson - drums, percussion, vocals
With influences from The Band, Bob Dylan, Neil Young and Creedance Clearwater Revival and members of the band being accomplished on multiple instruments, the listener is treated to a sound that is familiar, energetic and fresh. Mandolins, banjos, accordions, horns, keyboards and guitars all mix together to create a New Grass, Bluegrass, coffee shop, square dance feel that is sure to appeal to hillbilly, hipster in all of us.  "It(band members playing multiple instruments) keeps the audience on their toes. Our show never feels stagnant and we're a very lively bunch on stage anyway." says Rob.
There are some similarities to Mumford and Sons and the Avett Brothers, however having a few more members playing a few more instruments, The Hollows have more to offer.
With the release of the live LP Neverending Show , The Hollows stretch their musical talents out to share the feel of their lively stage presence. The songs Youngblood, Old Brown Dog and Josephine most definitely fit the description of lively.  Talking about lively ? Old Brown Dog is a good starting point for you to immediately catch the vibe The Hollows are about.  Whiskey and Wine and Jepson Creek, being a bit more melodic and soulful, offer a powerful and thick sound.
Lively? Check. Talented? Check. Soulful? Check. Worth spending your money?  Check.