Hot Rize | Live in Kansas 1986 | Review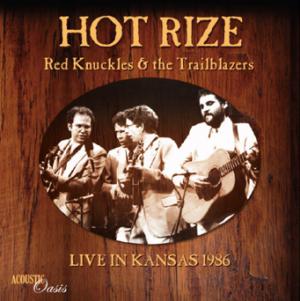 If the Colorado Bluegrass Community wasn't already tried as strong, this month represented a milestone for community support. Last month's "100 Year Flood" damaged and displaced thousands in Boulder County. The worst was the devastation in Lyons, Colorado, home of the Planet Bluegrass Ranch and much of the Colorado Music Roots community. The Ranch hosts at least two huge annual festivals onsite that after 40 years of legendary performances have built a loyal following of devotees nationwide. No doubt Colorado's original Bluegrass band Hot Rize is a cornerstone of the RockyGrass Festival held at the end of each July at Planet Bluegrass Ranch. After the property was left literally underwater, caretaker and owner Craig Ferguson was left with perhaps the biggest challenge of his life. In another part of Lyons, Hot Rize's "Dr. Banjo" Mr. Pete Wernick was left with plenty of his own rebuilding from the flood. Seeing the need for relief and charity much larger than Lyons and its music community, Pete and the rest of Hot Rize organized a hugely successful flood relief benefit called "Picking up the Pieces." Not only did the event feature a start-studded bluegrass bill featuring Hot Rize, Jeff Austin, Billy Nershi, Andy Hall, Chris Pandolfi, and many others, but also all proceeds went straight to the Colorado Flood Relief. In the end, the event raised over $40,000. Additionally, the benefit offered the flood distraught tickets for just five bucks to the exciting event that was held at CU Boulder's Macky Auditorium.
Hot Rize has been a vital part of Colorado and the United States bluegrass canon since the late 1970s. Pete Wernick, Nick Forster (banjoman), Tim O'Brien (mandolinman) and the late Charles Sawtelle (guitarman) created a working chronology of the genre through any given evening's performance, paying homage to the music of Flatt and Scruggs while also poking fun at the Honky-Tonk Country that hybridized with folk tradition to create bluegrass. The Red Knuckles and the Trailblazers segment of each Hot Rize show is the contrast reminding the audience that Americana is limitless (even if country music can come off a little square to some.)
In light of the recent benefit show, I wanted to highlight a very important archival addition to David Grisman's Acoustic Oasis webpage. Mr. Grisman started the site a few years back in hopes of preserving and sharing important string, jazz, Americana, folk, and bluegrass music that might be otherwise lost. His web archive is an invaluable treasure that any fan of Americana must support. One of the coolest releases on the site is a 1986 Hot Rize recording from Kansas, featuring the original band with Sawtelle in the height of their touring popularity. The show was recorded in Winfield High School Auditorium, no doubt to a tiny local's audience. The set is a perfect showcase of what the Hot Rize Band came to represent, a meshing of Flatt/Scruggs/Monroe/Williams with Colorado Newgrass flair. In 1986, the band released their first studio album in five year called Traditional Ties. A perfect mix of originals and standards, much of this material would become a permanent fixture of every Hot Rize performance thereafter.
No doubt Bill Monroe's "Blue Night" was a fitting way to begin that evening's performance. Showcasing the sweet four-part harmonies that set the quartet in the legitimate category of "traditional," though they always play with a sort of progressiveness even on the standards. "Hard Pressed" and "Walk The Way the Wind Blows", both Tim O'Brien originals off of the Traditional Ties record, showed the youngest member's strength as a stellar songwriter and the perfect channel of Lester Flatt's unmistakable vocal style. "Radio Boogie" the title track off of their 1981 album was a crowd pleaser by that point, and topically fits right in with any canonical bluegrass treasure. After a rippin' rendition of "Leather Briches" the boys one by one saunter offstage into their "Red Knuckles and the Trailblazers" alter egos. An always-welcome culty part of every Hot Rize performance, the fo-band dressed in their country-star glitz worked their way through golden gems like Jimmie Rodgers' "In The Jailhouse Now" and Ernest Tubb's "I Know My Baby Loves Me." It's plain to see that through the humor of the Trailblazers segment, they really are paying musical homage to bluegrasses alter ego, and trying their best to play faithfully.
When Hot Rize shoos Red Knuckles and the Trailblazers offstage they break out Tim O'Brien's brilliant composition "Land's End" which has since been acknowledged an instrumental masterpiece. A couple of bar-burner standards closed out the strong performance in the Midwest from almost thirty years ago. Thanks to David Grisman's Acoustic Oasis, fans can revisit this important never before released recording. Hot Rize continues to carry their legacy to this day. They're well on their way to putting out a new album and gigging enough to keep fans and themselves from going through withdrawal. This classic recording reveals the roots of this incredible unit that means more to the community now than ever. Please continue to support Hot Rize music, Colorado Flood Relief, and David Grisman's Acoustic Oasis web archive.