Legendary blues preservationists Hot Tuna performed a three-night engagement in Berkeley's storied Freight & Salvage Coffeehouse to bid farewell to 2018. On the eve of their fiftieth anniversary together as Hot Tuna, Jorma Kaukonen and Jack Casady were unmistakably grateful to be still playing and creating together. The heralded duo that rose to fame as part of the seminal rock group Jefferson Airplane never stopped playing after the stage lights went down, jamming the acoustic blues night after night, Jorma on acoustic guitar and Jack then on electric bass. In September 1969 they played a week-long residency at the New Orleans House in Berkeley, California which ultimately compiled the tracks on the duo's self-titled 1970 debut. Fifteen albums, twenty collaborators and fifty years later, Jorma and Jack returned to Berkeley to play for the best damn hometown crowd any band could dream of.
The band was gracious enough to invite Grateful Web to attend the opening sold-out-months-in-advance acoustic show on Friday, December 29th. An electric evening followed on the 30th and a combo acoustic/electric for the New Year's Eve gig. This year, we had the opportunity of a lifetime to both interview Jack Casady and preview Jorma's epic autobiography Been So Long. To see Tuna onstage, stripped down to an acoustic duo format, in the prime of their lives was a blessing to all in attendance. After a lengthy introduction the duo emerged in great humor with two classic cuts, "Ain't in No Hurry," and "Hesitation Blues." Jorma and Jack have a knack for making you feel more like you're sitting in on a focused living room jam than a big concert. Hoots and hollers accepted, the banter was beautiful from the start.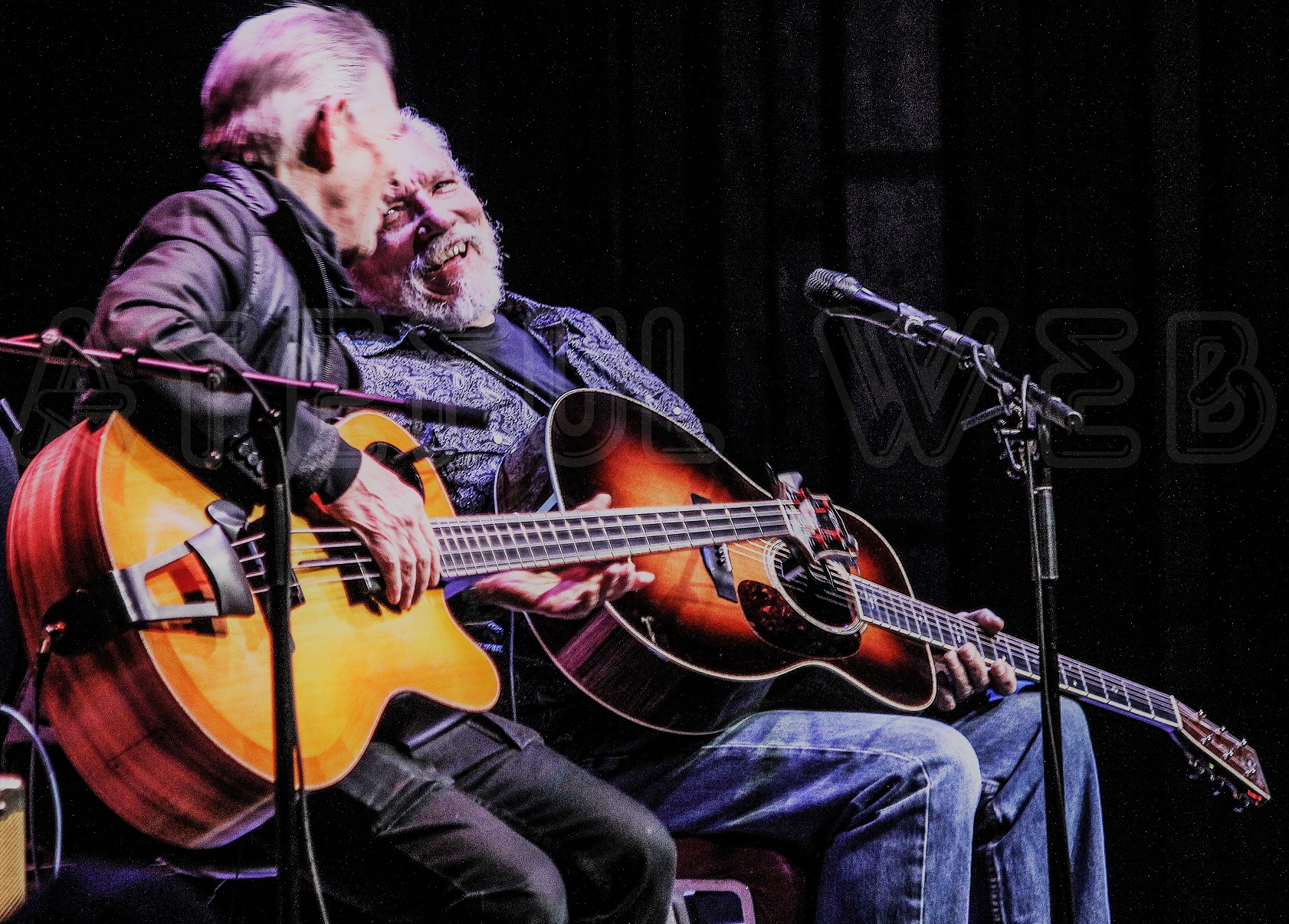 Jorma introduced a tune that had been with him since the early 1960s picking in the Santa Clara folk circles, Reverend Gary Davis' "I Am the Light of This World," displayed the 78-year-old legend enunciating and omitting certain chords as a striking variation from other performances past. He's got a knack for being in the moment with each word and note and making every venerable song a unique performance. "How Long Blues," and "Sleep Song" served as tremendous counterparts. One could close their eyes and drift to the melody like a long-lost lullaby.
Jack had kept a lower profile the first part of the set, allowing Jorma to lead the banter. His chime-in came before a striking duet rendition of Jefferson Airplane's "Trial by Fire." Jack gave his salutations to the time of the late 1960s in Berkeley, where Hot Tuna came to age at the New Orleans House, during a time of protest and social upheaval. Berkeley was the place of resistance. He augmented that enthusiasm with a thumping solo during "Trial by Fire" on his stunning Diana bass, an inimitable custom-built acoustic bass in honor of his beloved wife Diana's memory. Jorma had previously indicated the crowd was in for a two-setter, and Tuna finished off the twelve-song first set with a buoyant "Let Us Get Together Right Down Here," (drawling out the finish of the chorus in a tickling manner to the bounty of hardcore fans in attendance,) followed by Blind Willie Johnson's "Keep Your Lamps Trimmed and Burning." A brief set break gave the crowd a chance to socialize with old friends and exchange wows about the many bust-outs thus far.
For the second set, Tuna acoustic kicked things off with the acclaimed Jorma original "Been So Long," followed by the Steady as She Goes (2011) cut "Second Chances." A deep tune came with Jelly Roll Morton's "Winin' Boy Blues," displaying that centricity between Jorma's lush six-string melodies and Jack's ever-steady thunderous fills. The second of three Rev. Gary Davis tunes, "Oh Lord, Search My Heart," was a meditative take, deepening the canon with their rendering. In a shout-out to their beloved Bay Area crowd, Jesse Fuller's "San Francisco Bay Blues," got some folks out of their seats to twirl, though you could still hear a pin drop if you listened closely. The originally electrified Burgers (1972) cut "Sea Child," fared stunningly in acoustic arrangement followed by a magnificent interpretation of the mythical "Good Shepard," from Jefferson Airplane's groundbreaking Volunteers (1969) record. That particular jammed-out version captured the depth of both players, each allowing the other space to bring the music to life that changed the lives of so many folks in attendance decades past.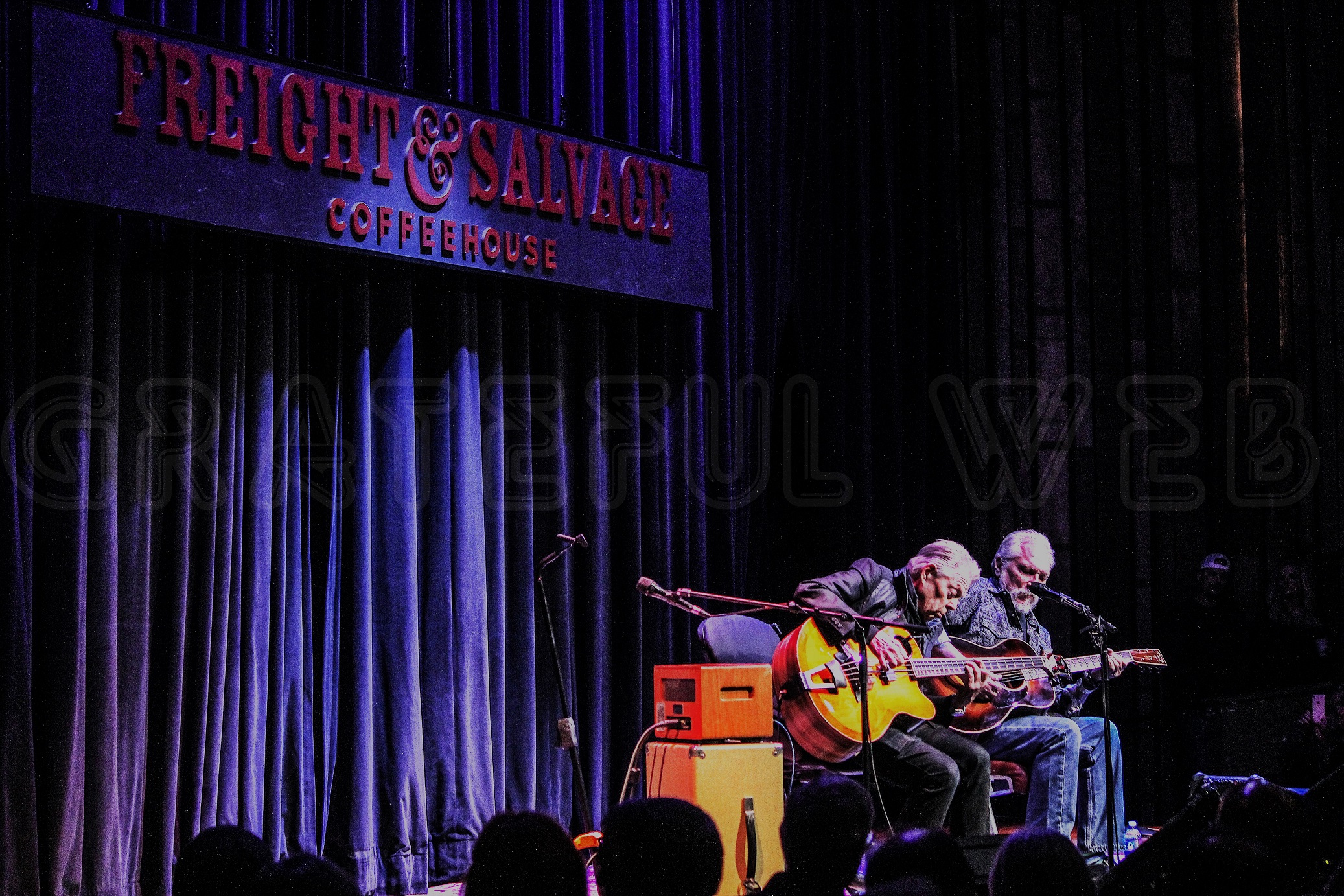 After many boisterous requests from the crowd (HIGHWAY SONG!!), Jorma finally replied, "actually I'm looking for a longer tune than that, how about I Know You Rider, Jack?" In good humor Jorma & Jack launched into a seven-minute speedy show-stopping "I Know You Rider," as the crowd twirled beside them. Impressive encore cries and applause beckoned them back for the classic "The Water Song," to cap off the three-hour acoustic performance. Hearing many of these bigger album tunes in a dual acoustic format brought us all back to a small jam session on the celebrated duo's back porch. They've got a knack of bridging the gap between audience and artist. One hell of a way to kick off fifty years of Hot Tuna, and we'll keep truckin' on as long as Jorma and Jack keep picking.