Hugh Cornwell of The Stranglers on U.S. Tour
Submitted by mike on Tue, 02/16/2010 - 01:55
Hugh Cornwell returns to the US after a successful sold out UK tour at 02 Academy venues. He is a man with equal parts grit and wit.  He has been an acclaimed writer and live performer since his time as the primary songwriter, singer, and guitarist of punk and new wave legends The Stranglers.  His recently released eighth album, Hooverdam, produced by Grammy Award-winning producer Liam Watson (White Stripes - 'Elephant') is an eloquent and exciting mix of rhythm & blues, rock and post-punk.  Hugh will also cross the Atlantic this Spring and treat his US fans to his fiery live show.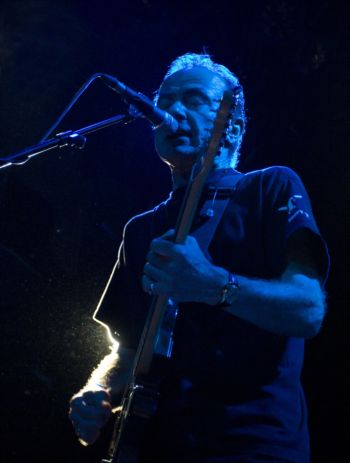 Though he may be one of the UK's finest talents, Hugh's music has always reached far beyond his homeland.  Fittingly, Hooverdam is now available worldwide from his website, which can be viewed in twelve languages (English, French, German, Spanish, Portuguese, Arabic, Farsi, Russian, Mandarin, Turkish, Italian and Japanese).  The album is available as a free download and can also be purchased on vinyl and as a triple-sleeved digi-pak, featuring both CD album and live studio performance DVD 'Blueprint' in one package.
The upcoming US tour includes a performance in San Francisco as part of the Jay Siegan Presents "In The Name Of Love", a series of concerts to raise money for the Haiti relief effort.  Hugh will be playing along with special guest Kristeen Young at San Francisco's Red Devil Lounge on March 31st. A percentage of ticket sales will be donated to international medical humanitarian organization Doctors Without Borders for the victims of Haiti.
Hugh Cornwell Spring 2010 Tour Dates
03/24: Tucson, AZ @ Club Congress
03/25: Peoria, AZ @ The Platinum Room at SKYE
03/27: Long Beach, CA @ Alex's Bar
03/28: San Diego, CA @ Brick By Brick
03/30: Los Angeles, CA @ Spaceland
03/31: San Francisco, CA @ Red Devil Lounge
04/02: Vancouver, BC @ Media Club
04/03: Portland, OR @ Doug Fir Lounge
04/04: Seattle, WA @ The Tractor Tavern
04/06: Salt Lake City, UT @ The State Room
04/07: Denver, CO @ Soiled Dove Underground
04/08: Lincoln, NE @ Knickerbockers
04/09: St. Louis, MO @ Off Broadway
04/10: Chicago, IL @ The Abbey Pub