Indaba Music hosts Guster Remix Contest!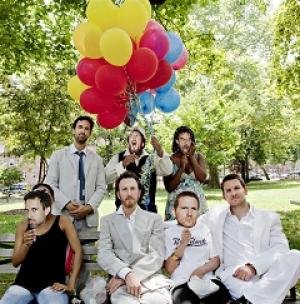 Fresh off of the release of their latest EP On The Ocean and a summer co-headlining tour with Jack's Mannequin, alt-pop icons Guster are offering fans the chance to remix one of their tracks through
Indabamusic.com
. The band has made available the stems needed for fans to remix their track "This Is How It Feels To Have a Broken Heart", and they are making sure that the winning remixer is well compensated for their efforts. The grand prize winner will receive $1000, as well as the chance to see their remix offered as a free promotional download on Guster's website and other great add-ins. It won't only be the grand prize winner who is rewarded either, as 5 honorable mentions will also win $500 cash and assorted swag and music from Guster. Head over to the competition's
website
for a full prize listing.
Guster has been growing their cult-like fanbase for over 15 years now, and as evident by their latest albums
Easy Wonderful
and
On The Ocean
they are only getting better. The band feels the release of Easy Wonderful marked a turning point in their career, and believe they have emerged from the process as "stronger players, writers and record makers".
"This is How It Feels To Have a Broken Heart" was originally found on Guster's full length album
Easy Wonderful
, which was release in 2010 on Universal Republic. The track, which has become a fan favorite on tour, was recently remixed for their latest EP On The Ocean.
Indabamusic.com
is a community for musicians around the world to network and make music together through online collaborations. The site has grown to over 500,000 musicians, including everyone from hobbyists to Grammy Award winners.
You can find the full details on this competition
here
.