On an icy, cold night in Fayetteville, AR I traveled (safely and slowly) to George's Majestic Lounge for an epic evening with The Infamous Stringdusters. They've played a couple times on Mulberry Mountain but never in Fayetteville so it was a treat for us. Unfortunately, the show was scheduled on a day that fell just after our area had been covered by ice and snow. The crowd was miniscule at best, but hopefully those who couldn't make the show were able to watch their live stream of the concert. I'm not sure if the Dusters frequently stream their shows or if they did because of the circumstances. Either way, top-notch idea guys!
Because of the sparse crowd I think the show was allowed to become more intimate and, in a way, more free. Most of the shows I've seen from these guys have been in front of large crowds of drinking and stomping bluegrass lovers, and the band feeds off that energy. But on Wednesday we experienced something a little different. Don't get me wrong, they still put on a rousing show but the intimacy was palpable. Despite the small crowd there were three photographers there, including myself. This show was a big deal.
The show started on time, with Paper Bird opening for The Stringdusters at 8 pm. They followed the performance at 9:15 and played until sometime after 11. Since the show was on a Wednesday, I was grateful for a band that I didn't have to watch until 1 am – I know…I am pretty lame (and sleepy!).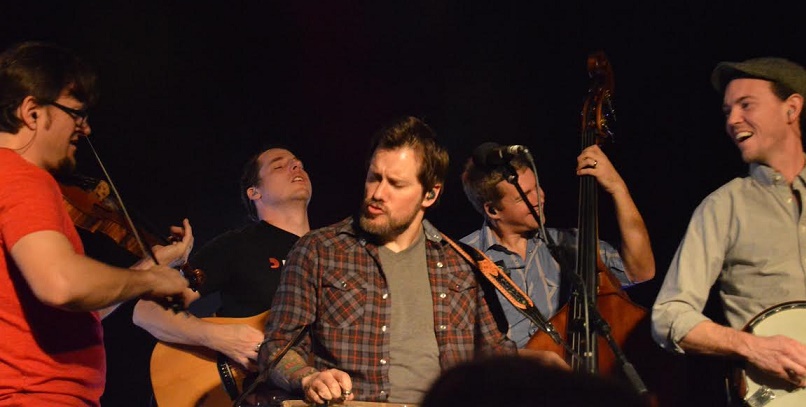 The band played for over 2 hours, showing off their traditional bluegrass skills, insane collaborations and modern twists. From turkey-in-the-straw tunes, Irish breakdowns, Latin interjections and a church song, The Infamous Stringdusters impressed. George's Majestic Lounge is the perfect venue for bluegrass, it's an intimate wooden building with an inviting stage, good lighting and great seating for those who might want to have a bit of a rest. I didn't need a seat for this show; the 5-piece band kept the crowd dancing and enthralled. Their beautiful musicianship travels through time and space flawlessly – syncopation feels melodic somehow and their long jams seem to fly by in seconds.
One song The Stringdusters love to play within and around is Winds of Change. They faded in and out of the chorus throughout the night; in between Andy Falco shredded the guitar in a long solo. The other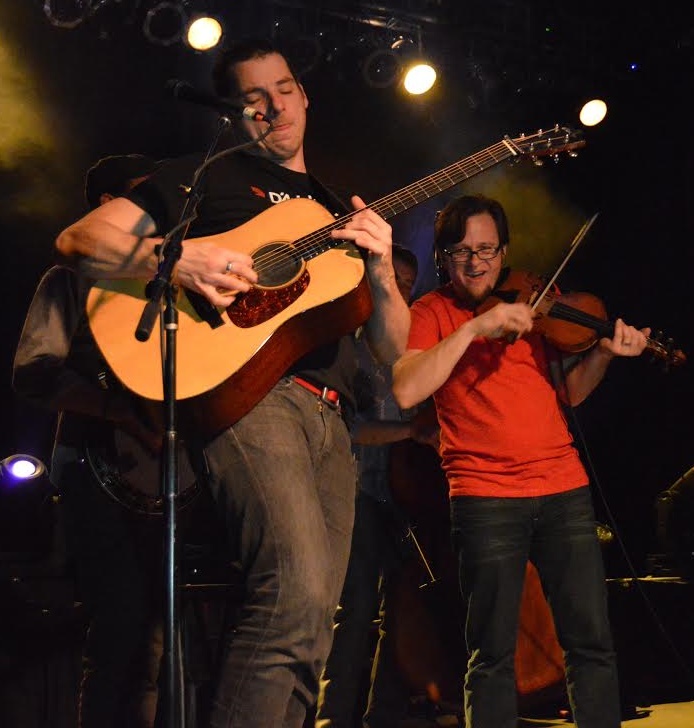 members visibly encouraged his playing and occasionally chimed in. It's amazing the way these guys function together; they are both a team and a single unit – an almost perfect representation of the way a group must function. They play like traditional bluegrass bands, moving around on the stage from one grouping to another, playing off each other's notions and whims. It's fantastic to see a band not glued to their mics and, instead, glued to their music.
Each member has a very different personality. There's Travis Book. He strums his bass always with a beaming smile and seems to move around the most onstage despite his large instrument. Chris Pandolfi plays the banjo. And he plays it usually with a look of serenity on his face until he's – at that point his brow furrows in concentration and he grins passionately. Jeremy Garrett on fiddle is always concentrating, lifting from one musician to the other – he moves around almost as much as Book. Garrett makes it look easy to play his parts, but I assure you they are not, especially in front of his sister (who was in the audience for this show). At one point during the set he even somehow made his fiddle trumpet. There's Andy Hall on dobro with a fun, get-down style. His slides are enthusiastic and picking is intricate. I'm always fascinated by the dobro. Andy Falco plays the guitar with passion and fervor; he takes on long, difficult solos and throws himself into each note and melody.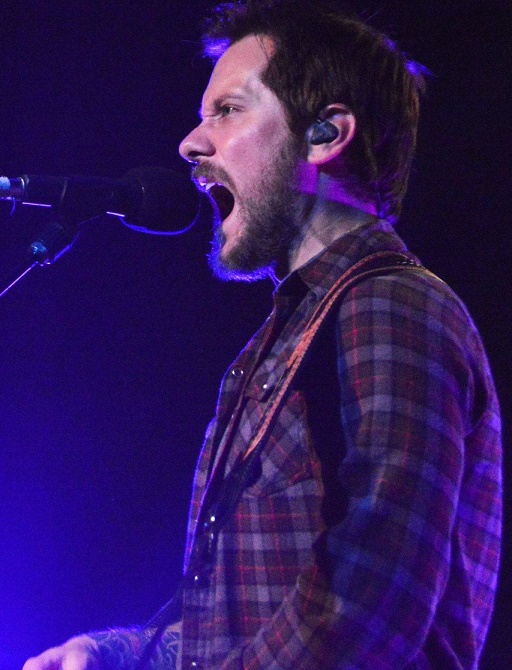 This band's style impresses me. They combine so many different sounds and harken back to various songs and melodies throughout their set. They give their instruments new life encased in traditional-sounding songs, and they experiment with modern twists. Their church bluegrass choice was a fast and lively amen. They jammed into a new song with a melodic-swing fiddle. After they left the stage the small crowd called for an encore. The Stringdusters graciously and happily brought their instruments onto the floor. We encircled them as they decided which song to play, then heartily threw themselves into the last tune of the night. This show was wonderful. It was peppered with strong vocals and stories of past times playing at George's; Book had played with Yonder Mountain String Band and Pandolfi had played at George's while touring alongside headliner Dark Star Orchestra. The guitar was electrifying. Bass hit our hearts with each beat. Dobro sang loudly and impressed the crowd. The fiddle was a flying carpet ride through bluegrass city. And the banjo brought us all back to the roots of the music.
I once interviewed Andy Falco and Travis Book my first Wakarusa working for Grateful Web. I can't say it was the best interview because I was so nervous (legally I cannot say it was the best interview)…and I may have lost the notebook with the interview in it after leaving the interview. And then I found a message in my secret Facebook message inbox 6 months later that a girl had found the notebook, but sadly she never responded to my plea for her to mail it to me! But it was a great and important experience nonetheless, and the two were incredibly kind. I am so grateful to have had the opportunity to meet and talk with them. Let's just say this event went a lot better. Seeing the band play in one of my favorite cities in the world, in which I am lucky to live, was a fantastic and rare opportunity. It's a tragedy so few people were able to show up, but those of us who could will be forever glad we had the chance.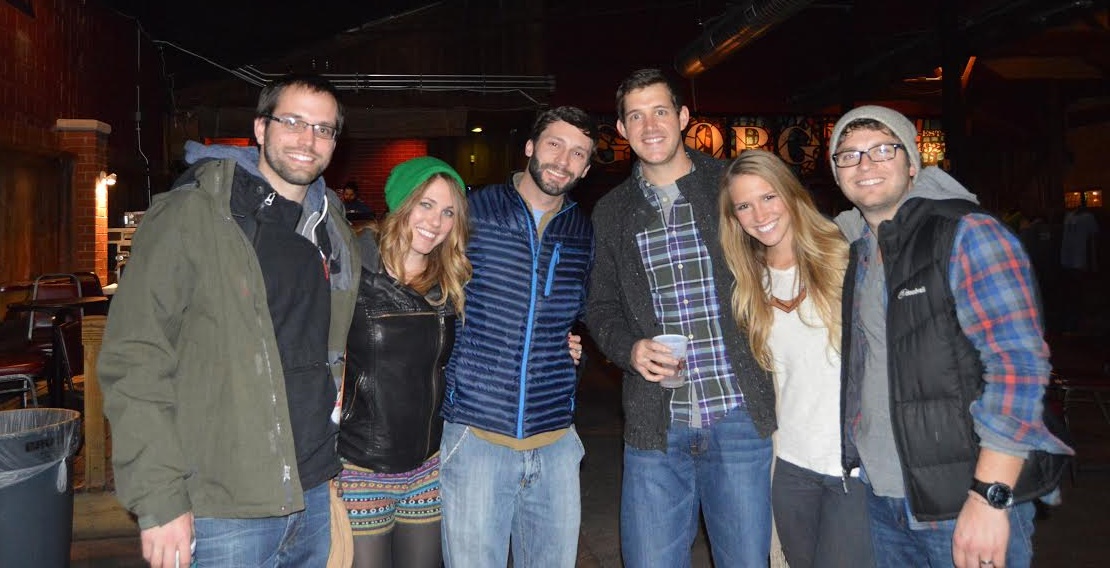 The Infamous Stringdusters will be playing in late December, a few dates in January and lots of dates in February. Visit their website to find if they'll be in your area! If not, you can usually catch them at festivals around the U.S., as well as at their own October festival The Festy.