My wife and I are both Deadheads. Neither of us gets out to shows as much as we used to now that we have a family, but a few years ago I bought her a Phil and Friends ticket for Christmas. She got to go to the show while I stayed home and watched the kids. I wasn't up to snuff on the line-up as I've paid pretty scant attention to the Dead spin-offs for one reason or another. When she got home I inquired, "So, who are Phil's friends this time around?" She mentioned a young gun, Jackie Greene, on guitar.
Greene's got an impressive resume, having toured with Phil and Friends, Gov't Mule, Willie Nelson, Elvis Costello, Huey Lewis, Susan Tedeschi, Buddy Guy, and B.B. King (who offered him a permanent position on keys-- yes he can rock the keys just the same). And he sure as hell knows his way around his guitar. There's an Americana/Indie/blues sound to his music, and he can do the improvisational Jerry Garcia bit—as demonstrated with a nearly 9 minute "Sugaree" in the second set--and the over-the-top rockin' Stevie Ray blues bit--to the T.
He took to the stage with his three piece band after a short set by Colorado's own Kort McCumber. Greene physically kind of reminds you of a slimmer version of Dave Navarro from Jane's Addiction, long straight jet-black shoulder-length locks accentuated by a moustache goatee, and a pork-pie hat. A seemingly soft-spoken fella, he cut out the unnecessary chit-chat on Thursday night at the Fox Theater in Boulder and let his licks and lyrics speak for themselves.
The evenings Grateful Dead covers were a delightful given. Midway through the first set we were treated to a nice, twangy "New Speedway Boogie" that morphed into a jam with teases of "The Other One," and "Good Times, Bad Times" by Led Zeppelin, before winding back down into "New Speedway."
Greene started off the evening with a few of his originals including "Don't Let the Devil Take Your Mind," "I'm So Gone," and "Medicine," before a spacey improved intro that led into "A Moment of Temporary Color." "I can't stand myself," Greene sang, with a shred of desperation hanging from his words, "'Cause I feel like someone else/ And I don't mind/ I can't tell if I'm sick or if I'm well." His lyrics made me wonder if perhaps playing along side all of these big names has a tendency to obscure ones individuality a little. Greene's got some righteous solo material, but definitely runs heavy through the cover-tunes. Regardless, the audience we're beside themselves, number after number. Another cover—Tom Petty's "Breakdown"—featured Greene owning it on keys and vocals the same, and doing supreme justice to a song from my youth. He also found himself down in the Blues trenches, putting in an honest day's duties on "I'm Tore Down" by Freddie King.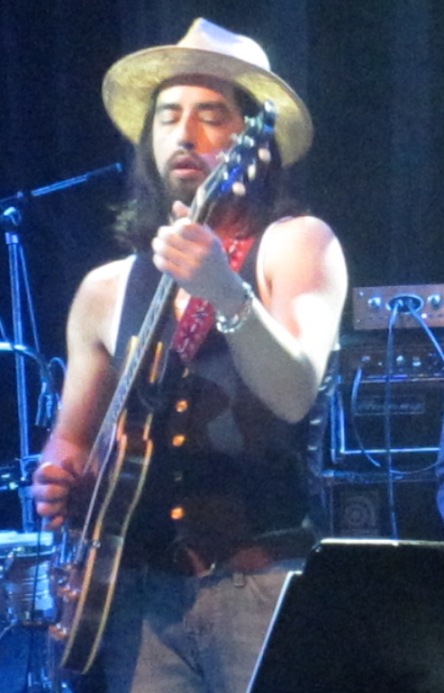 He kept the crowd movin' with the steady chuggin' "Nothing Comes from Nothing," into the slow bluesy groove "Tell Me Mama," and a crowd favorite, "Shaken." Greene spoke very little and played hard, whether on guitar, keyboards, or harp. Hearing him live for the first time cemented my membership in his fan-base. Just like any Grateful Dead song—his tunes are damn good on vinyl, but shape-shift into their finest form live on stage.
"Gone Wanderin'," had him cooking on harmonica and acoustic guitar, followed by a delicate, honest "The Holy Land," and "Ball and Chain," for a solid closing
I have a bit of regret that I missed him on his escapades with Phil Lesh, but can rest assured that the best is yet to come from this lad. He's obviously just getting warmed up.