Jake Shimabukuro: Jazz Ukulele Virtuoso
When I first heard about Jake Shimabukuro, I probably was like most people, responding, "He plays what? A ukulele! You've got to be kidding!" But then I put his latest full-length album, Gently Weeps (2006), into my CD player, and, well, you had to scrap my jaw up off the floor!
This young man is a virtuoso string player.  Chase Don Ho and Tiny Tim right out of your head! Shimabukuro has elevated this simple, four string, two octave instrument to a classical artform. He has redefined what this instrument can do as did David Grisman did with mandolin and Alison Brown and Bela Fleck did with banjo.
Shimabukuro is comparable to Eric Clapton and even Andrés Segovia in both rock and classical styles - - and that's not hyperbole. Shimabukuro is able to cross a range of genres with ease, using skills appropriate to each. He produces string sounds resembling an acoustic tenor guitar that mix flamenco, classical, blues, and acoustic rock fingerstyling.
In Gently Weeps, Shimabukuro presents 12 songs with only his sole ukulele that are full bodied, thoughtful and stirring. He covers George Harrison's standard "Why My Guitar Gently Weeps," for which the album is named, as well as Chic Chorea's "Spain," Johnny Burke/Erroll Gamer's "Misty," and even "Ave Maria." His version of the Japanese folk tune "Sakura" sounds as if it were played on the Japanese 13-string koto.
There are also five original compositions. Then, as a bonus Shimabukuro includes five cuts that have a full band backing him (guitar, bass, drums, and keys). Of particular note is "Beyond the Break," written for the TV network THE N. Shimabukuro juxatoposes his ukelele against a driving electric guitar with effects, rock bass, and heavy drums.  It works like magic.
The accompaniment on this CD and on his new EP, My Life, enhances Shimabukuro's complex stylings. My Life showcases six songs, including Cindy Lauper's hit "Time After Time," Page and Plant's "Going to California," Lennon/McCartney's "In My Life," and "Somewhere Over the Rainbow," which has become a signature tune for him.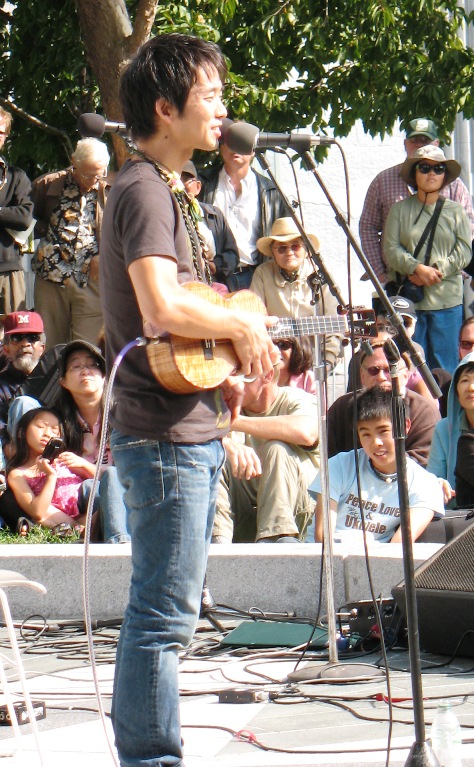 I had the pleasure of seeing classical guitarist Andrés Segovia live in concert in the mid 70s and was awestruck then. But when I stumbled upon Jake Shimabukuro this fall in San Francisco at a free concert at Yerba Buena Gardens, I couldn't believe my good fortune. His concert at the Herbst Theater was sold out, but he graciously appeared at the free festival.
He played many of the selections on Gently Weeps and My Life.  Much of what I heard make me liken Shimabukuro to Jimi Hendrix on the uke, especially when he took his own original swipe at "The Star-Spangled Banner." He played richly and fully, enjoying his audience.
Shimabukuro even good naturedly took on a stage full of ukelele players, performers who had played all afternoon before him. They included  The UFOs  ('Ukulele Friends Ohana), Al Dodge and the Tin Pan Haoles, The Paper Dolls, Tippy Canoe and the Paddlemen, Faith Ako, slack-key guitarist Carey Camacho, The Victor Ohana Band, Kimo Hussey, 'Ukulele Ray, and The Frisky Frolics. His task was to play lead uke opposite this group as they tackled two traditional songs. And, by Golly, he did it! It was a nightmare for the sound techs in the front of the "house" and the monitor tech. Perry Thorwaldson and his crew from Thor Audio Solutions did a remarkable job! Clips of this show have been floating around Utube for a weeks now.
Beginning at the age of four, Shimabukuro has added lightning runs and bluesy string bends to classical finger work and flamenco flourishes. He has performed with or opened for Blues Traveler, Hot Buttered Rum, The Radiators, John Hiatt, and Fiona Apple. He's appeared on The Late Show with Conan O'Brien and Last Call with Carson Daly, and toured with Jimmy Buffett and Bela Fleck. He also played on Ziggy Marley's Grammy winning Love is Religion album last year.
If you're interested in what this ukulele virtuoso can do, check out his website www.jakeshimabukuro.com and grab one of his CDs, especially his new My Life EP. Better yet, go see his blazing hands live.  It will be a muscial experience you won't soon forget.