Jake Shimabukuro October Newsletter
Submitted by press on Mon, 10/11/2010 - 18:27
Aloha! Jake finished his annual tour of Japan last month and is now getting ready for shows on the east coast of the United States and his first visit to GERMANY!!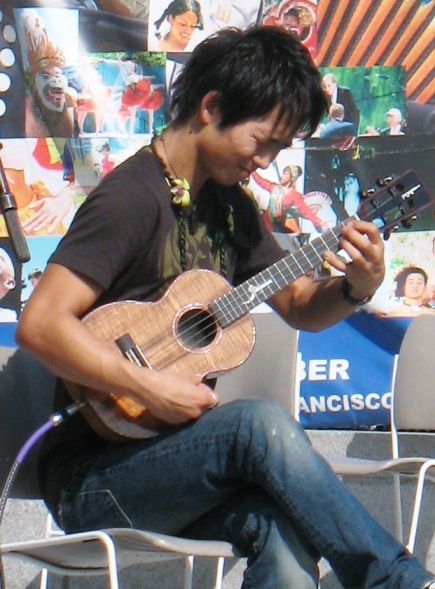 Jake's proud to announce his new album "Peace Love Ukulele" will be released in January 2011! The album includes Jake's original songs "143" (the numeric pager code for "I love you") and his tribute to World War II veterans, "Go For Broke". On the album's only two solo ukulele arrangements, Jake brings his unique style to Leonard Cohen's "Hallelujah", and Queen's epic rock and roll classic "Bohemian Rhapsody".
Watch Jake perform "Bohemian Rhapsody" filmed by Tad Nakamura in Hiroshim, Japan.
Jake recently released a new album "I Love Ukulele" in Japan. To promote this new album, Jake went on a month long tour (August 14 - September 14) around Japan, which consisted of 16 shows in 14 cities.  While in Japan, Jake even had time to visit some elderly homes and spread the joy of music that we are all familiar with.
Upcoming Tour Dates:
10.16.2010 - 2nd Annual Asian American Music Festival - Los Angeles, CA
10.17.2010 - Balboa Theatre - San Diego, CA
10.20.2010 - Sellersville Theatre 1894 - Sellersville, PA
10.21.2010 - Infinity Hall - Norfolk, CT
10.22.2010 - The Berlind Theare - Princeton, NJ
10.23.2010 - Rams Head On Stage
10.24.2010 - Gagnon Auditorium at the Morgan School - Clinton, CT
10.25.2010 - Highline Ballroom - New York, NY
10.26.2010 - Regattabar - Cambridge, MA
10.30.2010 - German Jazz Festival Frankfurt - Frankfurt, GERMANY
11.02.2010 - The Ceder - Minneapolis, MN
11.03.2010 - Stoughton Opera House - Stoughton, WI
11.04.2010 - The Ark - Ann Arbor, MI
11.06.2010 - Old Town School of Folk Music - Chicago, IL
11.19.2010 - Raymon F. Kravis Center for the Arts - West Palm Beach, FL
01.28.2011 - The Kentucky Center for the Performing Arts - Louisville, KY
02.03.2011 - 41st Annual Jazz Festival Fundraiser - Penfield, NY
02.07.2011 - The Grand Opera House - Wilmington, DE
02.08.2011 - Birchmere - Alexandria, VA
02.10.2011 - Lipinsky Auditorium University North Carolina at Asheville - Asheville, NC
02.11.2011 - Kenan Auditorium University North Carolina Wilmington - Wilmington, NC
02.12.2011 - Progress Energy Center For the Performing Arts - Raleigh, NC
02.18.2011 - Kahilu Theatre - Kamuela, HI
03.24.2011 - Orange Couty PAC Segerstrom Concert - Costa Mesa, CA
03.26.2011 - San Francisco Jazz Festival - San Francisco, CA
03.31.2011 - Campbell Hall - Santa Barbara, CA
04.01.2011 - Target Artbeat Series-Henderson Events - Henderson, NV
08.26.2011 - Dave Koz & Friends at Sea - 2011 - Seattle, WA