Jared James Nichols Gears Up For 'Old Glory & The Wind' EP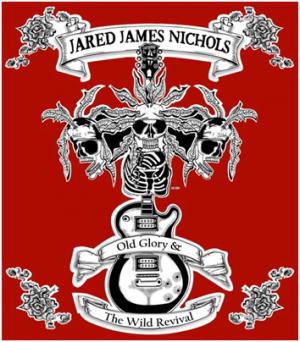 The American music scene has been looking for someone to step into the role of guitar player laureate--and right on time is the 22-year-old blues rock prodigy JARED JAMES NICHOLS. The emerging singer, songwriter and performer is gearing up for the July 23 release of his EP OLD GLORY & THE WILD REVIVAL, marking his first studio EP (he released a live EP in 2012).
The EP--released on Swing House Quality Recordings--was produced by Warren Huart (Aerosmith, The Fray) and will be available digitally and at all the venues on "The Wild Revival Tour" (full tour itinerary below). The tour will kick off July 27 in Fresno, CA and will culminate when JARED performs at the legendary Sturgis Buffalo Chip Festival (along with The Cult, ZZ Top and Kid Rock), with several appearances at the Harley Davidson 110th Anniversary Concert over Labor Day weekend in Milwaukee, WI (also performing will be Aerosmith, Kid Rock and Toby Keith, among others) to follow.
Your introduction to JARED JAMES NICHOLS is here: http://tinyurl.com/qft4roj
Blues and classic rock 'n roll embodied, JARED is a very welcome addition to the new wave of classic rock & R&B influenced acts like Gary Clark Jr., Vintage Trouble, and The Stone Foxes with a work ethic and charisma that is virtually unmatched. JARED gets down to the nitty-gritty with songs that hit close to home, touching on the timeless blues aesthetic in every way possible while still managing to put his own thoughtful twist on it. He keeps that sound pumping, turning any room into an instant party, eliciting stunned looks for his mesmerizing guitar licks. The new EP tracks are: "Blackfoot" (with Jessica Childress from "The Voice"), "Let You Go," "Can You Feel It?," "Sometimes…" and "Take My Hand."
JARED JAMES NICHOLS' tour dates are as follows:
DATE
CITY
VENUE
Sat
7/27
Fresno, CA
Strummer's
Tues
7/30
Portland, OR
Kelly's Olympian
Wed
7/31
Seattle, WA
Sunset Tavern
Thurs
8/1
Boise, ID
Egyptian Theatre
Sun
8/4
Sturgis, SD
Buffalo Chip
Mon
8/5
Sturgis, SD
Buffalo Chip
Tues
8/6
Sturgis, SD
Buffalo Chip
Thurs
8/8
Salt Lake City, UT
The Hog Wallow Pub
Fri
8/9
Salt Lake City, UT
Fat's Grill
Sat
8/10
tba, ID
tba
Sun
8/11
Walnut Creek, CA
Red House Studios
Thurs
8/15
Santa Barbara, CA
Velvet Jones
Harley Davidson 110th Anniversary Concert
Thurs
8/29
Milwaukee, WI
Veterans Park Stage
Sat
8/31
Milwaukee, WI
Veterans Park Stage
Sun
9/1
Milwaukee, WI
Veterans Park Stage