Jazz Museum Events: Sept. 15-19, 2008
Submitted by press on Sat, 09/13/2008 - 00:29
The National Jazz Museum in Harlem takes pride in presenting free discussions and educational classes, plus live performances, all which so clearly demonstrate the vibrant legacy of jazz not just in America's past, but in contemporary society. And we're proud to honor Harlem's own on Monday: Jazz for Curious Readers features a talk with local jazz journalist Ron Scott, who pens a weekly jazz column in the Amsterdam News.
On Tuesday, the museum's executive director Loren Schoenberg will elucidate the lasting value of Benny Goodman's 1938 concert at Carnegie Hall for Jazz for Curious Listeners. And not only does Schoenberg know this recording through deep study and countless listening sessions; as a young man, Schoenberg worked with Goodman directly, so expect insights that only he can bring.
And for those to whom talk is not quite enough to satisfy artistic hunger, come feast at Harlem in the Himalayas hosted at the Rubin Museum of Art and, as the drummer Cindy Blackman fronts a fiery quartet on Friday.
Monday, September 15, 2008
Jazz for Curious Readers
Ron Scott, Jazz Journalist
6:30 – 8:00pm
Location: NJMIH Visitors Center
(104 E. 126th Street, Suite 2C)
Reservations: 212-348-8300 or register online
Ron Scott currently writes a weekly column "Jazz Notes" for the Amsterdam News, and is a regular contributor of reviews and features for the monthly publications Jazz Improv and Network Journal.  He also wrote monthly reviews for the Jazz Heritage Society Catalogues, and contributes pieces to the online publication jazzhouse.org. 
He is the senior editor for the book Forever Harlem, (Starlight Press L.L.C., 2006), a pictorial history of Harlem from 1896-2006. Most recently he was writer and editor for the Community Works exhibit "Harlem is… Music," exhibited at the Lincoln Center Library for the Performing Arts and the Museum of the City of New York  
As a freelance writer Scott's byline has appeared in a variety of publications including the New York Times, Vogue, the NY Daily News, Time Out New York, Johnson Publications and ABC Radio. Scott also spent time as a theater and restaurant critic.
He is a member of the Jazz Journalists Association, New York Association of Black Journalists (NYABJ), and National Writers Union Local 1981. He is a graduate of Florida A&M University, and New York University's Graduate School of Social Work.
He's served as a publicity consultant on feature films and television specials working with such celebrities as Bill Cosby, Richard Pryor Harry Belafonte and two-time Grammy winner and jazz legend Roy Haynes. On the hip-hop tip Ron has worked on projects with Ice T., Chuck D. and Ice Cube. He's coordinated press conferences for Reverend Jesse Jackson, and R&B Grammy winner Al Green and Patti LaBelle.
Scott has received numerous awards including the D. Parke Gibson Award for distinguished achievement in Public Relations. He has lectured at the City University of New York, Howard University and shared his expertise on music and journalism panels throughout the United States.
Tuesday, September 16, 2008
Jazz for Curious Listeners
What Makes it Tick? Five Classic Albums
7:00 – 8:30pm
Location: NJMIH Visitors Center
(104 E. 126th Street, Suite 2C)
FREE | Reservations: 212-348-8300 or register online
Benny Goodman: 1938 Carnegie Hall Concert
Amongst celebrated dates that exist in popular or fine art music, January 16, 1938 denotes the day the Benny Goodman Orchestra played the rarified environs of New York's Carnegie Hall - previously designated as the dignified home of classical music. Initially conceived as a publicity stunt to enhance Goodman's increasing popularity, this was the very first time a jazz ensemble had ever played this venue and despite initial coolness towards the event, the sell-out performance left no doubt that swing dance bands provided the latest craze which could no longer be ignored.
"As an ensemble, the players brought a new kind of perfection and swing to their interpretations of the classic arrangements by Fletcher Henderson, Edgar Sampson, and Jimmy Mundy," wrote tonight's instructor and National Jazz Museum in Harlem Executive Director Loren Schoenberg in his book, The NPR Curious Listener's Guide to Jazz.
You'll hear the truth of these words by way of a crystal-clear recording of this date so crucial not only to jazz, but to American social history too.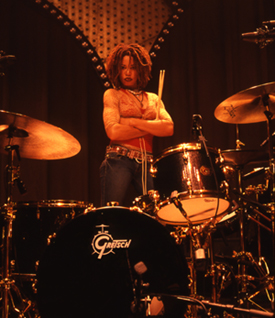 Friday, September 19, 2008
Harlem in the Himalayas
Cindy Blackman, Drummer
7:00pm
Location: Rubin Museum of Art
(150 West 17th Street)
$18 in advance | $20 at door |
Box Office: 212.620.5000 ext. 344
JD Allen, tenor sax
Carlton Holmes, piano
George Mitchell, bass
Cindy Blackman, drums
Born in Ohio and raised in Connecticut, Cindy began her musical career as a New York street performer. She spent three semesters at Berklee College of Music in Boston, Massachusetts and also studied with legendary teacher Alan Dawson.
Cindy moved to New York City in the 80's and since that time, she has been seen and heard by millions of people all over the world performing with her own group and during her 11 year stint with retro funk rocker Lenny Kravitz, since 1993.
In 1998, Cindy released her first drumming instructional video entitled, Multiplicity. Cindy was touted as "one of the hottest drummers in the business, by the Star-Gazette and is regarded as one of the top drummers in the world. She is a solid, dependable drummer who can easily move from straight-ahead jazz to rock to funk and back again.
She's upheld the backbeat and created texture for artists as varied as: Jackie McLean, Joe Henderson, Don Pullen, Hugh Masekela, Pharaoh Sanders, Sam Rivers, Cassandra Wilson, Angela Bofill, Bill Laswell, Buckethead. In early 2000, Cindy released her acclaimed solo album Works on Canvas, and yet another solo album, Someday, in 2004.