Jeff Austin is a shoo-in for the most animated mandolin player of the year award. There's no doubt he'd win, if and when such an award came to be. Whether echoing guitarist Nick Forster's vocals on "Nine Pound Hammer" or tearing through the chords and picking of Yonder Mountain String Band classics, he's a head bangin', hair shakin' vocal and instrumental machine, and his eyes will jump out of their sockets and into your soul if you're not careful.
"I'm happy to be back home," he announced to the audience in Boulder before launching into the homecoming "Forty Miles from Denver."
Joined by Forster on guitar, Justin Hoffenberg (from Long Road Home) on fiddle, and the mighty Eric Thorin ("from every great band") on upright bass, Austin spearheaded a damn-the-torpedoes assault on the Fox Theater last night.
The prestigious cast ran through a set of bluegrass style pass-the-mic and a plugged in set composed of Yonder tunes and covers of Bascom Lamar Lunsford, Fred Rose, and The Big Wu that hardly gave the audience a second to collect their jaws from the venue floor.
But let's backtrack for a brief second. To open the show, Austin took to the stage first, mandolin strung around his neck, joined by Yonder Band-mate Ben Kaufmann, on upright bass. The two began picking back and forth building the evening's energy. Shortly thereafter, much to the crowd's delight, the duo was joined by Adam Aijala on acoustic guitar, and wait—who's that guy on banjo? Yes indeed, Dave Johnston; ladies and gentlemen—Yonder Mountain String Band! The crowd collectively lost it. It was like picking a single golden apple from a tree and having three more fall into your basket—a true bang for your bluegrass buck affair.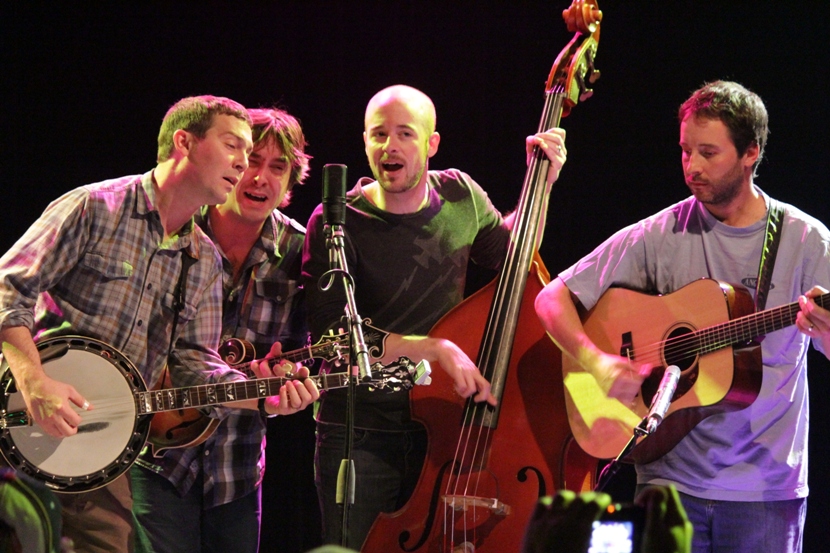 After playing through a few Yonder staples including "Another Day," "Steep Grade, Sharp Curves/ Ramblin' Reprise," "Pig in a Pen," and "Poor Little Turtle Dove," Hoffenberg, Forster, and Thorin filed into the song. A truly epic mega jam of the traditional "Crow Black Chicken" had Kaufmann and Thorin passing the upright back and forth to each other, and one by one Austin's Yonder band mates exited the stage.
Austin was clearly beside himself being up on stage hosting a party with his buddies, some of the finest string pickers Colorado has to offer, and described the show as "like playing a big ole house party on the Hill." (The Hill is a neighborhood of Boulder adjacent to the University of Colorado where the Fox is located).
"Pretty Daughter" by Danny Barnes had Forster on lighting it up on banjo, while Hoffenberg took the helm and led the quartet through an instrumental fiddle tune that remains nameless (at least to this author's mind).
Throughout the glory of "Roly Poly," "Dirty Little Coward Who Shot Mr. Howard," "Rag Doll," and a new, unnamed song, finished only three days ago, about Austin watching his beloved wife walking around the house, the mandolin master was all smiles and enthusiasm up on stage.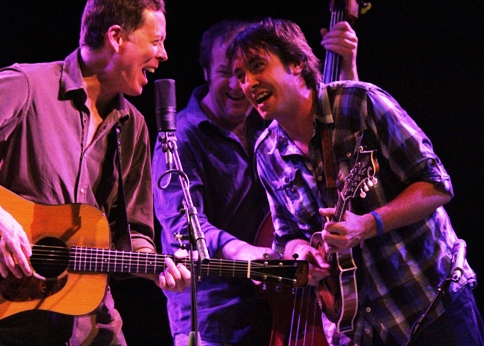 The crowd last night obviously felt privileged to be a part of this string-picking all-star extravaganza, but Austin knew that it was, in fact he who was the lucky one.
Check out more photos from the show and a video of 'Pig in a Pen.'
And don't forget to read Grateful Web's recent interview with Jeff Austin.