Jimmy Herring | Subject To Change Without Notice | Album Review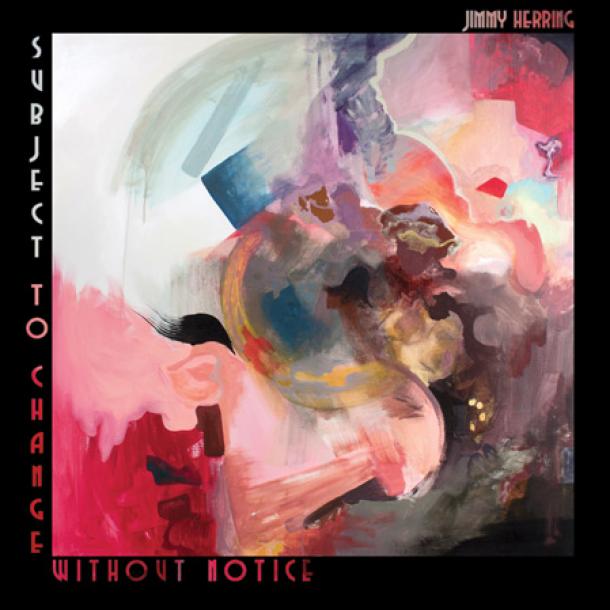 Jimmy Herring's second solo album, Subject to Change Without Notice -available via Abstract Logix- is an instrumental album inspired by the human voice. Herring reveals on his website "It's ironic: I play instrumental music and all I want to do is be a singer."  Yet, his iconic playing style has a voice of its own. With an extensive vocabulary that spans almost 40 years. Herring studied guitar at Berklee College of Music and the Guitar Institute of Technology before becoming a luminary in the Jazz Fusion scene. Currently the lead guitarist in Widespread Panic, Herring has an impressive resume: Allman Brothers, the Dead, Phil Lesh and Friends, Colonel Bruce Hampton and the Aquarium Rescue Unit, Frogwings, Jazz is Dead and his co-lead trio Project Z.
Jimmy Herring Band members are Jeff Sipe (Drums), Matt Slocum (Piano/Keyboards), and Neal Fountain (Bass). This quartet's expansive curriculum vitae is a mind blowing collective look at some of the most influential artists in Classic Jazz, Jazz Fusion, Rock, and Jam Band genres. Subject to Change Without Notice, produced the legendary John Keane, features guest artists that represent the Jimmy Herring Band's well-rounded talents. Featured artist include, Bill Evans, Béla Fleck, Etienne Mbappe, Nicky Sanders, and his son Carter Herring.
Subject to Change Without Notice features a majority of originals with covers of Mahavishnu Orchestra's "Hope", George Harrison's "Within You, Without You" and Jimmy McGriff's "Miss Poopie". For the Panic fans, "Kaleidoscope Carousel" sounds like an instrumental from Dirty Side Down, which might have evolved from Herring and Keane working together on that album with WSP. And as long as comparisons are being made, the classic Jazz-Rock Fusion of "Bilgewater Blues" sound reminiscent of Jeff Beck's Blow by Blow. But, this album balances the rigid instrumental jazz tracks with melody and warm tones, such as on "Emerald Green".  The album even explores elements of Americana in "Curfew". 
This second solo album explores the many influences that have come to define Jimmy Herring. The title Subject To Change Without Notice may even hint towards the various genres that appear and dissolve throughout the album. The Jimmy Herring Band is out on tour now supporting the album. Be sure to catch him live rephrasing classic jazz fusion, and at times, speaking a language all his own.
Click Here for a Behind the Scenes, courtesy of Abstract Logix.
Click on the Grateful Web's interview by Dylan Muhlberg, for more with Jimmy Herring. And check back for our live review when Jimmy Herring tours Colorado.