Jimmy Herring vs. George McConnell
Submitted by Tim Hurley on Tue, 08/14/2007 - 12:51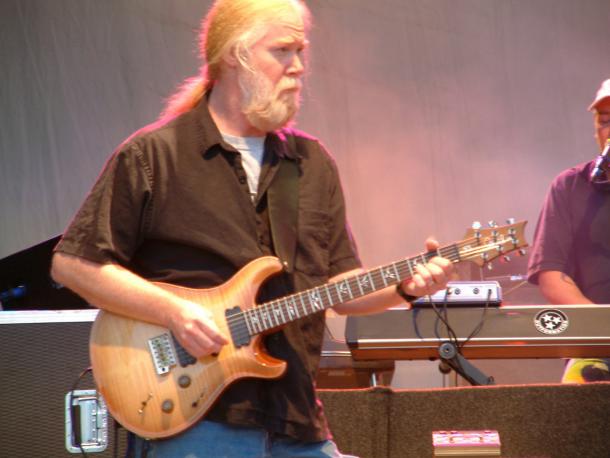 Now twenty years after their inception, Widespread Panic remains one of the biggest touring acts in all of rock.  Recently they completed another successful run at Colorado's Red Rocks Amphitheater, officially setting the venue record for the most sold-out shows performed.  Their unique blend of southern rock and dreamy jams has garnered a hard-core fan base, one who has stuck with the band through the good times and the bad.
The worst of course being the death of founding member and guitarist Michael Houser in 2002, who passed away after a short battle with pancreatic cancer.  With such a prominent figure of the band gone, fans were unsure if the ride could continue.  However, one of Houser's final wishes was for the group to press on and continue with the dream they started so many years ago.
Sensing the inevitable, the search for a new guitarist began shortly before Houser passed and the decision was eventually made to introduce guitar virtuoso George McConnell as the new member of the group.  The southern rocker from Mississippi had formerly played with acts Beanland and the Kudzu Kings, projects familiar to the members of Panic (keyboardist Hermann and McConnell played together in Beanland), so I suppose you could say it was a natural choice for the band to ask a longtime friend to help them carry the torch.
Fans were ecstatic that the band would continue performing, however were unsure what to think of their sound without Houser.  His signature guitar notes and unique style (Houser always performed sitting in a chair on stage with his flowing hair usually covering his face) was what helped give the band its familiarity.
McConnell's boyish good looks and "machine gun" solos wowed many new fans, but failed to fully win over many old ones.  He continued to play with the band through the mid-2000s and recorded "Ball" and "Earth to America" with Widespread Panic.  Near the end of their summer 2006 tour the announcement was made that McConnell would be leaving the band to pursue other musical endeavors.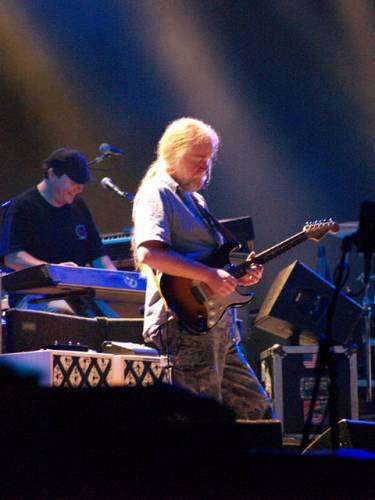 Keeping their promise to Mikey, the members continued touring for a short time thereafter with longtime engineers John Keane and Sam Holt filling in.  Rumors began to swirl about whom the band would ask to permanently fill the lead guitar position.  Enter Jimmy Herring.
Jammed Online was one of the first outlets to publish the rumors surrounding the possibility of longtime jam-scene troubadour Jimmy Herring joining the band.  It was learned a week later in the fall of 2006 that Widespread Panic would introduce him as their new guitarist.
Herring is best known for his work with Aquarium Rescue Unit, a jazz/rock band formed with Col. Bruce Hampton in the late 80s and early 90s.  More recently he had been touring with The Dead as well as Phil & Friends, lending his chops to fresh takes on the Grateful Dead catalog.
This brings us to now, the current lineup of Widespread Panic anchored by Herring on guitar.  Since he joined the band last year, discussions amongst fans and musicians have centered around who has better filled the enormous shoes left by Houser's departure.  The fans I have spoke with regarding this situation seem to all agree that Panic is playing with a new sense of vigor and a recharged sound, all thanks to Jimmy Herring's presence.
To be fair, George McConnell may have not really ever had the chance he deserved to win over long-time fans of the band.  Those folks had barely any time to grieve the passing of Houser before McConnell was introduced as his successor.  It is possible that fans were just not ready to follow the band without Houser in the mix.
At first glance, McConnell's guitar playing was much edgier and fresher that Houser's.  He seemed to give Panic a "dirtier" sound and helped them explore grittier tunes.  It was refreshing to hear this at first, because trying to replicate Mikey's guitar may have been disastrous to the group.
But alas, he never seemed to click with the band.  His improvisations, albeit spectacular, didn't fit the path some of their songs were heading during their live performances.  All this was the real reason George McConnell and Widespread Panic parted ways last summer.
Herring, on the other hand, has been welcomed by Panic fans with open arms.  They seem to feel that his technique and experience better fit the overall vision and compliment the band's sound perfectly.  His improvisational skills are amazing, while his clean performances supply the shot-in-the-arm every aging band needs at point or another.
It was last month's run at Red Rocks that officially sold me on what most die-hard fans had been telling me for months:  Jimmy Herring is a much better fit for Panic, and they are now playing as well as they did in the old days.  Hearing Jimmy and the band tear through scorching renditions of staples like "Wondering", "Space Wrangler", and one of my personal favorites "Surprise Valley" was truly joyous.  I did feel like I was witnessing a whole new band.  The fire was there, and the guitar playing was exceptional.
For any fans who gave up on this band after Houser passed, I encourage you to come back.  It will not be the same, but the change has been good.  Widespread Panic are still the kings of southern jam, and it has been a long time since they have sounded this good.