John Kadlecik 2012 Winter Tour Dates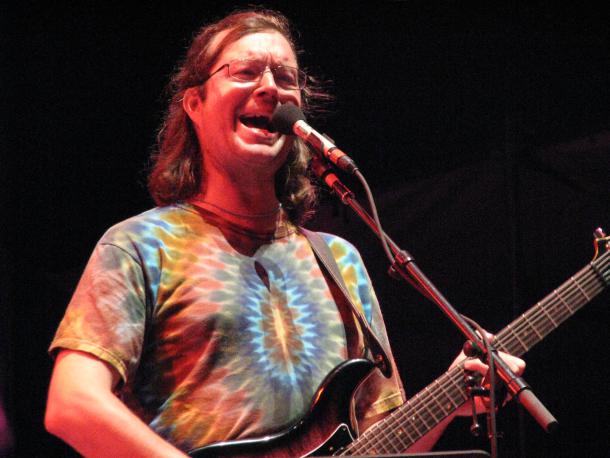 Well, 2011 has come and gone, and what a year it was!  Many standout Furthur shows, including Red Rocks, Madison Square Garden, the Greek, the whole Abbey Road album live... and a New Year's dragon!  Yours truly got to sit in with the Allman Brothers Band at the Beacon and the Everyone Orchestra at the Fillmore, SF.  The John K. Band saw the happy addition of Nathan Graham on drums and Lizzy Friel on vocals, made our first foray outside the DC/Baltimore zone at the legendary Stone Pony in Asbury Park, NJ, and  had some sweet special guest sit-ins by Sanjay Mishra and Trevor Specht (nice YouTube video of Bird Song w/Sanjay & Trevor).  I also debuted some new songs and it looks like more collaborations with lyricist Indi Riverflow will be forthcoming.  There was also a partial reunion of The Mix for a Rex Foundation benefit show, and I began working on a soundtrack recording for an independent documentary film about Walter Pahnke.
Whew!  Allright, 2012, what do you have in store?  For starters, a solo acoustic set January 27 at the Ram's Head Live in Baltimore, opening for Crowded Streets (a Dave Matthews Band tribute) with On the Bus and Nayas; the John K. Band will play Iota in Arlington, VA on February 4, the 8x10 in Baltimore on February 10 and our first trip to the Big Apple on February 11 at Sullivan Hall; and an acoustic show with Djesben & friends opening for Ron Holloway & Covered With Jam at Jammin Java in Vienna, VA on March 2.  A few other cool things are in the works... but you'll just have to wait until the next edition of the JK Wireservice!
Upcoming Shows:
Fri Jan 27 - Rams Head Live - John Kadlecik solo acoustic - tix online
20 Market Pl - Baltimore, MD - 21202 - $10 - All ages
opening for Crowded Streets (a DMB tribute) + On the Bus & Nayas
Sat Feb 4 - Iota Club & Cafe - The John K. Band - no advance tickets
2832 Wilson Blvd - Arlington, VA - 22201 - $12 - 2 sets - 21+
Fri Feb 10 - The 8x10 - The John K. Band - tix online
10 E Cross St - Baltimore, MD - 21230 - $10 - 2 sets - All ages
Sat Feb 11 - Sullivan Hall - The John K. Band - tix online - Facebook event link
214 Sullivan St - New York, NY - 10012 - $15 advance/$20 day of show - 2 sets - All Ages
Fri Mar 2 - Jammin Java - John Kadlecik acoustic w/ Djesben & friends
227 E Maple Ave - Vienna, VA - 22180 - 1 set
late show - opening for Covered with Jam featuring Ron Holloway