Jon Cleary Joins Dr. John Tour
Submitted by conqueroo on Thu, 05/17/2012 - 18:28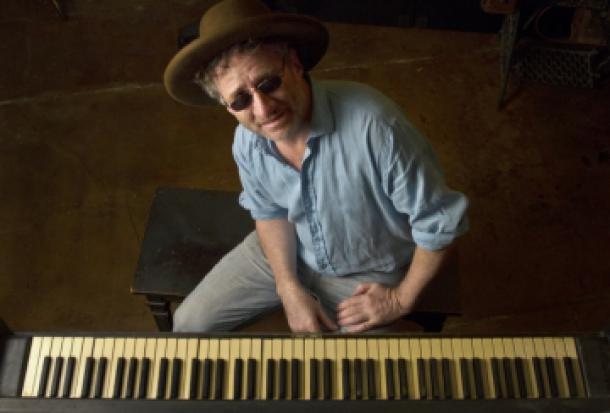 On the heels of playing his own national tour dates, Jon Cleary will join Dr. John's (a.k.a. Mac Rebennack) Locked Down tour across the U.S. and Europe as a featured player in Mac's band, The Lower 911. Jon Cleary's sixth solo CD, Occapella!, now in its fourth week of release, became one of the best selling records during Jazz Fest 2012, second only to Anders Osborne's latest, according to the Louisiana Music Factory, carrier of the widest selection of New Orleans music in the world.
Occapella!, featuring Cleary's interpretations of songs penned by his musical touchstone, Allen Toussaint, was described by Blurt magazine as "12 songs of pure pleasure."  Blogcritics called it, "an infectious romp through the mind and music of [the] New Orleans legend . . . every track a tour de force of performing virtuosity." And USA Today, in its "Playlist" column featuring single tracks, cited "Let's Get Low Down," in which "vocals from Bonnie Raitt and Dr. John sweeten the pot . . ."
Behind-the-scenes footage and interviews from Occapella!, featuring Cleary on keys, bass, guitar, drums and vocals, can be seen and shared at
http://vimeo.com/41186107.
Dr. John 2012 Tour Dates ("Dr. John and The Lower 911 featuring Jon Cleary"):
Fri., June 1  ALEXANDRIA, VA  The Birchmere
Sat., June 2  AUGUSTA, NJ  Sussex County Fairground
Sun., June 3  ST. LOUIS, MS  Bay Bridgefest *
Tues., June 5  PORTLAND, ME  The Asylum
Wed., June 6  BOSTON, MA  Paradise Rock Club
Thurs., June 7  TARRYTOWN, NY  Tarrytown Music Hall
Sat., June 9  CHARLOTTE, NC  Uptown Amphitheatre (w/ Gov't Mule)
Sun., June 10  HIGHLAND PARK, IL  Ravinia Pavilion (w/ Iron & Wine)
Tues., June 12  MYRTLE BEACH, SC  House of Blues (w/ Gov't Mule)
Wed., June 13  RALEIGH, NC  Raleigh Amphitheater (w/ Gov't Mule)
Thurs., June 14  LOUISVILLE, KY  Iroquois Amphitheater (w/ Gov't Mule)
Fri., June 15  OAKLAND, CA Paramount Theater **
Sun., June 17  ATLANTA, GA  Chastain Park Amphitheater
Fri., June 29  PADDOCK WOOD, UK Hop Farm Festival
Sat., June 30  SAMOIS-Sur-SEINE, France  Django Reinhardt Festival
Mon., July 2  AMSTERDAM, Netherlands  Paradiso
Wed., July 4  PARIS, France  La Cigale
Thurs., July 5  STASBOURG, France  Strasbourg Jazz Festival ***
Fri., July 6  LUGANO, Switzerland  Lugano Estival Jazz
Sat., July 8  ROSKILDE, Denmark  Roskilde Festival
Mon., July 9  MONTREUX, Switzerland  Montreux Jazz Festival
Tues., July 10  NICE, France  Nice Jazz Festival ***
Fri., July 13  STUTTGART, Germany  Jazz Open Stuttgart
Sun.,  July 15  CAHORS, France  Cahors Blues Festival (w/Eric Sardinas)
Wed., July 18  LONDON, UK  Under the Bridge
Thurs., July 19  LONDON, UK  Under the Bridge
Sun., July 22  GATESHEAD, UK  The Sage Gateshead (w/Phantom Limb)
Tues., July 24  DUBLIN, Ireland  Vicar Street
 
* Jon Cleary & The Absolute Monster Gentlemen
** SFJAZZ Presents Another Night in Treme