Jon Hardy & the Public to release 'A Hard Year'
Submitted by mike on Tue, 01/11/2011 - 23:44
Acclaimed purveyors of resonating Americana, Jon Hardy & the Public prepare for the January 25 release of a new stand-out EPA Hard Year - continuing their tradition of being St. Louis' "best kept secret" and announce a very special hometown show to celebrate!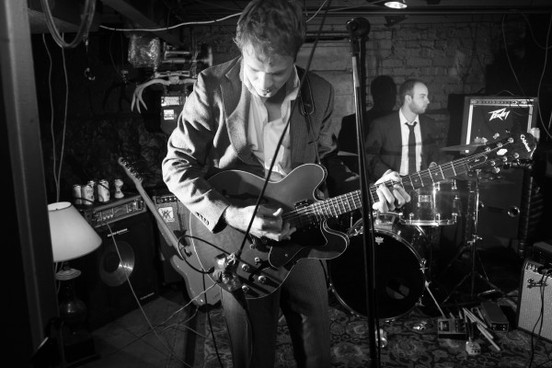 Jon Hardy's voice is deep and true, expressing yearning, pain, and triumph all at the same time. The St. Louis singer/songwriter and his band, The Public, make music that has bowled over critics at outlets like NPR, No Depression and hometown weekly Riverfront Times. "I asked fellow music writer Roy Kasten to name a better song than Hardy's 'Cassius Clay' to come out of St. Louis since Uncle Tupelo's 'Gun,'" wrote that paper's Christian Schaefer. "He couldn't."
Indeed, the group's Americana-rooted sound often draws comparisons to Jeff Tweedy and Jay Farrar's early work, though it also incorporates horn-driven soul and stomping, anthemic rock a la Bruce Springsteen. Also featuring Glenn Labarre on lead guitar, Johnny Kidd on keyboards, Greg Shadwick on bass and Mike Schurk on drums, The Public are also influenced by Randy Newman, and released a four song cover EP of his tracks called Little Criminals. "There's something in his voice that gives me the impression that he's on the outside looking in, that he's not invited to the party," says Hardy. "His songs are comforting and troubling all at the same time."
This uneasy combination was recently featured as NPR's Song of the Day with the single "Worst I Ever Had". "Brilliantly capturing that desperate feeling lying somewhere between lust and fear," wrote NPR's Ben Westhoff, "the group shows why they probably won't be simply regional favorites for much longer."
The two EPs followed the group's 2005 debut Make Me Like Gold, which No Depression writer Ed Ward said was "about as original as any grass-roots recording by a guitar-based band is going to get at this late date" and their 2007 disc Working In Love. That album featured the show-stopping "Cassius Clay" and songs concerning Hardy's recent divorce; in many ways the album was a letter to his ex-wife. "That was the best way I knew to tell her what I was thinking and feeling," he says.