Katie Glassman & Snapshot Release 'Dream A Little Dream'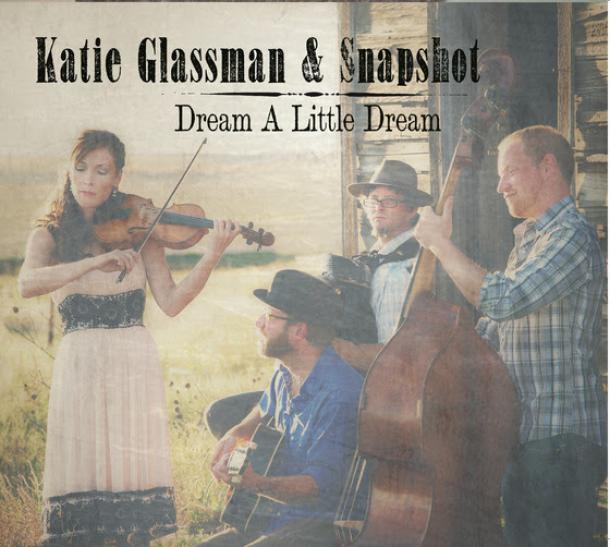 With the March 4 release of their second album, Dream A Little Dream, Denver's Katie Glassman & Snapshot are doing more than dreaming: they're sharing their winning combination of time-tested western swing and contemporary songwriting with audiences far and wide. The band will celebrate the release with several performances, including a March 1 show at Oskar Blues Grill & Brew Restaurant, 303 Main St., Lyons, Colo., and two March 29 shows at Dazzle Jazz, 930 Lincoln St., Denver. For information, tickets and a full list of upcoming dates, visit  katieglassman.com. 
Dream a Little Dream, recorded at Macy Sound Studios in Denver, features five Glassman originals and a handful of chestnuts. Tracked live, the recording fully captures the contributions of each member: Eric Moon, who delivers jazzy, retro piano and accordion riffs; Charlie Mertens, a slap-and-thump bassist; Greg Schochet, who draws his guitar style from the coolest 1940s cats; and Glassman, whose formidable fiddling and vocals knit the ensemble together.
Strings magazine describes Glassman & Snapshot's sound as "a mix of highly danceable western swing with a splash of jump blues," and praises their combination of sultry vocals and steamy solos.
Fiddling since age 9, Glassman is nationally renowned as both a player and teacher. She's also become the one to beat at fiddle contests all over the country; in 2013, she took top honors at Colorado's Rockygrass and Kansas' Walnut Valley Festival competitions. In early February, she won the 2014 Colorado Fiddle Championships at the National Western Stock Show, making her Colorado's old-time fiddling state champion for the third time. 
In addition to her fiddling skills, Glassman is an accomplished songwriter and vocalist who explores modern emotional landscapes with sensitivity and wit, building on elements of the past to create a completely contemporary sound.
Upcoming dates 
March 1– Oskar Blues, Lyons, Colo.
March 29 – Dazzle Jazz, Denver
May 9 – Black Rose Acoustic Society, Colorado Springs, Colo.
May 18 – eTown Hall, Boulder, Colo.
July 28-29 – Wildlife Music Festival, Edgewood, N.M.