Kids of Widney High Release Full-Length Documentary
Submitted by mike on Wed, 09/29/2010 - 22:39
"After I take over the world, I want to learn how to play the bass," says effervescent, long-time Kids of Widney High member Cain Fonseca. One of nine singer/songwriters, Cain is a young adult from East LA with developmental disabilities who—along with the rest of the Kids—writes, records, and performs his own unique brand of rock music.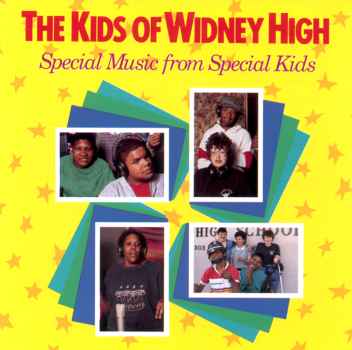 Begun in 1988 at special-education high school Joseph P. Widney High, the Kids grew out of an adaptive songwriting class that is still in operation today and continues to churn out specialized musicians and singers, some of whom have formed their own permutation of "Kids of Widney High"-esque bands.
Having in the past been compared to the likes of: Daniel Johnston, Wesley Willis, Langley Schools Music Project, and Florence Foster Jenkins, the Kids of Widney High have been covered in both concert performances and on album recordings by such hot bands as: the Yeah Yeah Yeahs, the Aquabats, and Osaka Popstar (comprised of members of: the Ramones, the Misfits, and Black Flag). They also boast a dedicated fanbase that includes everyone from Marilyn Manson and Fiona Apple to actor James Garner and filmmaker Spike Jonze. Playing the LA leg of the Warped Tour some years back, a prominent record producer handed to the Kids their first album—made by an earlier lineup of members—that had at one time been owned by Kurt Cobain.
In the past, the Kids have worked with musical luminaries Jackson Browne (who assisted them with the recording of the second of four albums they have out to date), Mr. Bungle/Faith No More frontman Mike Patton (who took them on their first tour along with Bungle, and who put out a Kids album on indie pioneering label Ipecac), and various producers/writers from South Park who worked with the Kids and a similar group, MTV's How's Your News, on a television pilot some years back. The Kids were also prominently featured in comedic hit film The Ringer starring Johnny Knoxville and Katherine Heigl.
Having now broadened their artistic endeavors to encapsulate: fine art, films, music videos, short documentaries of their own, creative writings, poetry, and fashion designs, the Kids decided upon taking their first headlining, full-length tour up the West Coast (from Los Angeles to Seattle and back) two summers ago. Along the way, the Kids played a number of gigs at high-profile venues, made time for local print/online media syndicates and radio shows, exhibited their artwork and short films, and read their writings (including one oration at Beat epicenter City Lights in San Francisco).
Sponsored in part by Sony PlayStation, this tour was also an opportunity for the majority of Kids members—all of whom come from financially challenged backgrounds—to see a world outside of the city of Los Angeles. But, as Kids member (and self-proclaimed "class clown") Peewee proudly intones, "We're not here to tell a sob story. No! We're having fun. Are you having fun?"
Act Your Age: The Kids of Widney High Story is a vibrant, life-affirming, funny, and wholly compassionate film that explores just what happens when a specialized group of artists such as the Kids of Widney High finally take to the road as they visit new cities and peoples, teaching their fans about the changing world of the disabled community at large. Along the way, the Kids fight, they love, they grow apart and together, they party—as do all raucous rock bands on such rapid-fire tours!—and come out the other end, as Kids frontman Shelly Goodhope says of himself, "A better man."
Supplemented by over ten years of footage from various venues, fans, groupies, and the Kids themselves, Act Your Age is also an incredibly intimate portrait of a subculture that has been for far too long misunderstood and, ultimately, disenfranchised in the eyes of the general mainstream public.
Comparable to such independent mainstay music documentaries as: Dig!, End of the Century, and Fugazi's Instrument, Act Your Age: The Kids of Widney High Story is a poignant and often funny look at a group of artists who are ready to challenge conventional notions about persons with disabilities and contemporary art in America today.
It's time for everyone to see the world through the eyes of a Kid!
Learn more about The Kids of Widney High at:
www.MySpace.com/TheKidsOfWidneyHigh

Also, be sure to check out the FREE preview.  Here is information on the preview:
ACT YOUR AGE: THE KIDS OF WIDNEY HIGH STORY
Monday, October 18th & 7PM
99 minutes + Q&A with filmmaker and KOWH member
CU Campus, ATLAS 102
Trailer | Website | Youtube