In case there was any confusion regarding Yonder Mountain String Band's capacity for throwing down an amazing show that everybody can enjoy, the band brought out three little girls on stage during a cover of Danny Barnes' "Funtime" who danced and whipped their hair with more fervor than Willow Smith herself. And it wasn't for show either; they were doing the same thing backstage, where nobody could see them. That image right there summed up the Kinfolk Celebration. It was about celebrating the past, present, and future of the band and their fans.
The band has been around since 1998, and in those 14 years some in their legion of fans (dubbed "Kinfolk") have popped out little Kinfolk of their own. That was evident at Planet Bluegrass in Lyons, Colorado, where the sight of small children running around was as common as a tie-dyed shirt or a set of dreadlocks. And the best part? The band embraces it. That much was clear when they let those young ladies boogie all over their stage.
The Kinfolk Celebration is YMSB's annual thank-you to their fans. In recent years, the band has done Celebrations in places like Chicago, Madison, and Milwaukee. They haven't held it in Lyons since 2003, when they recorded the legendary Mountain Tracks Volume 3. That, combined with the fact that Lyons is pretty darn close to where YMSB started as a band, meant the thunder was going to be brought.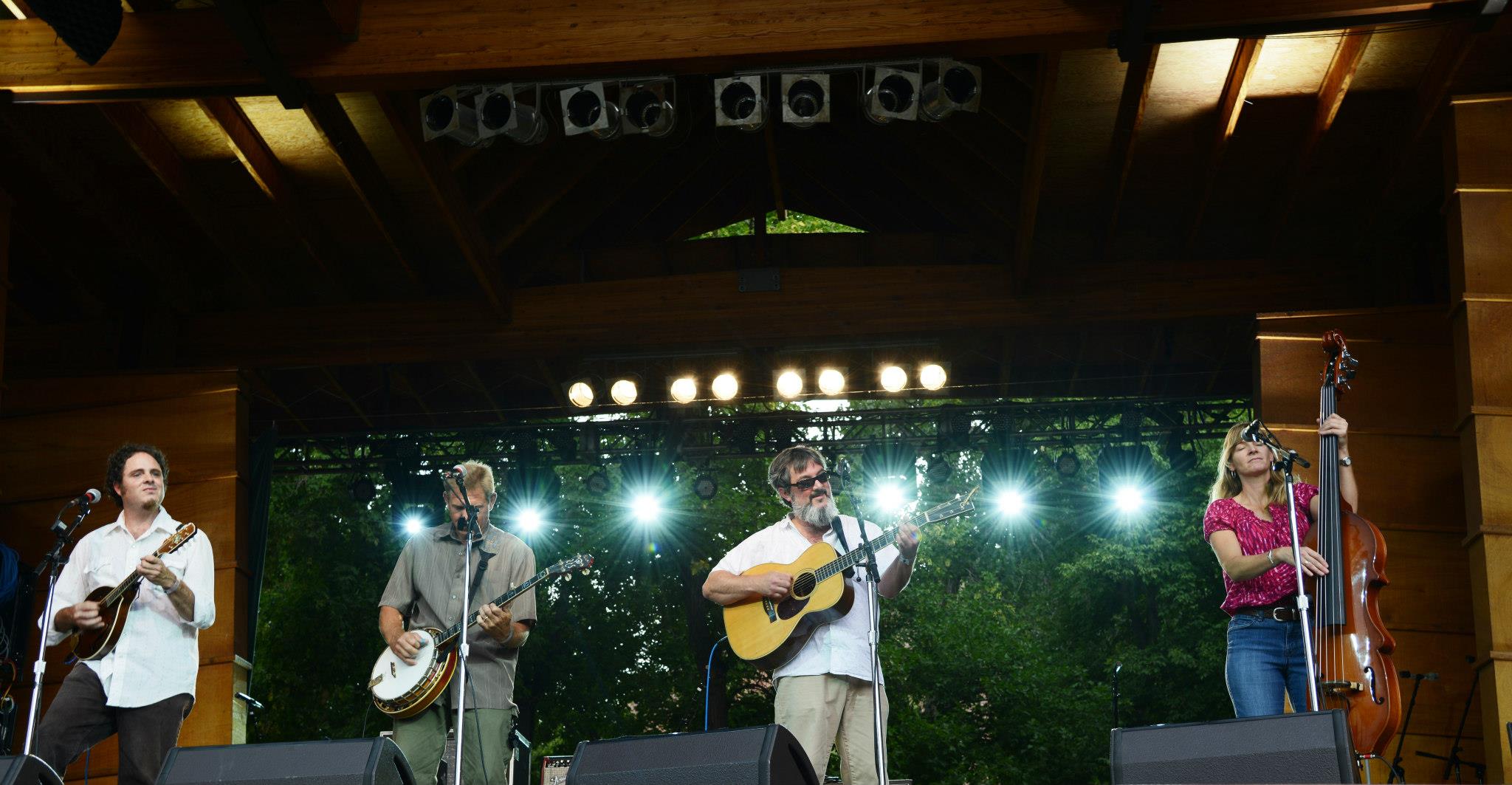 Larry Keel got the party started on Friday with his band Natural Bridge. The flat picker extraordinaire set the mood and played with vigor, despite the small crowd size. Most of the festival attendees either hadn't shown or were still at their campsites making sure they were properly hydrated for later.
Split Lip Rayfield came on next. Bassist Jeff Eaton's one-string gas tank bass named Stitchgiver, which he furiously plucked to the crowd's delight, highlights the three-piece band. Split Lip Rayfield has an intriguing, addictive sound. It's hard not to dance. The vocals and lyrics have a down-home feel, but the music is fast and aggressive. One festivalgoer described it to me as "thrashgrass", which seemed appropriate. Standouts of their set for me were "How Many Biscuits Can You Eat?" and their jam of "I'll Be Around" into "Devil's Lies." They closed with "Kiss of Death," a funny, possibly semi-true tune about ill-fated cars. Perhaps Eaton scored his bass from one of the crashed cars mentioned in the song.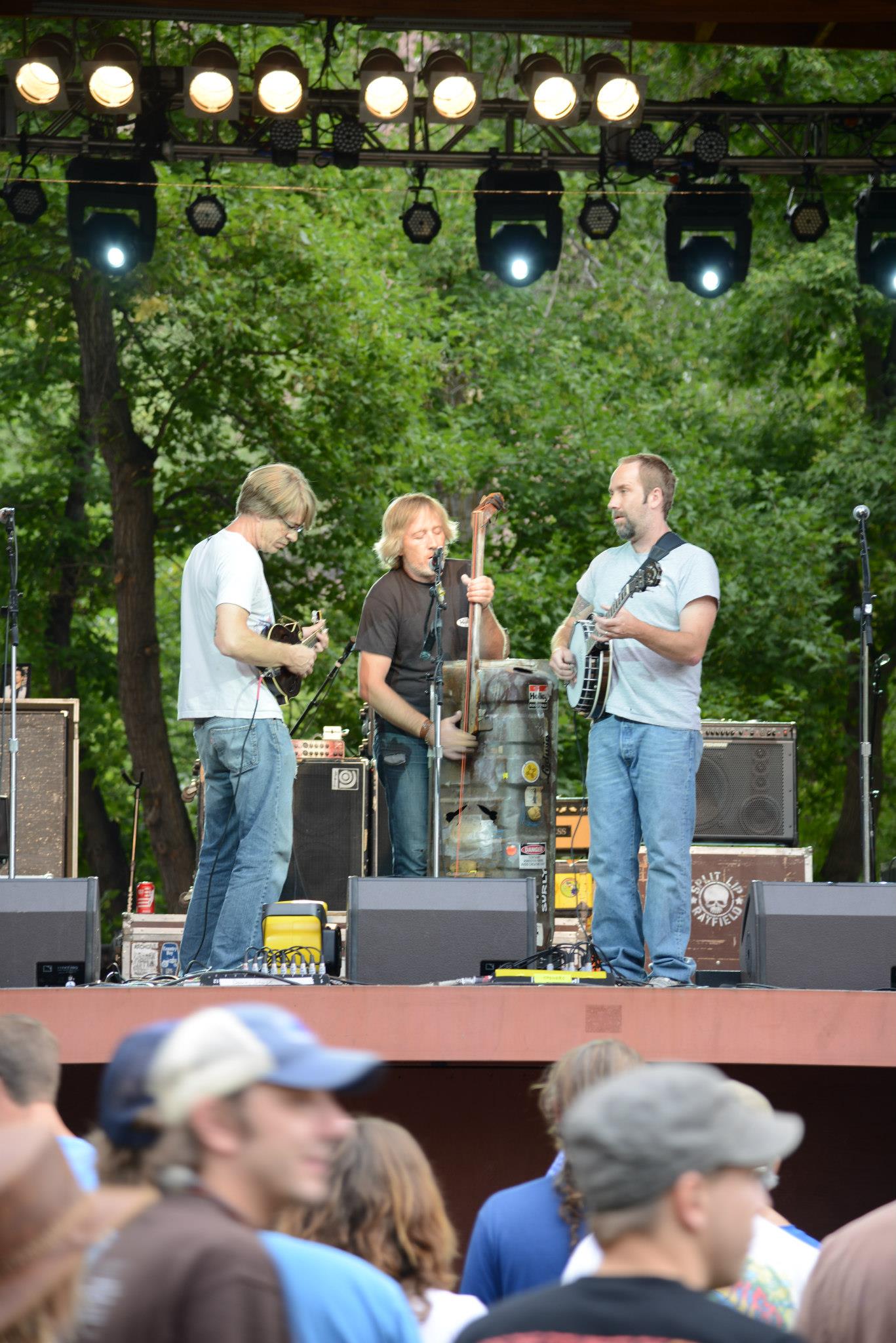 The final opener before YMSB on Friday was Todd Snider, I like Todd Snider a lot as a songwriter, but I felt his set was a little slow-paced. It seemed strange that he would be the last person to come on before Yonder, just because the energy level between the two is so different.
Snider's songs are all about the lyrics, which are equally hilarious and insightful. I'm always happy to hear "Conservative Christian Rightwing Republican Straight White American Males" and "Statistician's Blues" with Snider playing by himself, but the whole crowd was extremely appreciative when bassist Ben Kaufmann and mandolin player Jeff Austin of YMSB joined Snider for his final four songs. They closed things on a high note with a superb version of "Sideshow Blues," one of Snider's songs that has become a staple in Yonder's catalogue.
At 7:30, it was time for Yonder to hit the stage. They were playing all of their sets this weekend with Andy Hall, the insanely talented Dobro player from The Infamous Stringdusters. I had expected the opening song to be something a little slower, but they kicked everyone in their respective faces with "Shady Grove" into "Wheelhoss" back into "Shady Grove." Right then, I knew what kind of weekend it was going to be. The rest of the set featured newish tunes like "All The Time," "Don't Worry Happy Birthday," "Straight Line," and "What The Night Brings." I was sure nothing was going to beat the "Shady Grove" opener, and yet somehow Yonder kicked it up another notch with a brilliant take on The Grateful Dead's classic "Shakedown Street." The crowd was in utter bliss as the first set ended.
The fun was not done, however. The second set began with Jeff's song, "New Horizons," about a family trying to escape a flood. Ben pulled out the bow to create a loud and super-low tone on the bass, and then the band went into a nice, long version of The Beatles' "Dear Prudence." Dave Johnston, the banjo player, and guitar player Adam Aijala busted out another newer song, dubbed "Pass This Way." That song, along with the other new material, seemed to resonate quite nicely with the audience.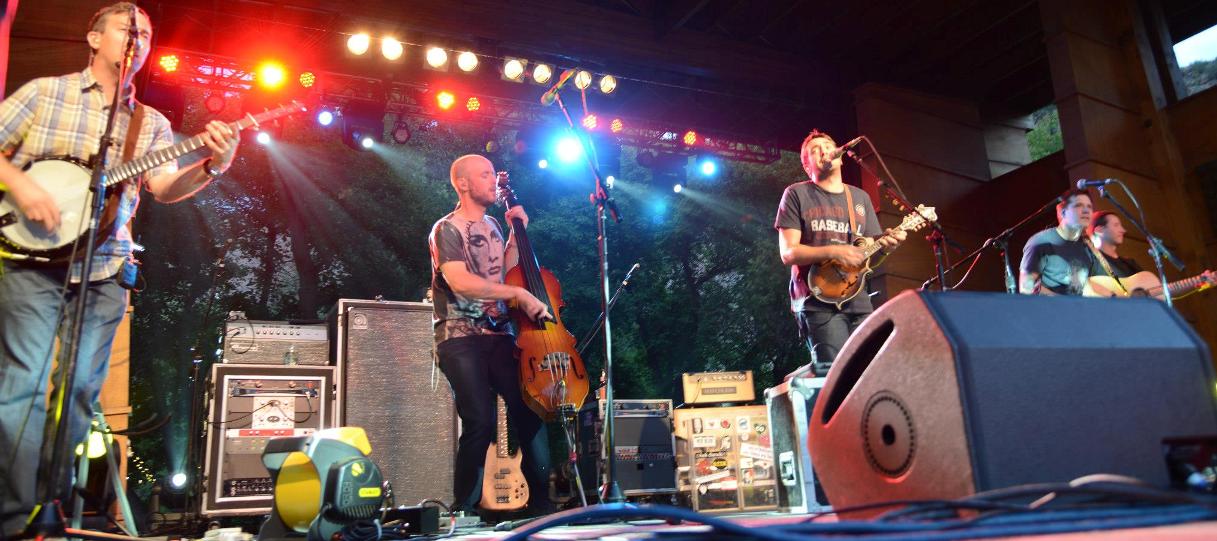 Following Ben's announcement that he wrote this song after "making love," YMSB launched into one of his Sheriff's Saga standards, "On the Run." The band usually likes to split that one up, and tonight was no exception. They went right into the Danny Barnes' ode to creepy, overprotective fathers, "Pretty Daughter," which was stretched out to almost ten minutes.
They finished "On the Run" and, after "Pockets," brought out Larry Keel for their final three songs. The first with Larry Keel was "My Gal." Yonder has a great intro to this song, where Ben sings the first couple of lines and in between Jeff and Adam each get to rip lengthy solos before the song actually begins. Well, with Larry Keel and Andy Hall on stage, that tradition was taken to a whole other level. Each musician got to showcase his chops, but Keel's guitar battle with Adam was basically solid ear gold.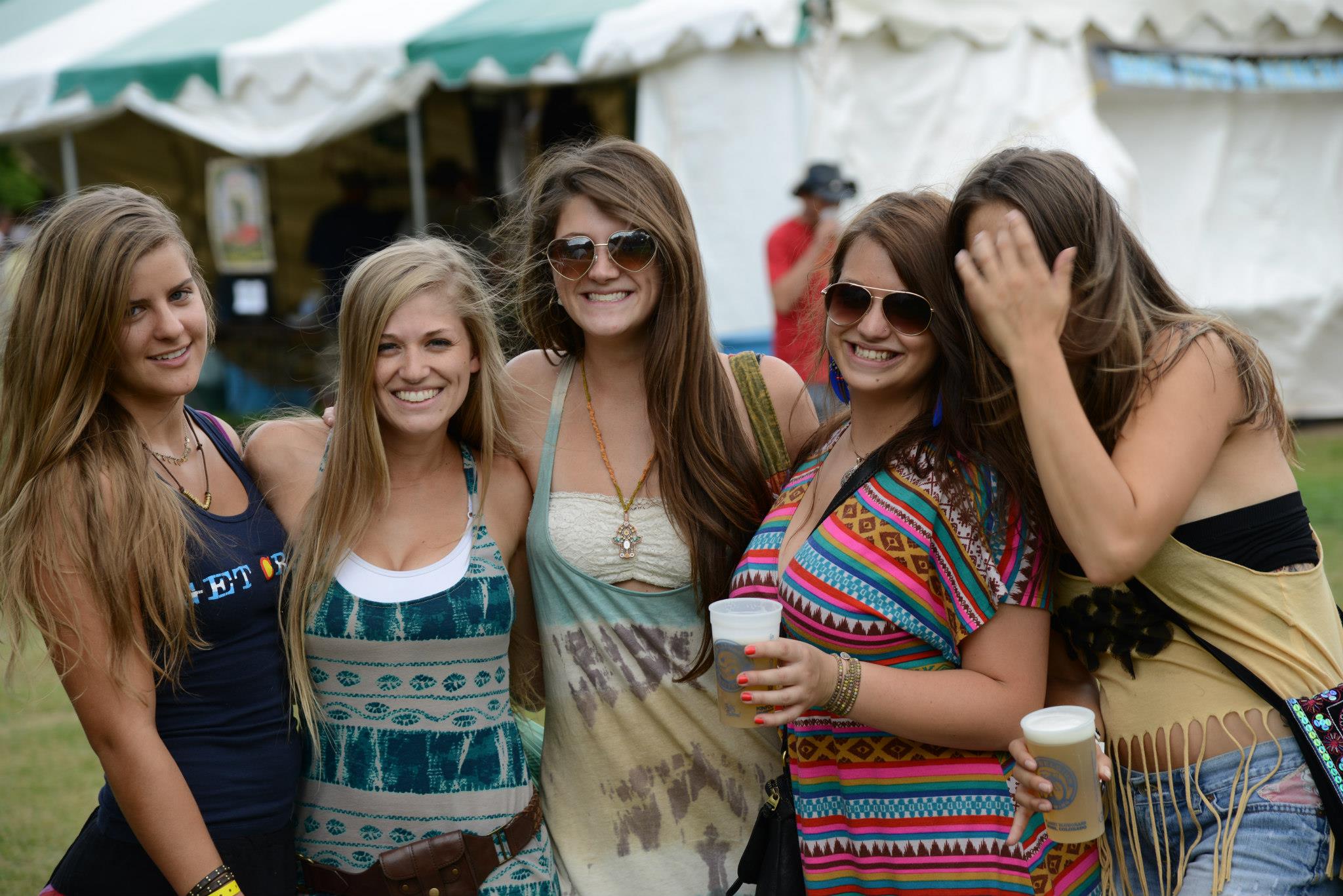 Yonder closed their second set of the first night with terrific renditions of two of their more vintage songs, "Snow on the Pines" and "Raleigh and Spencer." A short, but entertaining encore of "Dim Lights, Thick Smoke" and "Going Where They Do Not Know My Name" ended the night, and happy concertgoers shuffled back to their tents. The music didn't stop, necessarily, as amateur picking sessions soon began and lasted well into the morning.
Greensky Bluegrass was the only band to play before Yonder on Friday, and they played an energetic set that was short on songs but long on jams. There was a cover of Prince's "When Doves Cry" fairly early on in the set, followed by "Lose My Way" and "Dust Bowl Overture."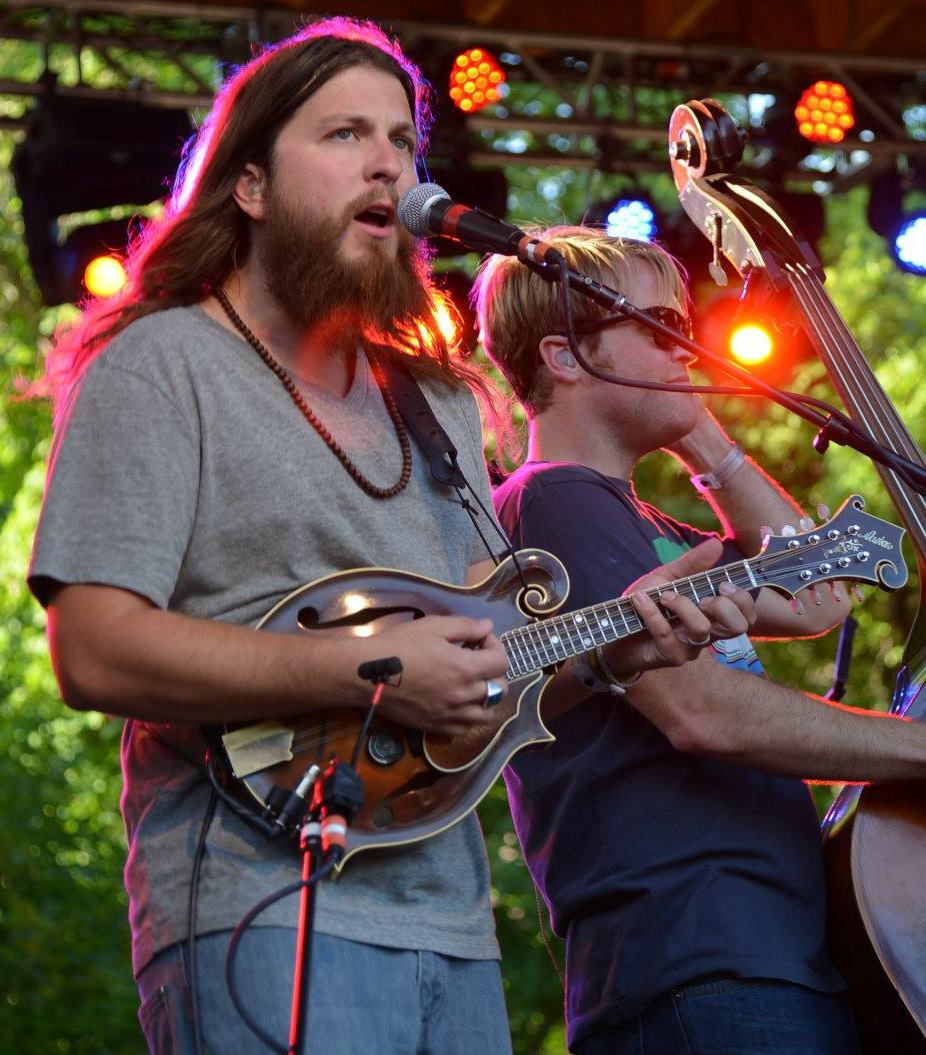 Lots of bands have covered "Atlantic City" by Bruce Springsteen, but I think the version Greensky plays is one of the best I've heard. Mandolin player Paul Hoffman's vocals have the right amount of depth and remorse to give the song its proper hopeful-yet-sad feel, just like the Boss intended. The band brought it back up at the end of the set, displaying outstanding musicianship on "Crying Holy" and "Leap Year" to close out their portion of the evening.
I was really looking forward to Yonder's first set of the night, as this was the one that was picked exclusively by fans. The band didn't disappoint, playing a set filled with rarities and covers I haven't ever heard them play. They kicked things off with "Rambler's Anthem," the other Yonder song about ramblin' that doesn't get played very often. An Adam-led cover of the traditional song, "Jack A Roe," came soon after. The band dipped back into their Elevation days with "High on a Hilltop", then Ben pleased the crowd with a mini-Sheriff's Saga consisting of "Part 1 (Lord Only Knows)" and "Mother's Only Son," complete with Dobro wizardry from Andy Hall.
Yonder then dusted off the uber-rare "Gilpin Swing," a jazzy, swingy number that had the whole place grooving. Later, Ben swapped his standup bass for an electric as he and Adam crooned The Beatles' "Hey Bulldog." The band saved the best for last, however, with a face-melting super jam led by Jeff that featured a long cover of Phish's "Sand" sandwiched between fan favorite "Peace of Mind." It was a half-hour of pure shredding, and a great way to end the fan-inspired set..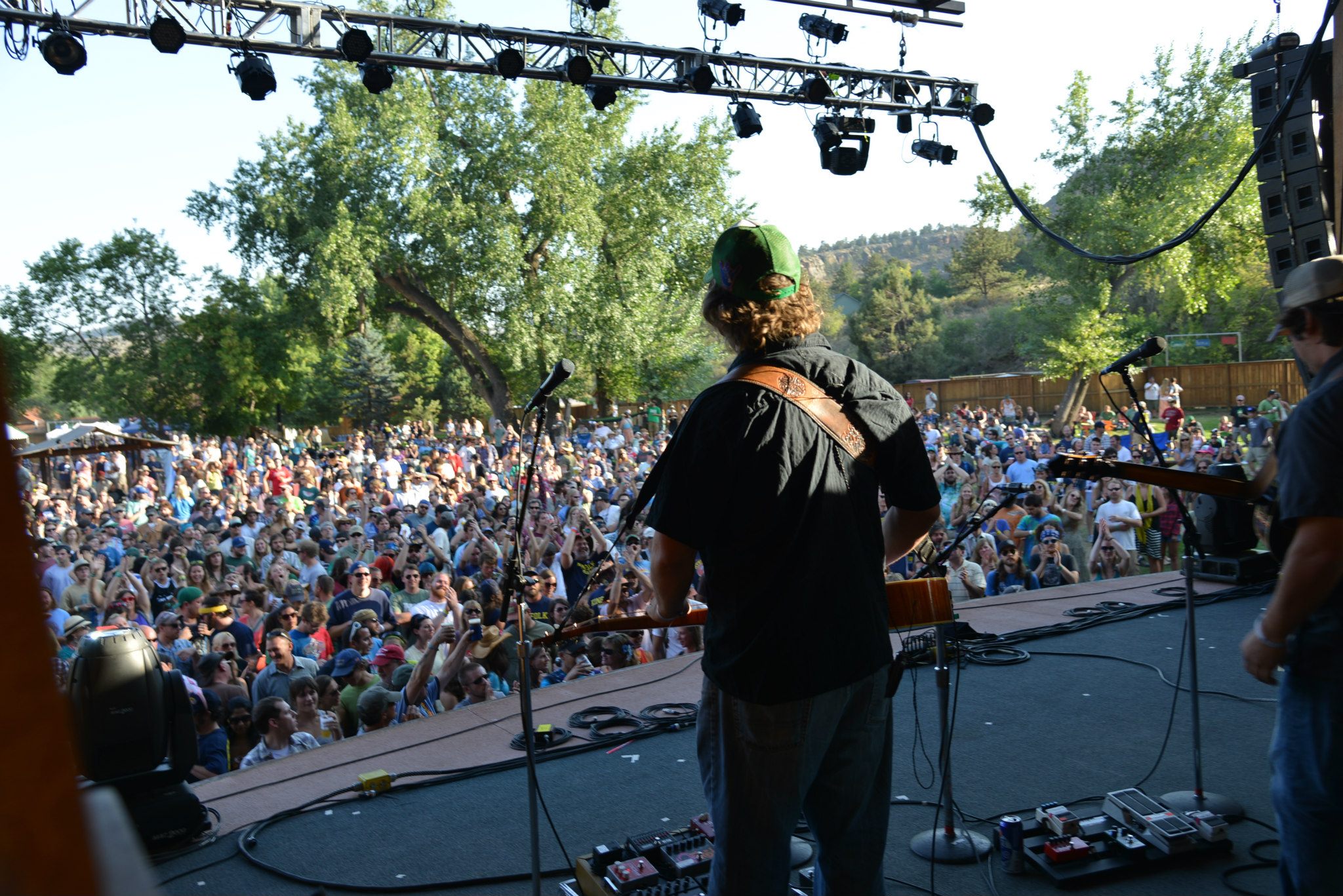 During the set break, Yonder's personal emcee and audio-archivist Pastor Tim led the crowd in one of the loudest Yeehaw Factor yells I have ever been privy to. It was clear that the fans were enjoying the show thoroughly, The band came out and, after some platitudes about how Yonder fans are the best fans in the world (like we didn't know that already), they played "Illinois Rain" and another traditional song, "I've Been All Around This World," sung by Dave.
Soon came a rollicking version of "Ten," with "Funtime" and the aforementioned dance party in between. After some good-natured teasing by Ben about Adam's age, Ben proclaimed, "There are very few songs that we sing that are older than Yonder Mountain String Band, and this is one of them." Adam then took the spotlight on his most popular song, "Left Me In a Hole." Next, a cover of John Hartford's "Holdin'" had people scrambling for their lighters, but not to hold aimlessly in the air.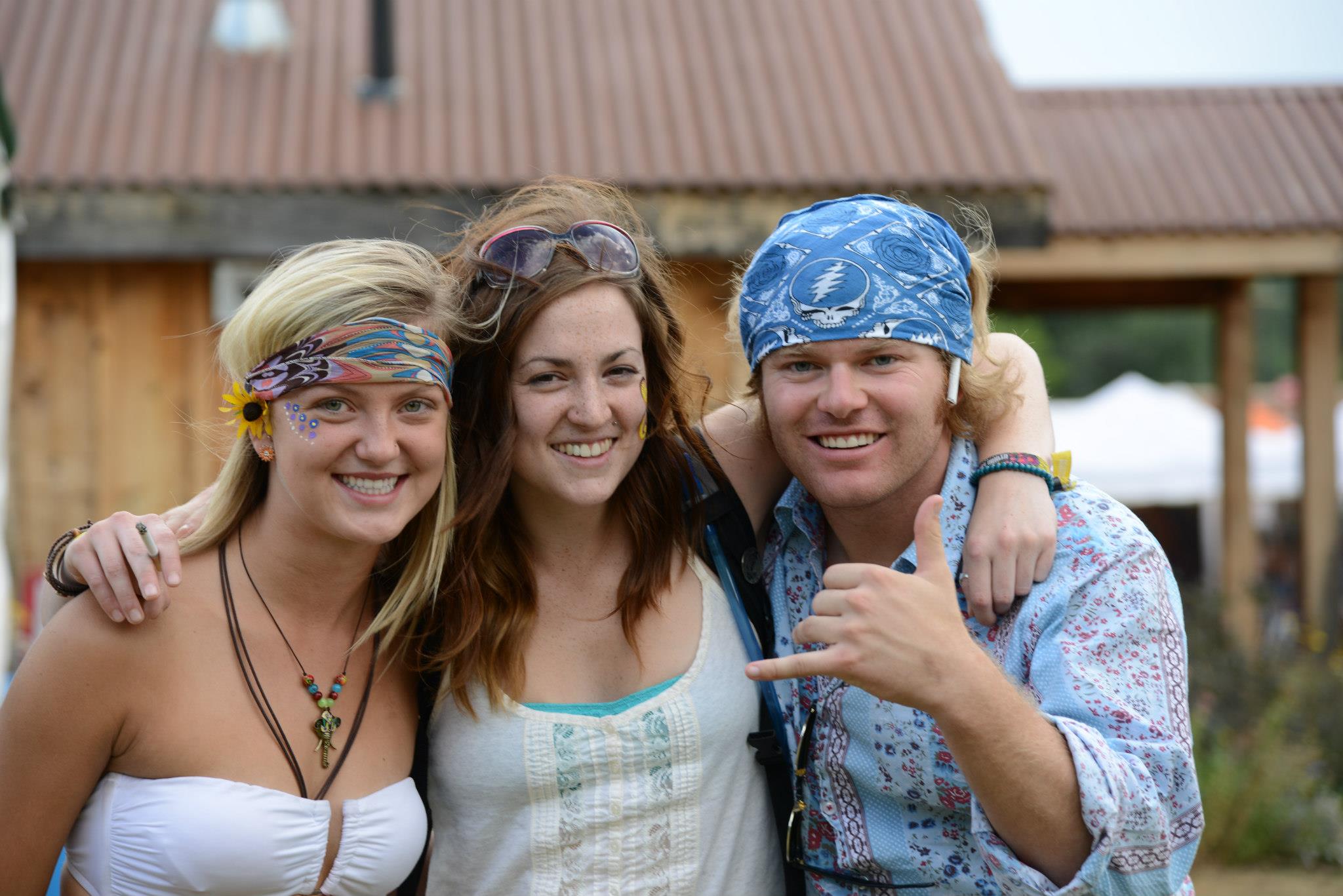 The second set of the second night ended with one of the more epic jam sandwiches I have ever seen Yonder lay down: "Traffic Jam" into "Keep on Going" into "After Midnight," then back into "Keep on Going" and then back into "Traffic Jam." All in all, it lasted about 40 minutes. If I hadn't seen the band before, I think I would have been completely lost. Andy Hall absolutely slayed his solos on "Traffic Jam." Actually, he pretty much dominated the whole weekend. In my opinion, he was far and away the best musician on stage. With all the accomplished pickers there, that is truly a compliment.
Also, I would be remiss if I didn't give props to Dave Johnston. Jeff and Ben are great in their co-frontmen roles, and Adam is the most talented musician when the band is in their normal lineup, but Dave's steadying influence is underrated. Serious bluegrass junkies often malign his banjo playing, but his style suits Yonder perfectly. He writes great songs, and his playing, from background melodies to solos, was on point all weekend. His long, technically sound solo during "Traffic Jam" made that clear.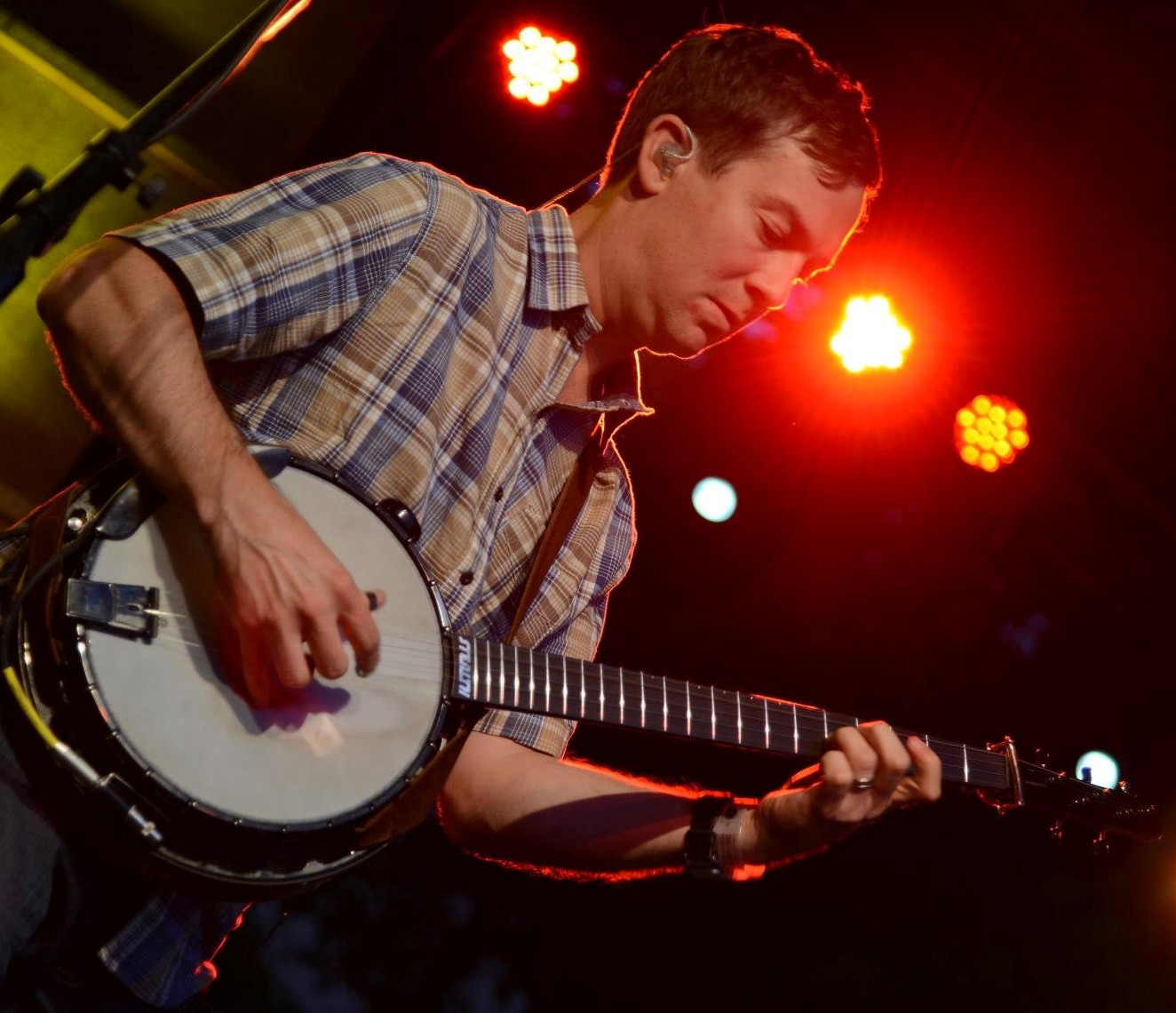 The encore began with Jerry Garcia's "Reuben and Cherise," which the crowd approved of tremendously. It was an enjoyable way to allow the audience a chance to slow down and catch their breath after the frenetic end to the previous set. The lights, which had been excellent all weekend, were particularly nifty during this song. They kicked it back into high gear with "Troubled Mind" into "20 Eyes" back into "Troubled Mind" to end the night and send the weary but satisfied festivarians to the exits.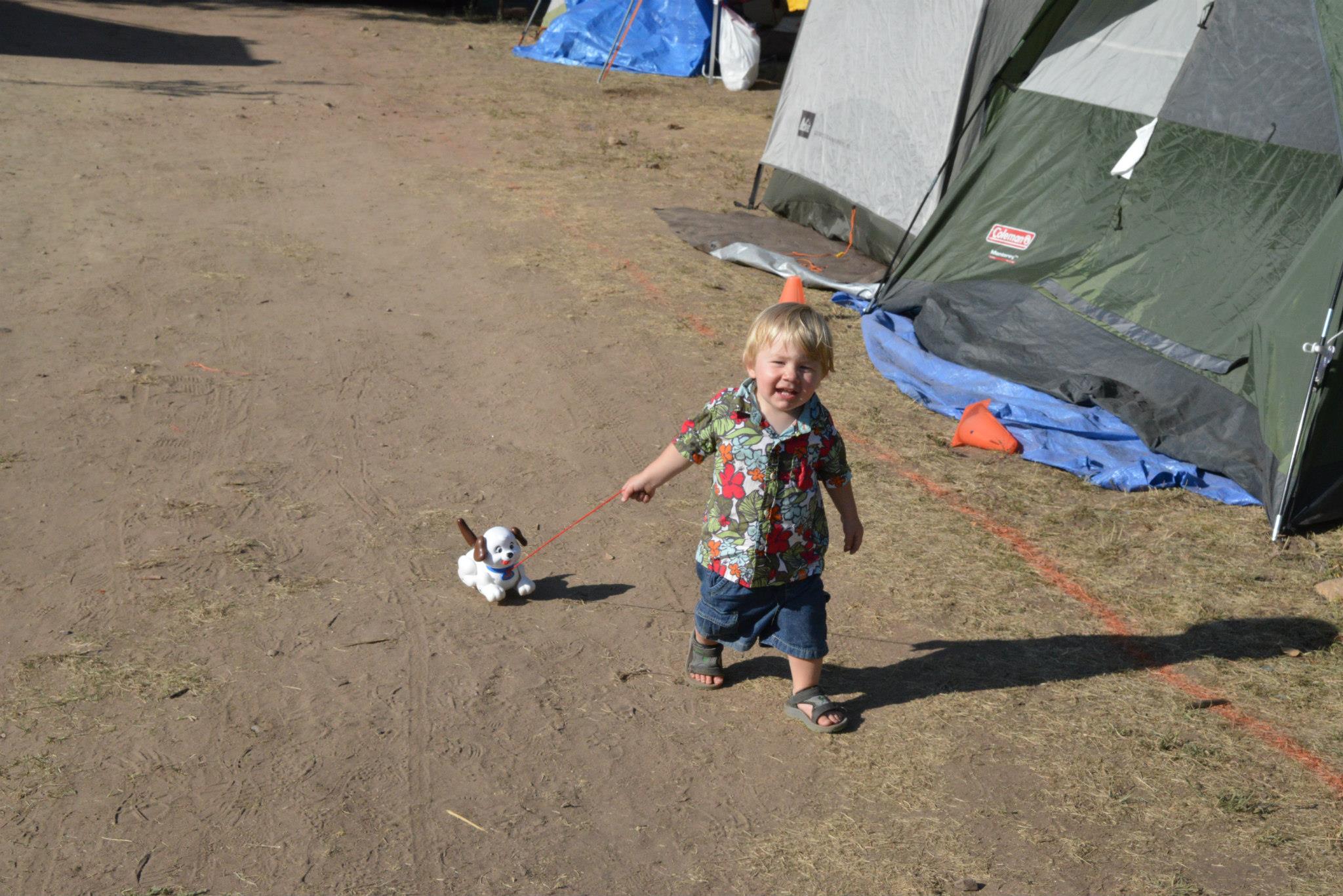 Walking back to the campgrounds, my feet were sore, my legs were shot, and I had a gigantic smile on my face. Yonder Mountain String Band gets better every time I see them, and luckily I don't have to wait long until they return. They are playing four nights at the Boulder Theater for New Year's, and I can only imagine what surprises they'll have up their sleeve for those shows. If they put on even half as good of a time as they did for the Kinfolk Celebration (or for that matter, their five night run at the Boulder Theater last winter), there will be no shortage of people cutting a rug, young or old. Kinfolk'n A, indeed.
Check out lots more photos, including lots of festivarians from Friday & Saturday.