KJ Denhert: ALBUM No.9.
Submitted by mike on Sun, 06/26/2011 - 02:02
"Album No.9 is about freedom," says KJ Denhert. There also is a numerology connection as the album was recorded, starting Sept. 9, 2009, over the course of nine months with nine musicians, and it has nine songs.  "My life-path number is 9," says KJ.  In less than a year of it's release on Sept. 9, 2010, KJ's music video of ALBUM No.9"s yearnful "Help" is becoming a minor hit on youtube. She interprets the Beatles' standard as a plea to the world, in light of so many tragedies that were complicated due to mans inhumanity and greed, most recently in Haiti, Louisiana, Japan. Other classics on the album are "Alfie," "Pennies From Heaven, "The Shadow of Your Smile," "Chanson Baz Bar," and "Smoke on the Water."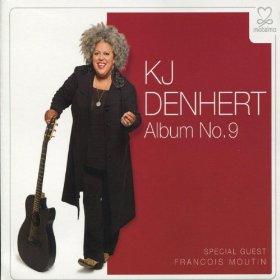 "Choose Your Weapon," which won the Independent Music Award for the Sing Out For Social Action" award for recordings released in 2010, and "Let It Go" are two of ALBUM No.9's originals that have become favorites of KJ's fans.
This November, KJ will be celebrating her 15th Year Anniversary as KJ Denhert fronting her band.  But her career dates back to the '60s when she first started playing guitar at age 10, listening to Sergio Mendes, and John Hartford!
In the 1980s, as a young woman, she played guitar and sang with an all-female ban called Fire in North America and Europe, spent time in Cleveland fronting Cyclone Sisters.  Upon her move band to NY City in 1997, she formed the NY Unit, and the rest is history.
In addition to running her own band and Mother Cyclone label, KJ has been named among the six winners of the Kerrville New Folk Song contest in June 2006 for "Private Angel" and won the Mountain Stage New Song contest in August 05 for "Little Mary." The Album, ANOTHER YEAR GONE BY, LIVE, won the 2006 Independent Music Award for Best Live Performance.
--
KJ DENHERT ON THE ROAD
June 24:12 Grapes Music and Wine Bar, Peekskill, NY
June 25: 55 Bar, New York, NY
July 7: Underground Wonderbar, Chicago, IL
July 8: Club La Salle, South Bend, IN
July 18: Woodsongs, Lexington, KY
July 23: 55 Bar, New York, NY
July 29: Belleayre Music Festival - Belleayre Mountain Ski Resort, Highmount, NY
July 30: Rams Head on Stage w/ Gregory Porter, Annapolis, MD
August 9: Cape Cod Jazz, Chatham, MA
August 11: New Paltz, NY (duo: KJ Denhert & Jennifer Vincent)
August 20: 55 Bar, New York, NY
August 21: Special Event @the Falcon, Marlboro, NY
August 23: Cornwall, NY
September 2: Union Chapel Oak Bluffs, Martha's Vineyard, MA
September 3: 55 Bar, New York, NY
September 10: The Falcon,  Marlboro, NY
September 17: 55 Bar, New York, NY
October 8: Uncommon Ground, Dobbs Ferry (solo w/ Vance Gilbert)