Kuan announce March tour dates
Submitted by mike on Wed, 02/17/2010 - 02:49
If you watch the audience at a Kuan gig, something unusual happens to the socially diverse crowd that tends to make up their fan base. The punk rockers, prog rockers, hipsters, b-boys and metalheads all react in about the sameway: they start by nodding their heads. Then they sway a little. Then, they do whatever the word 'dance' means to each of them. They smile.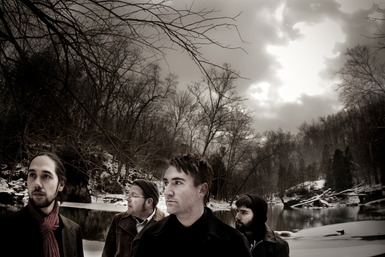 When one thinks of post-rock, post-punk, or avant-garde jazz, a word that does not often come to mind is joy. But that is Kuan's music. It's their joy, but it never fails to infect the audience. Brett Nagafuchi loses himself in his exultant, wicked drumming. Chip Heck collapses to the stage floor, shit-eating grin on his face as he alternates between shredding and coaxing strange ambient squeals from his pedals. Bryan Wright's bass undergirds and warms the thunder, stepping with a lightness his bobbing, peaceful frame belies. Paul Larkowski's lead guitar guides the ensemble with the gentleness and power of the best soloists in rock or jazz, tying what threatens at any one moment to explode into a beautiful mess together into a tight groove, the very thing you wanted to hear, but didn't know until you heard it.
Kuan is a Buddhist term. It translates as "wordless contemplation." But it is clear that lyricless as they are, Kuan's songs speak to their audiences. There is an urban legend that says when John Coltrane would perform one of his trademark hour-long solos while with the Miles Davis Quintet, someone once asked Miles "Why'd you let him play so long?" Miles's reply: "He wasn't finished saying what he had to say."
All veterans of Dayton's post-rock, punk and jazz scenes, Kuan formed originally as a three-piece, adding Wright in 2008. The quartet's post-rock, punk and jazz-influenced heavy groove has been compared by critics to Tortoise, June of 44, Do Make Say Think, and Fugazi. The Dayton-based band claims all of these, as well as Miles Davis, John and Alice Coltrane and Aphex Twin as influences. They attract fans from across the genres. Now gearing up for a second tour, they're preparing a vegetable-oil-powered van to reduce the high carbon footprint of touring.
Kuan Tour Dates
Mar 5 - Southgate House-Parlour - Newport, KY
Mar 6 - Rock Room - Pittsburgh, PA
Mar 8 - Chanti Loft - Ithaca, NY
Mar 9 - Trash Bar - Brooklyn, NY
Mar 10 - O'Brien's - Boston, MA
Mar 11 - The Khyber - Philadelphia, PA
Mar 12 - The Velvet Lounge - Washington, DC
Mar 19 - Baba Budans - Cincinnati, OH
Mar 26 - Chip's Basement - Dayton, OH
Apr 10 - Blind Bob's - Dayton, OHApr 23 - Reggie's - Chicago, IL