Kung Fu Adds Second Phish After Party in Chicago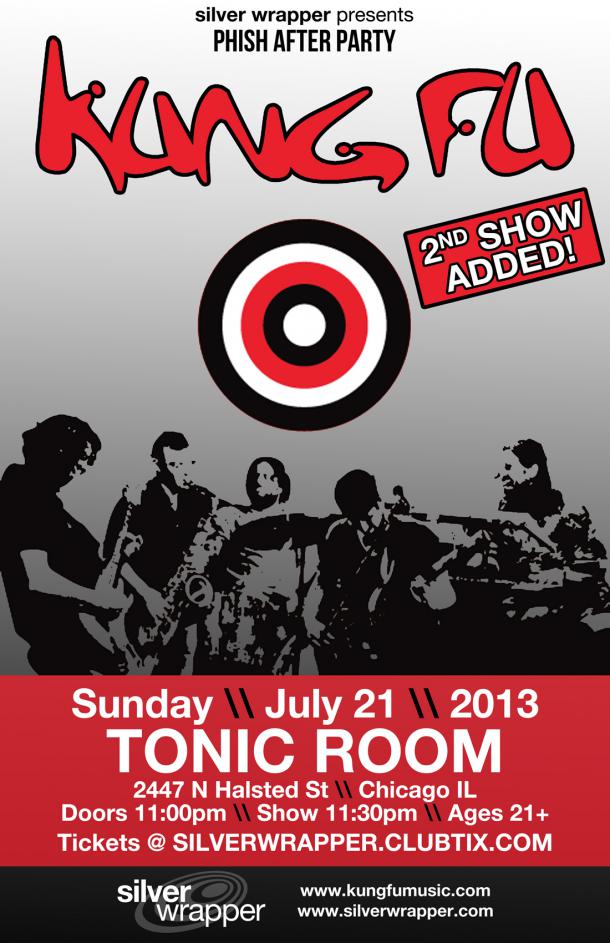 After selling out their Phish After Party at the Tonic Room in Chicago, IL on Saturday, July 20thmore than a month in advance, Kung Fu has added a second show at the same venue on the following night. Connecticut's nu-funk quintet will throw down their unique brand of lethal '70s-style funk mixed with EDM ideology to a packed house of fans and tickets are expected to sell out so grab yours now.
If you can't make it to Chicago, you can catch Kung Fu at one of the dates below including All Good Music Festival, Gathering of the Vibes, The Big Up Music & Arts Festival (including a special Prince Tribute w/ The Motet's Jan Ingber), Catskill Chill Music Festival and Bear Creek Music & Art Festival.
With a tight headlock on the new-funk movement, Kung Fu is quickly submitting critics with their unique sonic chops. Punishing the line between dojo-disciplined electro-jazz-fusion and street fighter funk, Kung Fu's tao merges early Headhunters and Weather Report mentality with contemporary EDM ideology like yin and yang. Although the essence of the Kung Fu Krewe is rooted among ancient jam dynasties, this fledgling "nu-sion" project intends to dominate audiences while nourishing the chi of all who cross their path. Kung Fu features Tim Palmieri on guitar (The Breakfast), Robert Somerville on tenor sax (Deep Banana Blackout), Todd Stoops on keyboards (RAQ), Christopher DeAngelis on bass guitar (The Breakfast) and Adrian Tramontano on drums/percussion (The Breakfast). Currently touring in support of the 2011 release of their eponymous debut album, the powerhouse quintet's live show has been described by critics and fans alike as "lethal funk," "explosive," "jaw dropping," and "musically mesmerizing." Stay tuned for the release of their second full-length album Tsar Bomba in June 2013.
TOUR DATES:
6.14: Disc Jam | Sturbridge, MA
6.20 | LIV Nightclub | Washington, D.C.
6.21: The Mad Tea Party Jam | Hedgesville, WV
6.27: The Spot Underground | Providence, RI
6.28: Camp N Jam | Warner, NH
6.29: Rockinghill Music Festival | Rockingham, VT
7.11: Fontana's | NYC, NY
7.12: Kind Roots Music Festival | Blain, PA
7.13: The Upstate Boogie | Lyons, NY
7.19: All Good Music Festival | Thornville, OH
7.20 & 7.21: Tonic Room | Chicago, IL
7.26: Gathering of the Vibes | Bridgeport, CT
8.9: The Big Up Music & Arts Festival (including Prince Tribute w/ The Motet's Jan Ingber) | Claverack, NY
8.15: The Beach House, Falmouth, MA
9.6: Catskill Chill Music Festival | Hancock, NY
11.14-11.16: Bear Creek Music & Art Festival| Live Oak, FL