LA's HARD SUMMER Aug 3 & 4 Unveils Line-Up Ft. Skrillex, Bloc Party
Submitted by MSO on Tue, 04/24/2012 - 11:24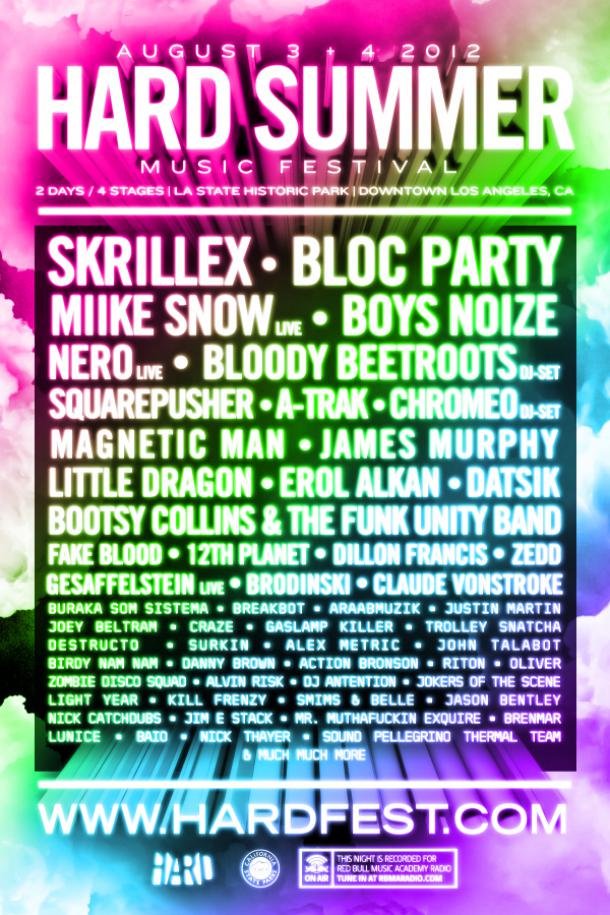 Those are the two words HARD Events, the producers of HARD SUMMER, have been sharing since announcing the major music festival was returning to Los Angeles State Historic Park August 3-4, 2012, as a two-day event for the first time in its 5-year history. Now, HARD Events has made good on those two words with the just-revealed line-up for this year's event that is helmed by Skrillex, Bloc Party, Miike Snow (Live), Boys Noize, Bloody Beetroots (DJ set), NERO (Live), Magnetic Man, Squarepusher, James Murphy, Little Dragon and many more. Check out the HARD SUMMER 2012 official teaser video—directed by Jared Leto—here. Pre-sale two-day passes recently sold out in record time. Two-day passes for HARD SUMMER are available at www.hardfest.com.
Over 50 bands and DJ artists are set to perform on four stages encompassing an eclectic round-up of bass, electro, house, techno, disco/funk and hip-hop music, right in the middle of downtown Los Angeles.
In 2011, HARD SUMMER—the largest ticketed music festival in the city of Los Angeles—took on a larger-than-life identity that culminated with 30,000 fans descending upon the Los Angeles State Historic Park to experience performances from an elite group of progressive electronic music artists, including Ratatat, Duck Sauce, Digitalism, Odd Future and more. "This is the best welcome home party I've ever had," said Skrillex in a piece at LAWeekly.com.
HARD maintains a strong bond with its audience: "For our loyal L.A. fans, I think most of them already know why the success has grown with us," says Gary Richards, founder of HARD, who is also performing at HARD SUMMER under his alias DESTRUCTO. "HARD's total ticket price is less than a fraction of other festival tickets, but you're getting to see 50 amazing artists that I've hand-picked for you. You can get to and from the park quickly and safely on the MTA for free for all ticket holders.  The park itself is beautiful, and I'm glad we've been able to bring it so much attention (and I can't wait to surprise you all with some of the improvements we're making)."
Adds Richards:  "It's important to me that we as a city and as a company look at this as a destination festival and welcome the people who are going to travel here to our hometown to be a part of this experience. I'll be happiest to see the boost to the local economy because this isn't a car-camping festival; this is right in the middle of gorgeous downtown LA. You've got Chinatown, Little Tokyo and all these wonderful places to visit here."
The complete line up for HARD SUMMER is:
SKRILLEX / BLOC PARTY / MIIKE SNOW (Live) / BOYS NOIZE
BLOODY BEETROOTS (DJ Set) / NERO (Live) / SQUAREPUSHER / A-TRAK
CHROMEO (DJ Set) / MAGNETIC MAN / JAMES MURPHY / LITTLE DRAGON
EROL ALKAN /
DATSIK / BOOTSY COLLINS & THE FUNK UNITY BAND
FAKE BLOOD / 12TH PLANET / DILLON FRANCIS / ZEDD
GESAFFELSTEIN (Live) / BRODINSKI / CLAUDE VONSTROKE / BURAKA SOM SISTEMA / BREAKBOT
ARAABMUZIK / JUSTIN MARTIN / JOEY BELTRAM / CRAZE/
GASLAMP KILLER / DESTRUCTO
TROLLEY SNATCHA / SURKIN / ALEX METRIC / JOHN TALABOT / BIRDY NAM NAM / DANNY BROWN / ACTION BRONSON / RITON / OLIVER
ZOMBIE DISCO SQUAD / ALVIN RISK / DJ ANTENTION / JOKERS OF THE SCENE
LIGHT YEAR / KILL FRENZY / SMIMS & BELLE / JASON BENTLEY / NICK CATCHDUBS / JIM E STACK
MR. MUTHAFUCKIN' EXQUIRE / BRENMAR / LUNICE / BAIO /
NICK THAYER / SOUND PELLEGRINO THERMAL TEAM + MUCH MORE