For several years, the Seven Clans Casino and Hotel outside of Thief River Falls has sponsored an outdoor bluesfest. It began with one short evening of music and has morphed into two days of blues goodness, usually for no cost. Across from corn and wheat fields and no other commercial or residential buildings around, this location was the site I first saw Buddy Guy and his band.
This year, the casino initially decided to sell tickets to its blues show. However, by Thursday, management had agreed to waive the cost and offer its blues goodness for free as they had in the past.
On Saturday, August 25, I caught the last day of the festival with its blockbuster lineup. Because local favorite, Jonny Lang had a scheduling conflict and cancelled, his slot for the evening was filled by Indigenous and Joe Bonamassa. But even before these worthies took stage, audiences were treated to two widely different blues sets.
Situated on the asphalt parking lot next door to the casino, blues fans set up their lawn chairs in the best places to see and hear these bands. In the back, a van sold grilled eats, including Indian tacos (taco fixings on fry bread) and soft drinks. Coffee was free. Since the casino is owned by the Red Lake Band of Chippewa, which has prohibited alcohol on the reservation, there was no beer for sale. That didn't dampen the fans' enthusiasm. A number of bikers rode in and parked their hogs in a space designated for them on the other side of the lot, but well within seeing and hearing distance of everything. They were up dancing and grooving to the music.
Setting the tone for the night, Little Bobby & The Storm, a local five-piece, produced solid, straight-up blues. Their harmonica player was spot on and offered just the right color for their short blues set. After they packed up, they were off to Plummer, MN, to finish their evening doing the last day of two-day benefit for local soldiers returning from Iraq.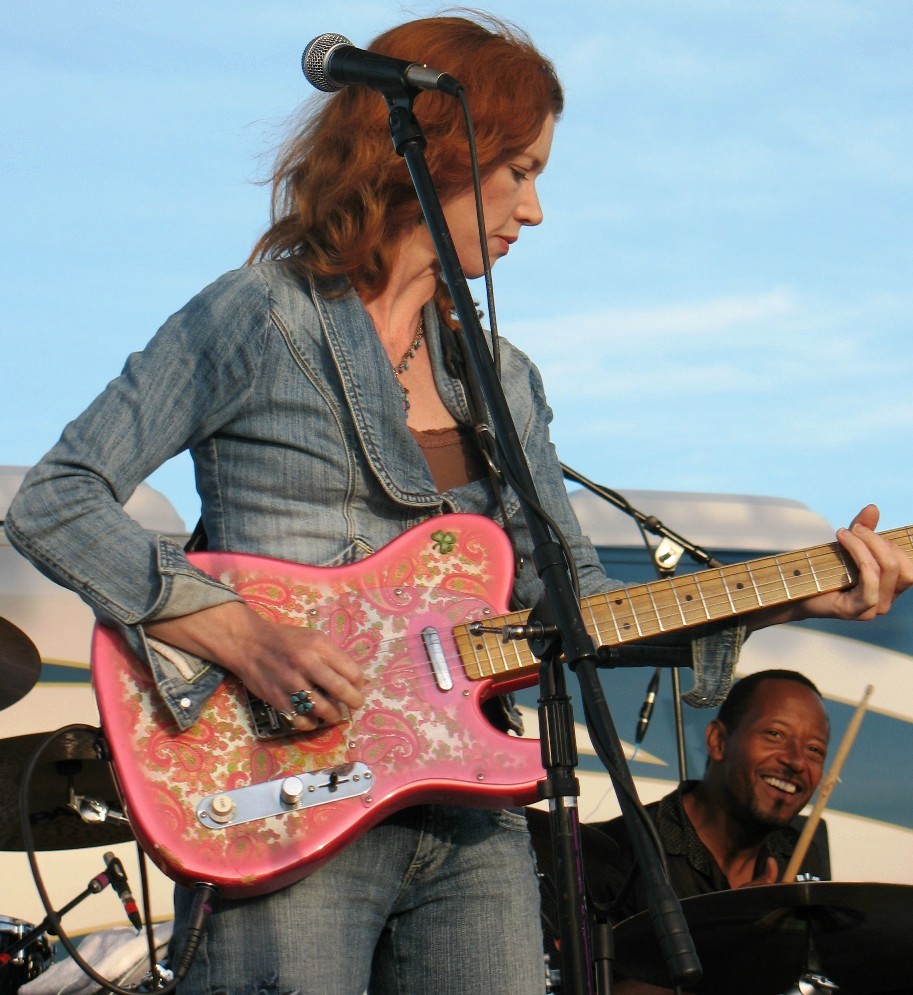 Next up was the Blues Guitar Women, who had been traveling in Europe since the beginning of the year. Consisting of Canadian blues artists Sue Foley and Roxanne Potvin and America's own Deborah Coleman, this power trio divided up their set by allowing each woman a piece of the action and then coming together in two's and three's for some added fun. Roxanne Potvin laid down fine blues guitar that was equaled by her strong voice. Deborah Coleman, that lady of the blues, was up next, doing slow blues and funk, with her signature vocals. Unfortunately, the keyboardist, a flashy player from Holland, kept drowning out Coleman's guitar, and the soundman didn't correct for it.
Finally, Sue Foley brought her hot pink guitar up on stage and with Potvin, backed up Coleman in a tune. But Foley's piece of the set slayed us all. Alone on the stage, she did an early blues tune by a woman she had recorded in her 2-CD collection of important blues women called Blues Guitar Women. With her higher register voice, it was as if we were all listening to that blues woman of yore. Also, her instrumental "Mediterranean Breakfast" was stunning. I first heard it at the 10,000 Lakes Festival in 2005 when Foley did a kick butt set on the Field Stage. She was phenomenal this particular evening.
It was growing dark when Matu brought out his new band, the new version of Indigenous. Since his two brothers and sisters decided to pursue separate projects a year ago, Matu has been trying to keep the madhouse touring on schedule that this South Dakota band has been doing. Discovered in the late 90s, Indigenous, a band of young blues players, was hurled into the national music scene, eventually playing every significant blues venue in the country–and with all of the greats. Last year, Matu released a new album, Chasing the Sun, that is a more soulful version of the blues. That was what audiences saw on Saturday night.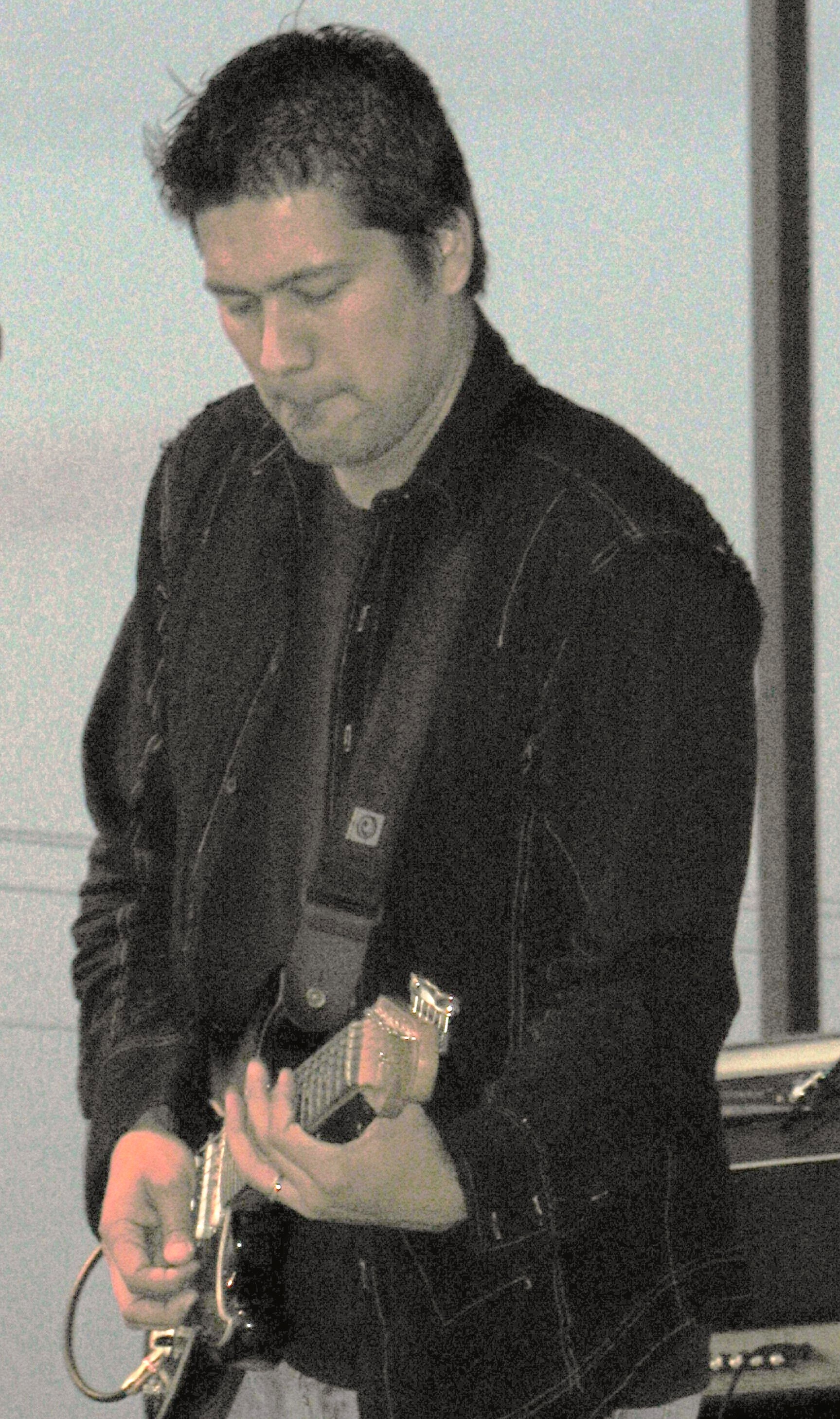 Matu is a well-seasoned singer/songwriter and blues musician. His guitar work is heavily influenced by Jimi Hendrix and his vocals by Sam Cooke and Otis Redding. On stage, though he can be a guitar demon, he is generous with his fellow band members. He also steps back to allow Chris Lager, the lead guitarist of his new band, shine, falling into rhythm guitar.
After Indigenous, the evening just kept getting better. Joe Bonamassa and his newish four-piece band just slammed us all. The crowd, which had been a bit reserved all day, now packed the front of the stage as I'd seen in many a show at a club. It was mainly young people, but there were a few veteran guitar players I knew who were down front watching every guitar stroke and chord change. Bonamassa sang his heart out and played like a dynamo, but, like Matu, he was also generous with his band members. He and the rest of his players left the stage while his drummer laid down a wicked drum solo; then they all came back and picked it up.
After Bonamassa left the stage, the audience called for an encore. He came out, not with an electric, but with an acoustic with a pickup. He then launched into "High Water Blues," a song he said that he was surprised no one had covered that night.
Seven Clans Casino and blues fans that night were very lucky to get this lineup. Bonamassa was ready to launch his CD tour in Pennsylvania on Monday, but swung up to the northwestern Minnesota in the heart of farm country to start his tour at the Last Ride Bluesfest.
Next year, I don't know how Seven Clans Casino can outdo this fest.