Late Nights at the Dark Star Jubilee / Ticket Sell-Out Warning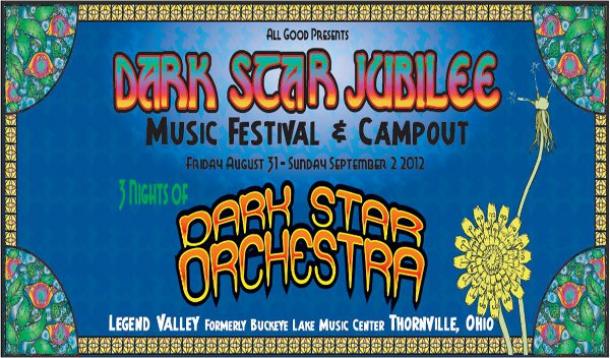 Summer's Here and the Time is Right to get your tickets to the Jubilee. They're dancin' in Columbus, Down in Cincinatti, Up in Cleveland...All we need is music sweet music. There'll be music all day long, there'll be swingin' swayin' great bands playin and dancin to the beats. This is an invitation across the nation, a chance for the folks to meet, there'll be laughin' and singin' and music swingin' at a place that can't be beat. Looking forward to seeing you all at Legend Valley for our very first Dark Star Jubilee.
The Dark Star Jubilee will feature 3 days and nights of friends, family, camping and:
3 Full Shows by Dark Star Orchestra
plus very Special Guests
Mickey Hart Band
7 Walkers featuring Bill Kreutzmann
Keller Williams
Jorma Kaukonen
The Infamous Stringdusters
Ivan Neville's Dumpstaphunk
Donna the Buffalo
Donna Jean Godchaux Band with Jeff Mattson
Perpetual Groove
Great American Taxi
BoomBox
Cornmeal (2 Sets)
Giant Panda Guerilla Dub Squad
The Ragbirds
David Gans
Jahman Brahman
Rumpke Mountain Boys (2 Sets)
The Floorwalkers
The Folkadelics
The Ark Band
The Spikedrivers
Matt Reynolds
Meet You at the Jubilee!
For More Info, VIP's, RV's, Vendors etc.