The Leadfoot Band Celebrates New CD Release at Martyrs on 4/26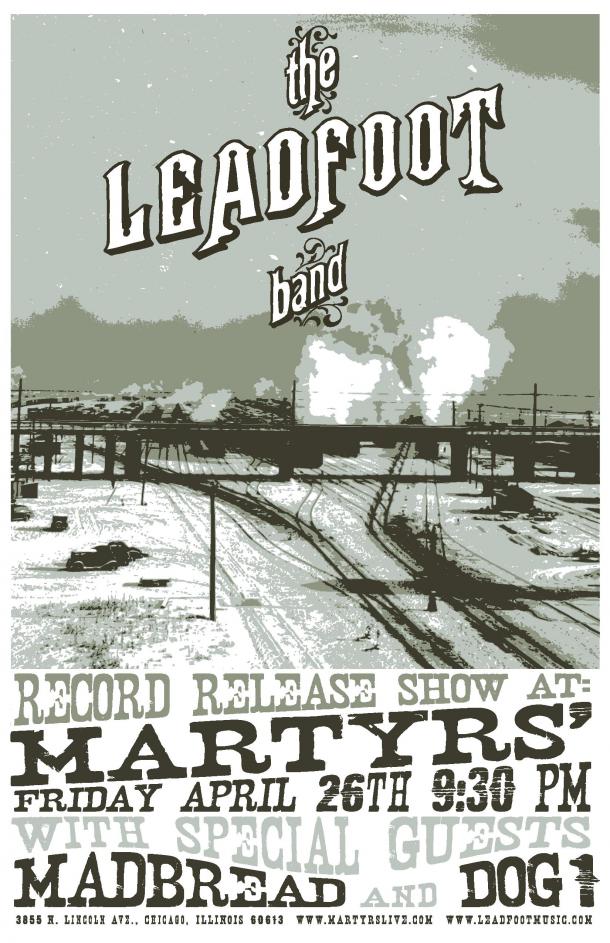 A high-octane musical celebration will light up Martyrs' in Chicago on Friday, April 26 as The Leadfoot Band bursts back onto the scene with a new self-titled record officially being released that day. Located at 3855 N. Lincoln Avenue, Martyrs' is a well-known live music venue on the city's north side and perfect location for Leadfoot's CD Release Party. "We are really glad to have Martyrs' hosting the show, which has been our north side stomping ground of sorts," said Mike Holtz, percussionist for the band.
This is no ordinary show, it's an original music celebration! Mad Bread and Dog 1 will kick off the event with music beginning at 9:30 pm. Leadfoot's new CD, "The Leadfoot Band," will be available for purchase for the first time and is being offered at a discounted price of $10 as a thank you for joining them and supporting the release. There will also be awesome give-a-ways, new merchandise, and limited-edition screen print posters available for purchase.
Leadfoot will be highlighting their new music that night, performing all original material that includes many new songs. "I'm really excited to get our new music into people's hands, and looking forward to seeing a lot of friends and family," said guitarist Mike Vanier. "This show is going to rock!"
From Chicago, IL, The Leadfoot Band is a fierce-pickin' quartet featuring Steve Haberichter on mandolin, Mike Vanier on acoustic guitar, Garrett Degnan on bass (upright and electric), and Mike Holtz on a minimalist drum set. Leadfoot's multi-dimensional grooves vary from intense, to pocket groove, to two-steppin', to bluegrass and newgrass, to straight head banging, pushing their hard driving brand of rock & bluegrass influenced acoustic music farther than before.
Following a five-year break, The Leadfoot Band recently reunited and went to work in the studio to capture their original acoustic-rock music served up with lightning fast delivery. "This album is the official mark of our triumphant return after a brief hiatus," Mike Holtz shared. "It is our first full length album and we are really proud and excited to show how we have progressed as a band. Until now, we have really been known as a "live" band and this album should welcome a change in thought about us," he said.
Produced by Josh Shapera, the new album "The Leadfood Band" captures the originality of the band's music, while continuing to deliver that fast, beyond-bluegrass sound their fans have come to know and love. "We play acoustic rock with a bluegrass-twist," said Steve Haberichter; on mandolin and vocals. "I have a rock-style approach to my mandolin playing. There are times I am literally shredding my mandolin instead of technically playing it," he said. "But we also do a lot of rhythmic stuff with diversity and balance."
The band decided to express more of their musical talents and experiment with different instrumentation on the new album. Mandolinist Steve Haberichter can be heard playing the dobro on some songs, while bassist Garrett Degnan picks the banjo on a few tracks. It also features special guests Pat Sansone of WILCO on keys and singer/songwriter Nikki Giblin singing along on a song.
Jamming instrumentals, three-part harmonies, and fiery solos compliments their organic sound that always gets a crowd moving and grooving. Leadfoot has performed across the country, and have collaborated with top artists such as Sam Bush, Railroad Earth, Drew Emmitt Band, Darol Anger, Split Lip Rayfield, Acoustic Hot Tuna, Hot Buttered Rum, Particle, The Special Consensus, and many more.
Don't miss this epic CD release celebration by The Leadfoot Band on Friday, April 26 at Martyrs'. The night of progressive, original fast-grass music is sure to invigorate your soul and spice up your life. "Seeing people enjoying your music and what you wrote is one of the best feelings in the world," said Steve Haberichter. "We look forward to sharing our new material with the music lovers of Chicago," he concluded.