Short and sweet can be a good thing, but when it's good, everybody wants some more. British musician Lee MacDougall certainly showed that he could satisfy, but unfortunately for the very few that showed up for his performance at the Larimer Lounge, it was a moment that lasted not quite long enough. Scheduled to play between numerous acts, a small crowd of 20 or so showed to catch the acoustic set of the real life, storytelling songs of MacDougall in a performance that, albeit short, was pleasing and enjoyable nonetheless, testifying to the indie pop musician's continuously growing online fan base.
Moving from their bar stools to the stage later in the night, MacDougall and his backing guitarist and vocalist Rob Getaway were only able to play a 45 minute or less set that went by entirely too fast before a Denver local closed out the night. With just 11 tracks on his first record, "If Walls Could Talk," it was hopeful that MacDougall would play near if not all of the unsigned EP, being one of the top billings for the night. Sadly only half of those songs were performed, along with two unrecorded songs, one of them titled "Hindsight." While the more catchy, upbeat track "I Don't Believe You, Alison" and the sleepy city romance of "London In The Summer" were left out of the set, MacDougall covered a range of his songs with a performance that stayed true to his recorded sound while offering up some variety with percussion on guitar and drawing out some of the vocals.
One week previous to his stop in Denver MacDougall and Getaway were down south for the annual SXSW music and film festival, well known in England and the festival that all musicians want to do, being "the festival to play," said MacDougall in a telephone interview. Coming from music on the streets and in the city bars to just the handful of guys and gals that mingled with MacDougall both before and after his set, the atmosphere at Larimer Lounge was imaginably quite different from that the musicians left behind at SXSW. Yet MacDougall seemed to enjoy himself, chatting at the bar before going on, talking with the crowd while on stage and and signing autographs after.
Taking a request from the audience to play "She"--an aching song about a heartbroken girl that does not recognize her beauty--and talking to the crowd about the day he and Getaway spent in the mountains of Colorado, MacDougall no doubt made himself comfortable getting to know the people who came to listen to him play. "I like storytelling and I like lyrics and connecting with the audience," said MacDougall, the desire to be close with his listeners being one of his reasons for leaving the former band he was with, Light Brigade, just a couple of years ago before he moved to London as a singer/songwriter.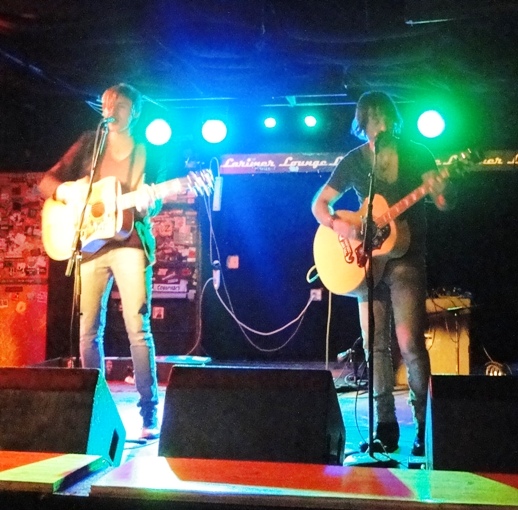 Giving anecdotes behind songs like "Joanna," MacDougall further opened and exposed his already relatable and personal lyrics, the aforementioned being a song about the break-up of a three year relationship. Even without getting the full stories that inspired his lyrics, it is clear to those sincerely listening that MacDougall's words truly are stories about life that everyone, with time, can relate to, most prominently so about love. Though some of MacDougall's lyrics express the joy and thrill of these experiences of relationships and encounters, such as "The Star Hotel," the greater part of his songs on this record deal with lost love, beautifully expressed in "Stay," or the longing for an intangible other, as in "Falling In Love For The Last Time."
Despite the unhappiness and healing of a broken heart that his songs deal with, MacDougall likes to keep the music up-beat, straying from minor melodies or vocal inflections that relate the pain and anger, believing that those emotions can be slipped in without being too melodramatic. "I think music as a whole should be for listening and inspiring," said MacDougall, again establishing that he likes to write about things that are real and that happen to many. Drawing his lyrics from his personal life, MacDougall gets inspiration from some of his favorite musicians such as Paolo Nutini and The Kooks not from their words or music, but from the drive they give MacDougall to pick up his own guitar and put something together.
"To be honest I don't really look to anyone for lyrics because I think it's quite a personal thing," said MacDougall, instead liking to see people enjoy doing what they're doing and having that spark his own creativity. "When you see people that are talented it inspires you," said MacDougall, developing his own individual style and not taking directly from those that fill his record collection.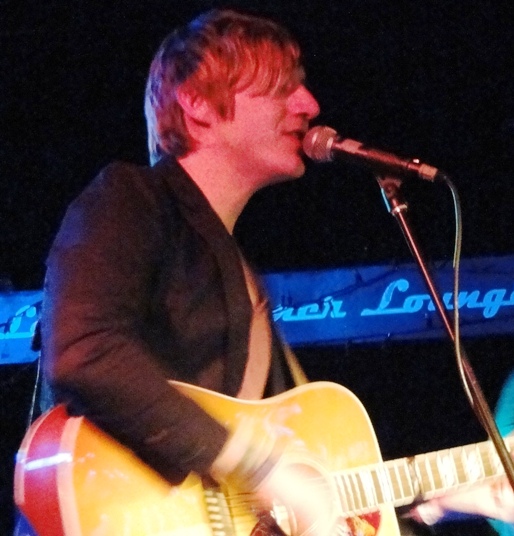 For the present the music that MacDougall has put together as a result of this inspiration and his life adventures has put him nicely into the indie pop genre of the musical web, and while he is happy with where he is right now, MacDougall enjoys change and does not want to be locked into being the product of a given scene. "I don't believe in staying the same," said MacDougall, making mention of The Beatles and David Bowie, known among other things for their changes both in music and personal style every couple of years. "I see every album as a phase, it's a chapter," said MacDougall.
There is no saying how long the chapter of "If Walls Could Talk" will last, but it is an addictive, catchy, story-ridden one with which MacDougall is just starting his career. With smooth vocals gliding over the guitar and hitting the higher pitches without flaw, MacDougall established a light, friendly stage presence that made for an engaging and bigger, fuller sound and performance than two young Englishmen with amplified acoustic guitars may lend themselves to by appearance. Drawing attention away from the background bar chatter, MacDougall's first show in Denver is hopefully not the last the city will see of him, his set attractively sweet set being wholly too short to endow his musical bent and fulfill his small mid-western fan base.