Leftover Salmon is breaking up or taking a break?
Submitted by press on Mon, 06/07/2004 - 06:00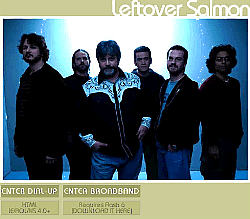 Hi Yall - Tis some very bad news but yes it is true after 15 years the boys are calling it quits I wanted to keep all the rumors from flying I am very sad about this the band has been a big part of my life from playing my wedding in 94 to being on the road with them for 5or6 hundred shows or so. Since Mark passed nothing has really ever been the same musically they have done a great job but the feeling of family and adventure has never been the same Mark really was the glue that held things together and boy do I miss him .Vince called me a few weeks ago and broke the news. He is sad and a little nervous about what the future will bring. He is also excited about the fact that he will be able to spend time with Kimba and Sylas. his boy is growing up fast.The last shows will be a three day run for new years at the boulder theater I hope the boys dont get mad at me for talking out of school here but they know I love all of them like brothers and as they say all good things must pass so get out there and see them while you can !!!