Let The Long, Strange Game Begin...Grateful Dead Game!
Submitted by dead.net on Sun, 12/18/2011 - 07:36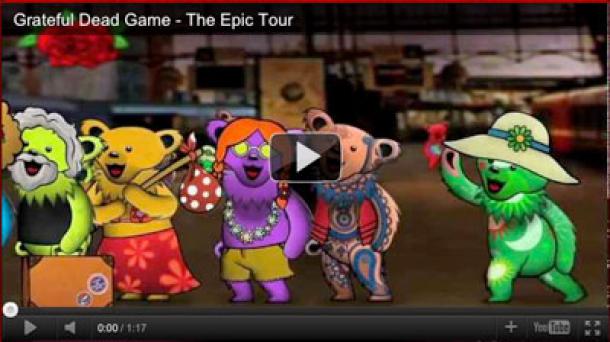 Join us on a trip through Grateful Dead space and time in which we re-imagine ten of the Dead's most Epic Shows! As members of our ever faithful community, we're offering you the opportunity to help craft the Grateful Dead Game, The Epic Tour.
In the Game World, each Epic Show is a Planet in Space. Players are on an adventure trying to get to every show of the tour. The community faces a common challenge: a tug-of-war between The Dark and Light. Darkness in the Game World is undiscovered, empty, or unkind places. The community will work together to shine the Love Light in places where there is Darkness. Light represents the collective positive vibe of the Grateful Dead experience: the music, fun, community, celebration, cooperation, individualism, hope, freedom, escape, and joy. Light is brought by acts of kindness to other players, by cooperation, and by cultivating gardens of flowers.
Hosted at GratefulDeadGame.com, you can get started here by gearing up for the tour, designing your Character with millions of design combinations, taking snapshots with the ever-growing group of gathered Dead Heads, and deciding on just which shows you think deserved to be deemed "epic." On January 31, 2012 the top ten shows, as voted by the fans, will become the itinerary for The Epic Tour. The train will leave the station in April 2012 heading for the first of a 10-show virtual tour. Stay tuned in the meantime, because Curious Sense, producers of The Epic Tour, will be rolling out new features, content, and games on a monthly basis.