Sara Lucas' voice soared on Saturday night at the Larimer Lounge in Denver, cutting through the hypnotic guitar and drum rhythms of Ryan Seaton and Don Godwin, respectively. Brooklyn's Callers were in town supporting Wye Oak on a tour that began in Tucson, AZ on March 21st and ends on April 15th in Philadelphia.
Resembling a sort of hypnotic sermon, the down-tuned guitar and minimalist power of the drums set the crowd on a slow, steady boat ride through a dark sea, guided by Lucas' robust siren call, blossoming into a celebratory beacon of a sought after shore. With hardly a shred of overkill, Callers' stripped down style contains all of the sound, nothing more, nothing less, needed to get their point across.
Godwin's kit consists of one lone tom, a floor tom to his right. No rack toms and no crash cymbals, just hi hat and ride. Anything more would be superfluous to his game plan, and just another piece of gear to have to haul and set up. During "Dressed in Blue," he rigs the floor tom on a shoulder harness for playing both heads in a constant, transient, driving rhythm.
Seaton takes on bass and guitar duties on a single electric guitar, via thick strings and down-tunings. Odd time signatures, with the help of Godwin and occasional keys by Lucas, provide the (sometimes almost haunting) backdrop for her to unleash her vocal prowess. Calling t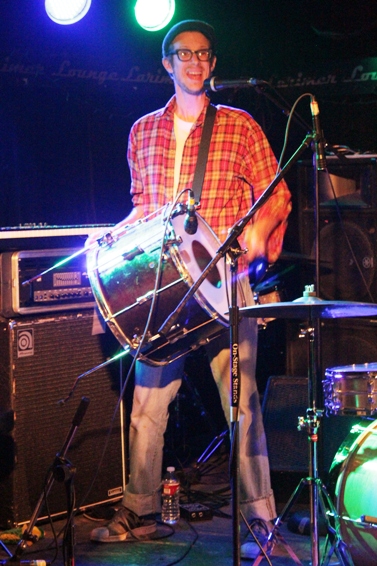 o mind a blend of early Grace Slick, Joni Mitchell and Phoebe Snow, she moves along over the drone and opens the gates on "You Are an Arc." Keeping visible physical emotion at bay, Lucas saves if for her vocals. Like a mother soothing a newborn baby or a sergeant calling his army to battle, she knows her vocal dynamic. She can hang out the high notes and let them flutter in the wind and drive the low end with equal presence. A cover of Wire's "Heartbeat" has the vocal goddess simultaneously calling out the dual experience of herself and the audience: "I feel empty/I feel dark/I remark/I am mesmerized by the sounds of my own beat/ Like a heartbeat."
Yes, America, sometimes less is more. It's not the size of your band, it's how you move it around. Callers are a testament to maximizing the minimum and taking a seemingly lackadaisical approach to glory.