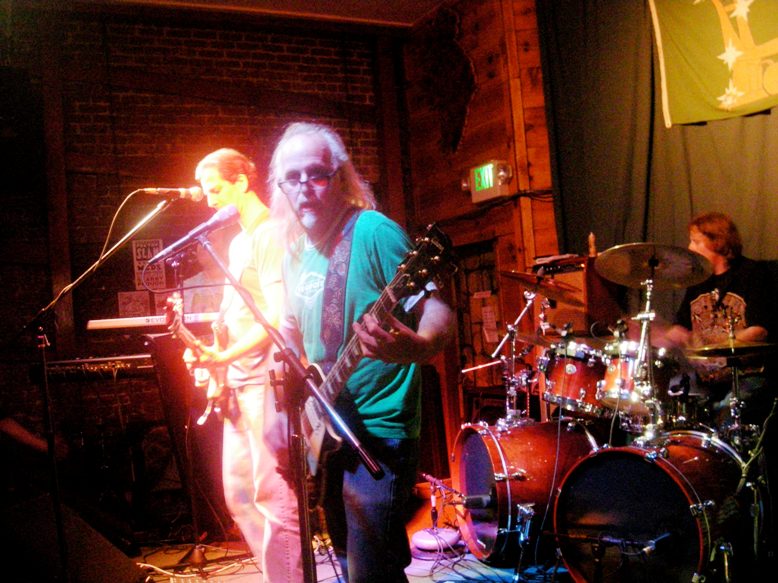 On a cool Berkeley evening I walked into The Starry Plough to catch The Grateful Dead cover band Live Dead. The Plough was once again packed with young and old local "Dead Head" hippies, sporting heavy beards and tie-dye shirts. Others danced wildly by the stage, as Live Dead opened their first set a little after 9:30 pm. The members of Live Dead formed recently out of the ashes of other Dead cover bands such as Workingman's Ed, Grapefruit Ed, and Crazy Fingers. The members of the band include Steve Fundy on lead guitar and vocals, Barry Erde on rhythm guitar and vocals, Paul Scannell on drums, Mitch Stein on keyboards and vocals, and Stephen Ramirez on bass.
"Cold Rain & Snow," sung by Steve Fundy opened the show. Fundy is the lone former member of Crazy Fingers, who were considered a premier Dead cover band in New York City during the 1980s. Fundy, with his long white hair and goatee, sang his vocals in that high-pitched, mellifluous Jerry Garcia howl. "She went up to her room and she sang a faithful tune. And I'm going where them chilly winds don't blow, winds don't blow." This opener was followed by Barry Erde singing "Greatest Story Ever Told," a Bob Weir song that was originally on his solo album Ace. "Greatest Story Ever Told," eventually made into heavy rotation at Grateful Dead concerts, as did countless others Weir wrote off Ace. Erde sounded just like Bob Weir with his raspy, deep singing tone, matched by a rougher-edge onstage presence.
For their third song Live Dead played a surprise cover of "Dupree's Diamond Blues." Originally off the third Grateful Dead album, 1969's Aoxomoxoa, and sung by Jerry Garcia, it was rarely played by The Dead live in concert. Steve Fundy handled lead vocals for "Dupree's Diamond Blues," and the crowd danced to the song, which sounded much more electric live, as it lacked the banjo that is in the original. Fundy sang the plaintive opening lines "When I was just a little young boy, papa said son you'll never get far, I'll tell you the reason if you want to know because child of mine there isn't very far to go". Next Live Dead launched straight into "West L.A. Fadeaway," to the joy of the crowd who began dancing everywhere, using their hands to guide their bodies through the motions. Barry Erde, was the frontman for the next two songs, both Weir originals: "Me and My Uncle," and "Mexicali Blues." Both songs were more country and less psychedelic sounding then a lot of the other material Live Dead would perform that night. "Me and My Uncle" recalls the tale of a young Texas cowboy and his uncle riding their horses from south Colorado into Santa Fe. With lines like "Went into the barroom, ordered drinks for all. Three days in the saddle you know my body hurt. Indian summer, I took off my shirt and I tried to wash off some of that dusty dirt," you get a clear view of country rock's influence on Weir despite his San Francisco origins.
The packed crowd really started dancing to the next song "Here Comes Sunshine," a Jerry Garcia classic off The Grateful Dead's Wake of The Flood album. Live Dead were the second band in a matter of weeks to cover this song at The Starry Plough, as The China Cats, another Grateful Dead cover band from Santa Cruz, had done a great job with the song in their mid-April concert. One small, round hippie—who looked like one of The Grateful Dead teddy bears, with a humongous white beard, long hair, and a black top hat started motioning to the sky with his two hands and chanting the chorus of "Here comes sunshine," as if he were praying or worshiping the music he was hearing. I noticed that another woman standing near the front of the stage was doing the same two-hand motioning towards the ceiling, and I wondered if this was a Dead Heads ritual whenever this particular song was played.
Live Dead closed out their first set with "Deal," a song that was actually off the first Jerry Garcia Band self-titled album, but like most of the songs off that album eventually made it into heavy rotation at Grateful Dead concerts. "Deal" is a straight up gambling song unlike "Loser," a similar song off the same Jerry Garcia record, which is mostly about gambling but has hints of a love story as well. Keyboardist Mitch Stein handled the vocals on "Deal" and sounded mesmerizing while singing the lines, "Since it cost a lot to win and even more to lose, you and me bound to spend some time wondering what to choose. Goes to show you don't ever know. Watch each card you play and play it slow. Wait until your deal come round. Don't you let that deal go down." This was followed by the second verse, where Stein sang in a sly Jerry voice, "I been gambling here abouts for ten good solid years. If I told you all that went down it would burn off both your ears."
After a ten-minute break, Live Dead took the stage again for the second set, opening it with "Playing in the Band," a live jam that had Barry Erde doing his fantastic Bobby Weir voice, while Mitch Stein and Steve Fundy provided excellent backing with the keys and lead guitar. The next song was "Uncle John's Band," and the crowd responded enthusiastically as everyone knew they were in for a special treat hearing one of the best songs off Workingman's Dead, considered by most Dead Heads as one of The Grateful Dead's finest studio efforts. The soloing by Fundy reached a peak in this song, and then reverted back into the main riff progression as he sang, "It's the same story the crow told me, it's the only one he knows. Like the morning sun you come and like the wind you go. Ain't no time to hate, barely time to wait. Wo-oah, what I want to know, where does the time go?" I had never seen The Dead or any Dead cover band play "Uncle John's Band" before, so this was the highlight of the night for me. The crowd was in love with it too as you could hear them roaring the lyrics right along with Fundy and Stein, who harmonized brilliantly on the lyrics "Wo-oah what I want to know will you come with me?" "Eyes Of The World," followed, and always sounds great live with its seemingly endless lead guitar jam that Steve Fundy enjoyed playing alongside Barry Erde.
Drummer Paul Scannell got his strongest applause of the night during his interpretation of The Dead's "Drums" into "Space" sequence. Scannell's version was a lot heavier with one drum kit, compared to Mickey Hart and Billy Kreutzman's sound on two separate kits. With the way Scannell was pounding his kit ferociously, people like my friends from Norway, who hardly knew anything by The Dead before, enjoyed a bit of diversity and this drum solo provided just that. Scannell is definitely one of the most talented members in Live Dead as he has played in the past with Paul Kantner and Jefferson Starship, as well as being a former member of Workingman's Ed and Grapefruit Ed. He has also played with the Neil Young cover band Ragged Glory with Pat Nevins, while also being a part of a Cream tribute band, Just Cream. Stephen Ramirez, the bassist in Live Dead, also has an impressive musical resume if you look at his bio under Live Dead's myspace page. He has performed with former Grateful Dead keyboardist Vince Welnick.
After the "Drums" into "Space" interlude, Live Dead launched into "Wharf Rat," a song Robert Hunter wrote about a man named August West, who is a wino down and out on the streets begging people for a dime to buy some coffee. "Wharf Rat" features some of The Dead's harshest lines, which Mitch Stein sang in a mournful voice a lot like Jerry Garcia: Everyone said I'd come to no good, I knew I would, Pearly believed them. Half of my life I spent doin' time for some motherfucker's crime. The other half found me stumbling around drunk on burgundy wine. But I'll get back on my feet someday. The good Lord willing if He says I may 'cause I know the life I'm livin's no good. I'll get a new start, live the life I should. I'll get up and fly away. I'll get up and fly away, fly away. You could hear a smooth and melodious tone in Stein's voice as he sang "Wharf Rat," and the crowd joined in, as two friends by the front of the stage faced each other for a brief moment, singing the lyrics back and fourth to each other, while shaking their index fingers in a scolding fashion, as Stein sang, "I know that the life I'm livin's no good."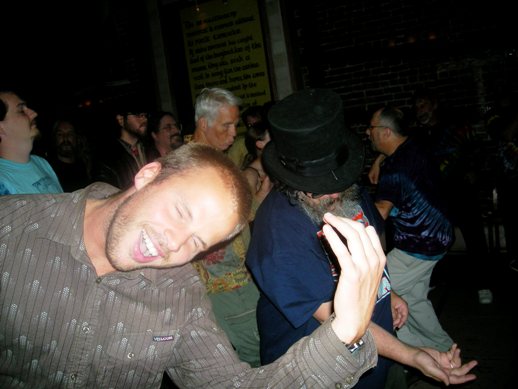 "Truckin" was the next song, and all the American Beauty fans in the crowd (who had already heard "Box Of Rain," from the opening band earlier in the night) were excited all over again to hear another timeless tune off The Grateful Dead's 1970 album. Again the crowd was into it. Even my Norwegian friends knew "Truckin," and were singing along to The Dead's autobiographical lyrics about when they were busted on Bourbon Street in New Orleans for marijuana possession. Live Dead members Erde, Fundy, and Stein did a great job harmonizing together in the chorus on the most famous lines The Grateful Dead ever sang, "Sometimes the light's all shining on me. Other times I can barely see. Lately it occurs to me what a long strange trip it's been."
Live Dead followed their brilliant version of "Truckin," with a quick version "Going Down the Road Feeling Bad," a set closer that The Dead used to play along with "We Bid You Good Night," at the peak of their touring career. Once again Erde and Fundy took turns singing back and fourth, as Jerry and Bobby would have done if they were still playing together. Fundy also played a terrific solo in the song, capturing one of Jerry's most electric-guitar-driven moments in the history of his compositions with The Dead.
By now it was already passed 1:30 am, but the crowd was not ready to go home yet, requesting a final encore after Steve Fundy had already introduced the entire band to the crowd and was bidding them farewell until next time. "So you want one more?" Fundy asked the crowd and with the reaction of cheers he got, he knew the show couldn't stop there. Live Dead launched into "Don't Ease Me In," an iconic song from the Jerry Garcia Band vault that never made it onto a Grateful Dead album, but like the songs "Deal," "Loser," and "Bird Song," it has become a Grateful Dead standard, appearing on countless live albums that have been bootlegged. The crowd loved it and the song itself put me in such a Jerry mood that I couldn't resist the temptation of buying a tie-dye Jerry Garcia shirt after the show. It had been a wonderful night, especially as my four Norwegian friends, left with smiles on their faces and plans to delve deeper into The Dead's music catalog, and also to see incredibly talented cover bands like Live Dead, who can capture the essence of The Grateful Dead's psychedelic jam band music perfectly.
For more information on Live Dead visit their myspace page at http://www.myspace.com/livedeadband
Promoted on slideshow
Off