While one could marvel at the amount of choices in music festival concepts that now exist, one effortlessly rules over them all. Last year David Frey and Peter Shapiro took their extensive collective promotion experience in creating the ultimate festival concept. A festival where the main driving force is the necessity of collaboration. From there build the festival with the most top of the line (and no doubt expensive for promoters) stage setup, sound equipment, vendor variety, local food proprietors, extensive craft beer selection. All while packaging it into an affordable four-day music festival event where patrons would get to see huge A-list headliner musicians collaborate with other jam titans. I once ever. Then never again.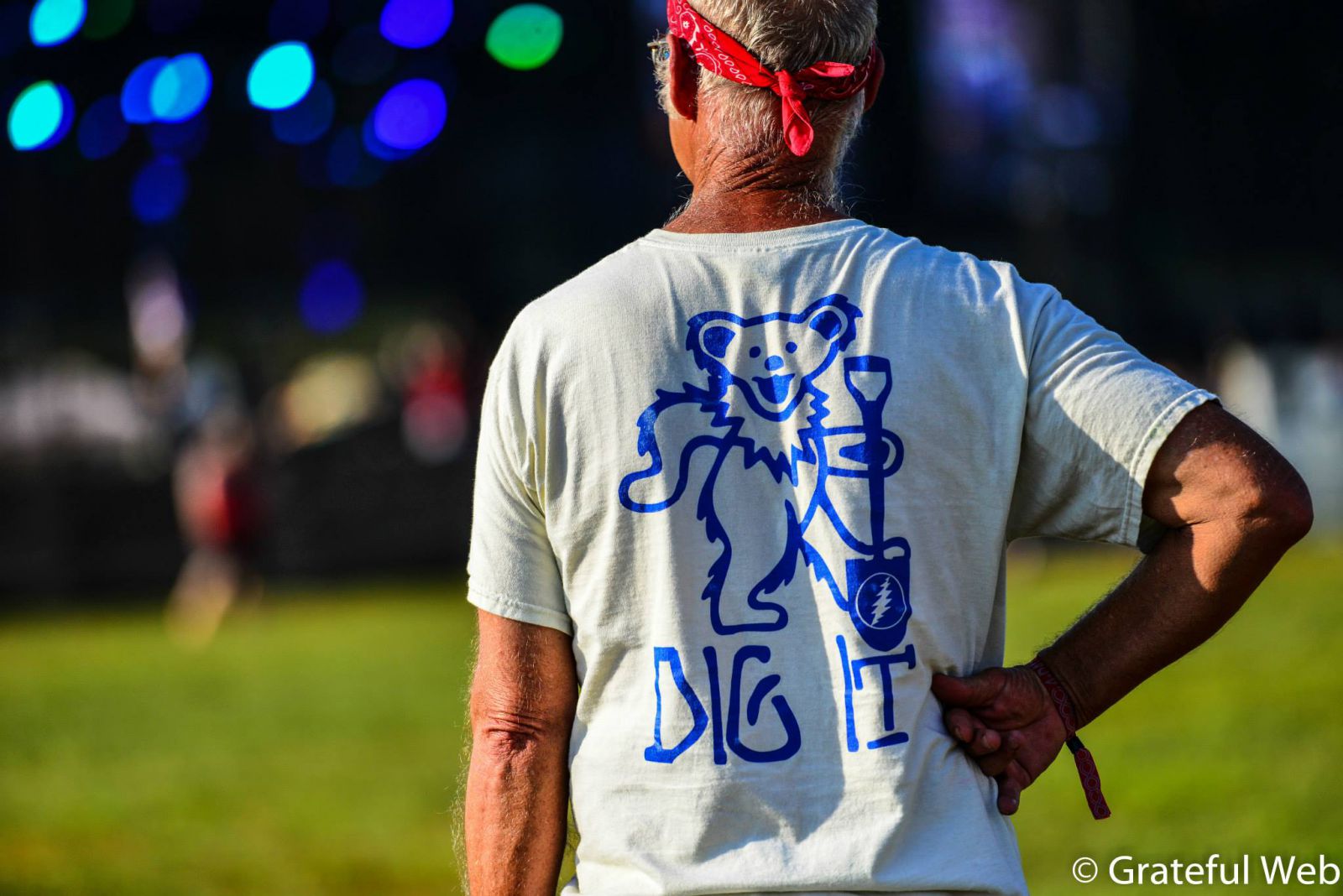 So the second year of the Interlocken Festival (now succinctly shortened to Lockn') really upped the ante this year. I mean really. Work spread nationwide about the groundbreaking festival last year, but truthfully so did a few logistical bugs. Some of the furthest camping had those patrons hiking nearly two miles to the festival grounds, which alone is well laid out, but modestly gigantic. Entry logistics were also problematic. Some patrons waited half a day to enter the festival. First year bugs aside, promoters eliminated all problems for this year's Lockn'. By purchasing an adjacent ranch about a month before the festival, production was able to make the camping hike half the distance of last year, creating an intimacy and accessibility exclusive to this year. Also, talk about a kind group of staff and volunteers. There are so many elements in keeping patrons and artists happy when you run a festival of this magnitude, let alone one this ambitious. Top of the line boutique vendors and food/beverage proprietors. So many people to take care of. This year they pulled it all of big time. No entry hassles, no grabby security, but safety is in mind and the facilities to get help if you need it are easy to get at.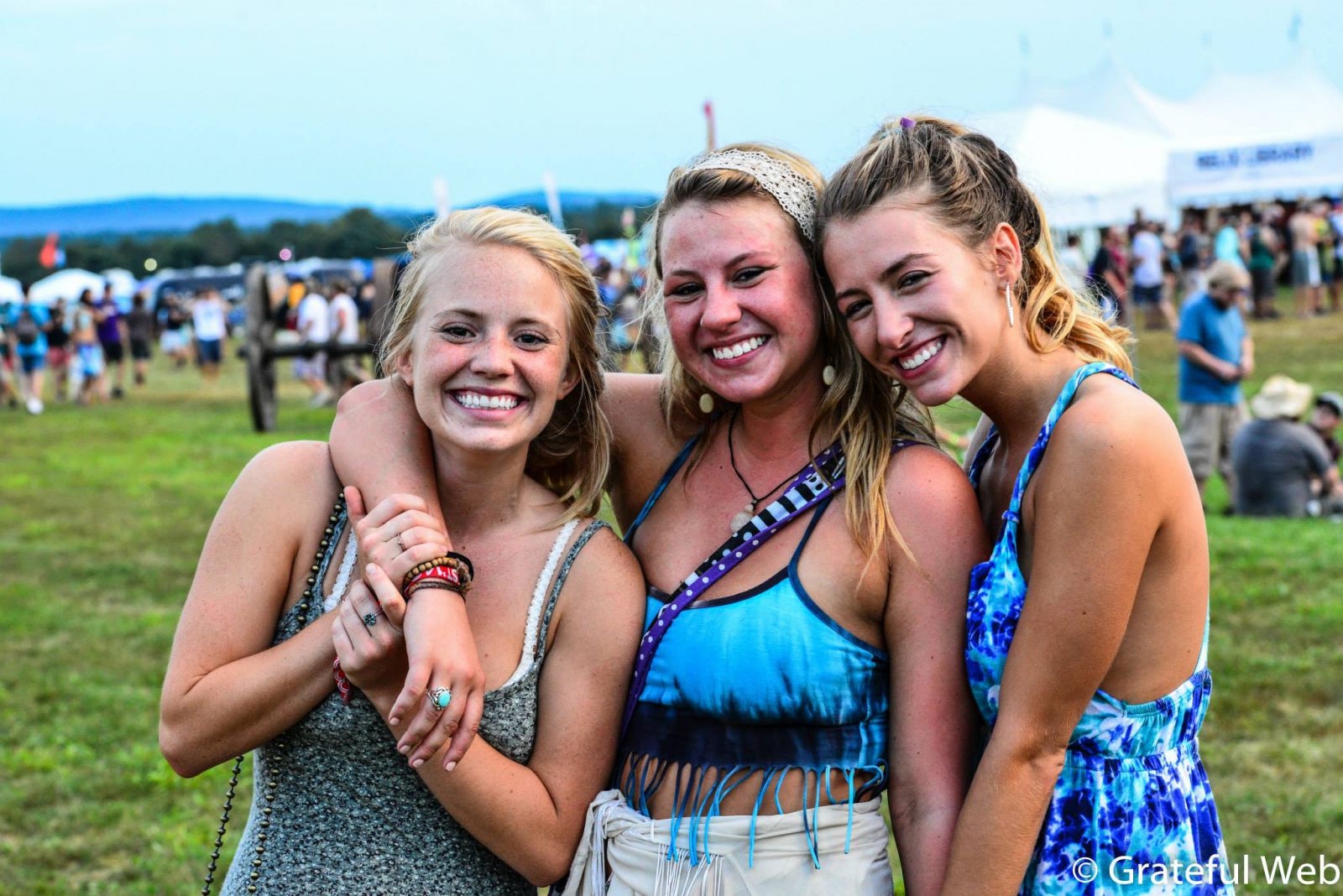 To describe the magnitude of this event is daunting. Festival capacity is give or take 25,000 people, so creating the illusion of intimacy with the festival grounds was a challenge met by Lockn' Production. Two full-sized main stages sit side-by-side, aptly named "Oak" and "Ridge" after the Oak Ridge Ranch where the festival is held. No set break between music. In fact, barely a beat between acts to give you favorite band the applause they deserve. But artists performing at Lockn' are down for the difference. No wasted time. All collaboration, new concepts, and as much music as possible. The best part is that you don't miss a thing. With stages side-by-side and three smaller workshop stages (Relix Shakedown Stage, Edible Stage, and the gorgeous wooded Triangle Campground Stage) are scattered about the festival site for local band promotion and intimate late night jam sessions. The layout of the venue is remarkable. The Local food and beverage tent feels like a chique farmers market, with tons of healthy local options. There are seriously probably a hundred different craft beers here to choose from, most are regionally local.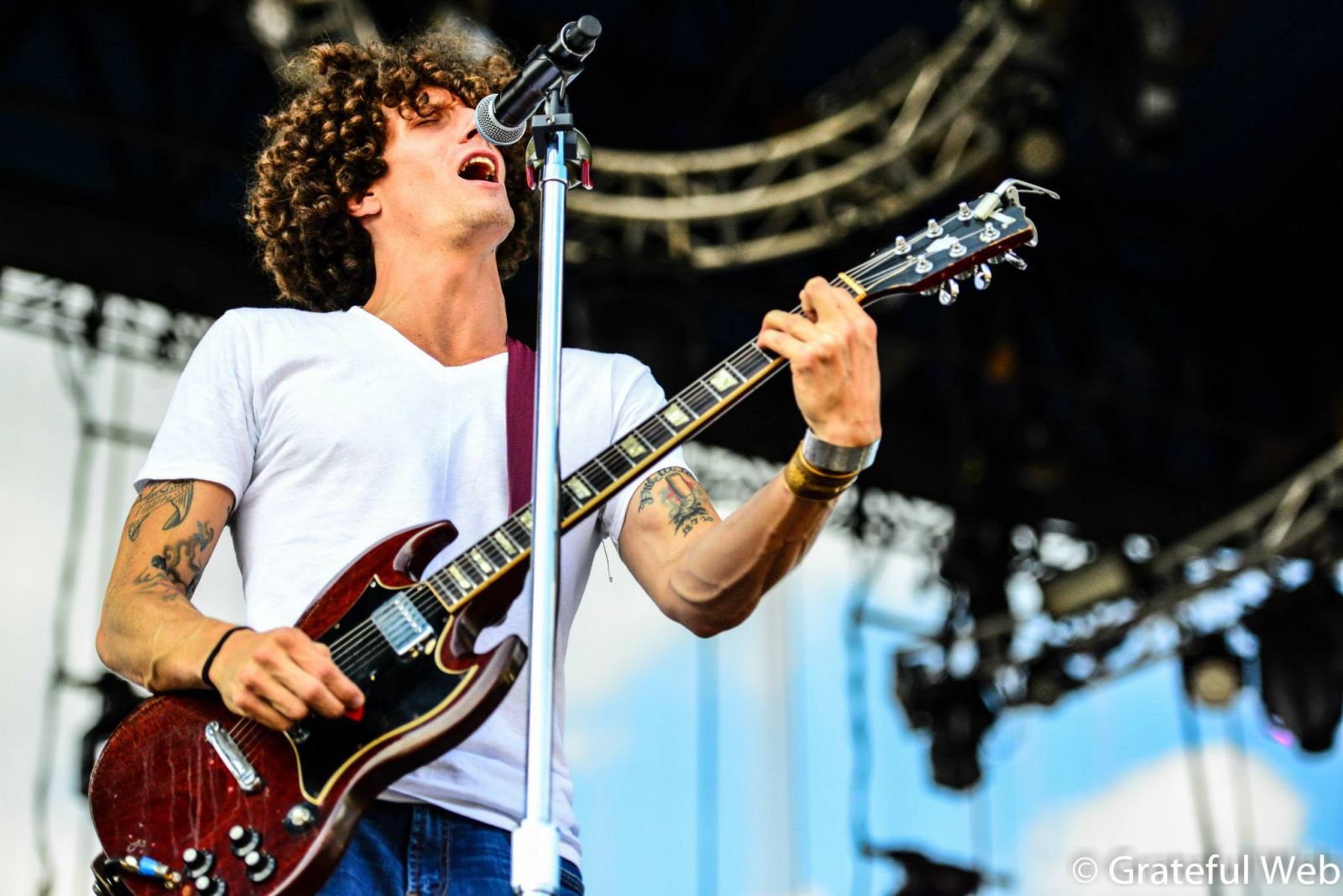 The Thursday musical lineup was nothing short of phenomenal. A jam variety lover's heyday. The No BS Brass Band started kicked off the Oak Stage and we didn't need a warm-up. These Richmond, Virginia natives take the New Orleans funk sound and blend it with elements of jazz, rock, and classic pop. Take the instrumentation of your run-of-the-mill brass band and open up the possibilities to infinite. For nearly ten years this eleven-peace brass band has played the finest jazz halls to the craziest festivals. Lockn' had the pleasure of a pumped-up start to their musical weekend. Quite the "warm up". Keeping in Thursday's vein of the New Orleans sound, the Ridge Stage premier was a standout set from The Revivalists. This New Orleans bred rock and soul band really epitomizes the modern NO Sound. A combination of funk, zydeco, soul, and hard rock. The band featured strong material off of their brand new "City of Sound" album, a live and studio combination release that displays their live concert energy with conviction. The Lockn' Festival got down hard to the music of The Revivalists, another stellar "warm-up" for what was to come.
No BS Brass and the Revivalists are not an opening band. But in the case of Lettuce funk music, it felt like a proper warming up for the big big sound of Royal Family Records premier NO-funk band. Built of the finest players in rock and funk, the band brings together monster guitarist Eric Krasno, drummer Adam Deitch, Neal Evans on B-3 Organ, vocalist Nigel Hall, and several other stalwart New Orleans musicians. Now the energy was at its peak. Blistering horn solos, truly the best rhythm section of any band currently performing, and a message of love funkified. The caliber of musicianship in Lettuce is something that needs to be witnessed in order to be understood. They generally serve the setting of where they are performing best. And for those who weren't already on their feet (yesterday was 95% humidity with temps in the mid-90s) it was time to get the party started.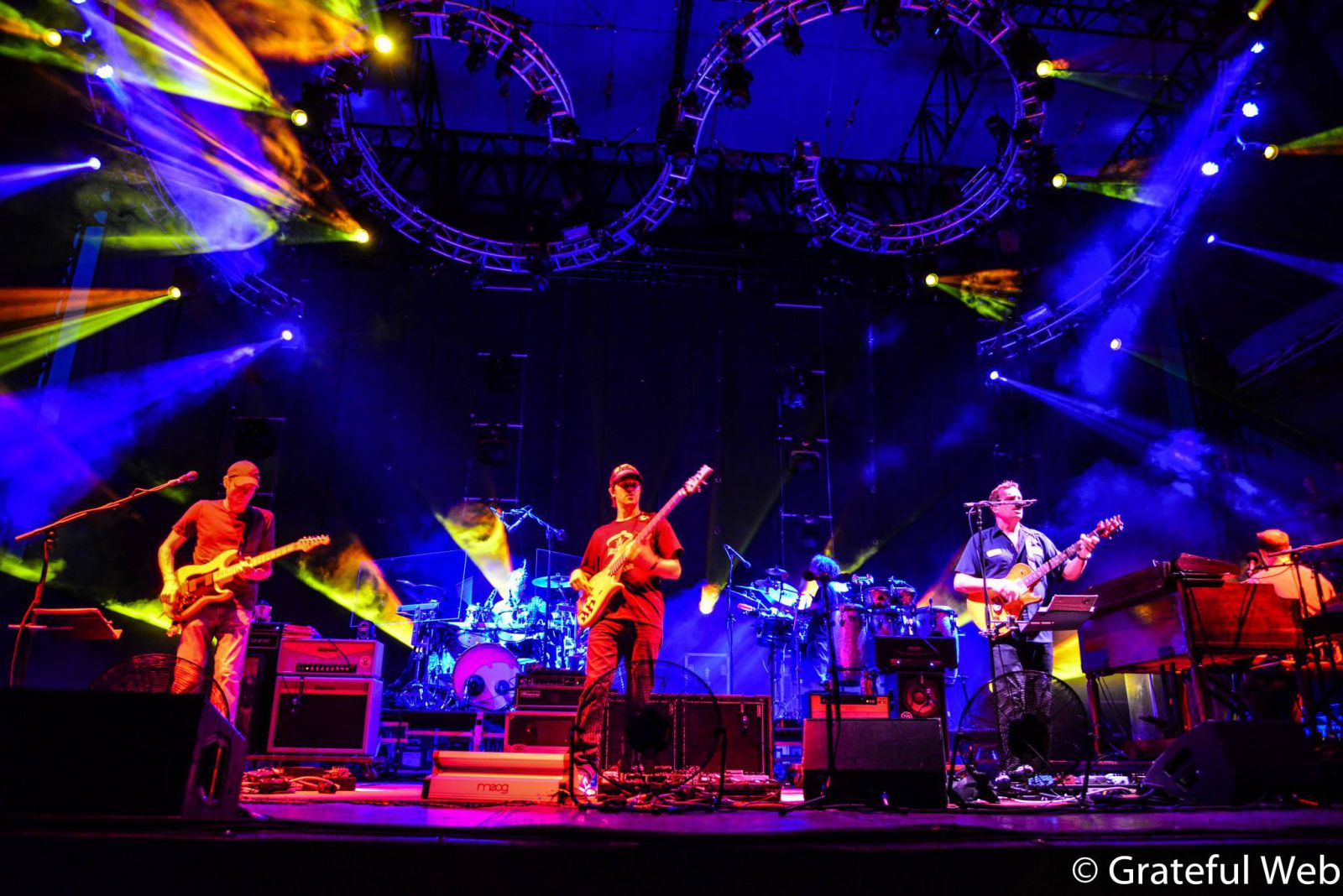 If Lettuce was a hard act to follow, then jam titans Umphrey's McGee were up for the challenge. This prog-jam band formed in Chicago in the mid-90s has changed its sound quite a bit since its inception. Growth and change is inevitable in the life of a band and life in general but Umphrey's has seemed to embrace change and flow with it naturally. Having not heard so much Umphrey's myself, but knowing their current popularity, I tried to pay close attention to what draw adoring younger and older fans. It seems like this band is so versatile in their approach to music and jamming that the possibilities are infinite. I heard twinges of King Crimson, Frank Zappa, even Metallica. But an Umphrey's show is very much its own thing. Bar-none the best lighting rig and show in the business. Nothing accompanies heavy-hitting musicianship like the perfect lighting rig and execution.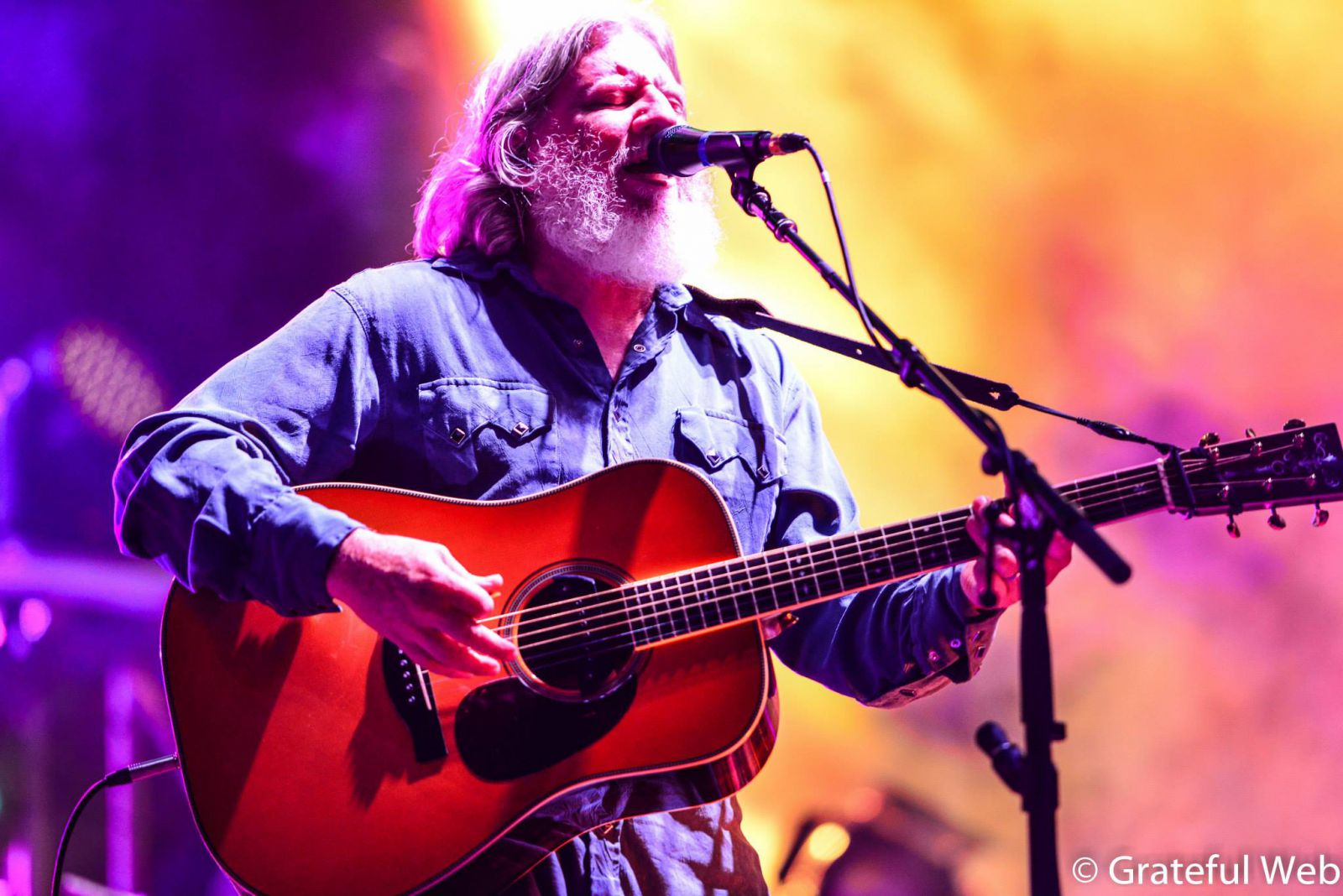 Lockn' fans were treated to two interwoven sets from Umphrey's and Colorado's jamgrass rockers The String Cheese Incident. Each plays two sets in between each other. String Cheese came on without skipping a single beat after Umphrey's played their last lingering tone. Cheese was in fine playing form, with guitarist Billy Nershi taking chances on slow-hand electric solos never before played that way. Mandolin and Fiddle man Michael Kang dazzled his audience with startling solos at the climax of "Little Hands" and the crowd got pumped with familiar classics like bassist Keith Moseley's "Can't Stop Now" and Nershi's "Outside and Inside." No doubt the band played some songs off of their new Song In My Head studio album, their first album in nine years that came out later last year. The new material sits nicely next to SCI classics, and in particular showcases the singing/songwriting growth of keyboard/organist Kyle Hollingsworth. So Cheese and Umphrey's wove and in and out of each other. Umphrey's into Cheese into Umphrey's then into a special String Cheese first ever event.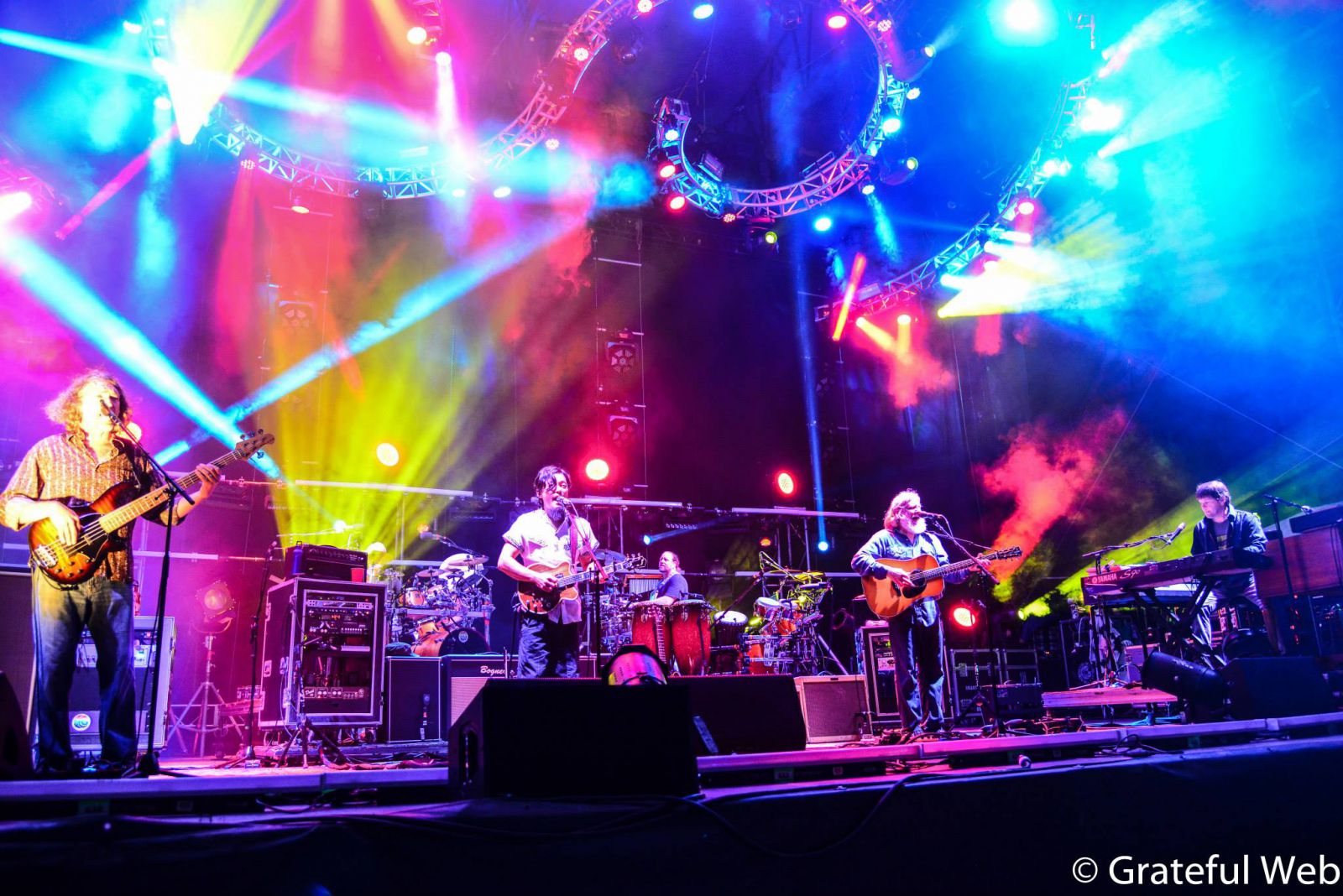 String Cheese and the Gang was a special headliner featuring the Preservation Hall Jazz Band horns, SCI and very special guest J.T. Taylor, the original front man of Kool and the Gang. Cheese wanted to honor the funk/soul legends with a full tribute set to the music of Kool and the Gang. The Lockn' audience was enamored with the truly special one-off set featuring pretty much event hit the band ever performed. A stunning trio of backup singers augmented an already high-energy project. Drummers Michael Travis and Jason Hann tied together to the heavy hitting rhythm section, brass and drums aligned. Eight powerful musicians onstage in addition to SCI for the headliner brought together an electrifying tribute, honoring the originators of funk/soul fusion.
If the main stage festivities weren't enough for your (over six hours of music on the opening day) then you had a couple of unbelievable late night options. The Triangle Forest stage, hidden away at the opposite end of the campgrounds in a cedar-bed wooded intimate stage setting. And, oh yeah, did I mention that legendary bluesman Taj Mahal played a close-up solo set at midnight? The memorable late night sit-in gave blues fans a chance to sit down and sing along with a founder like Mahal, whose been performing professionally for nearly sixty years. Classic blues numbers like "Baby Let Me Follow You Down" and "Please Don't Go" highlighted the typical Taj set. And for Taj, typical is quintessential blues. His unique sense of humor and ability to truly engage his audience makes him more important now than ever. What a blessing it is to have Taj still performing!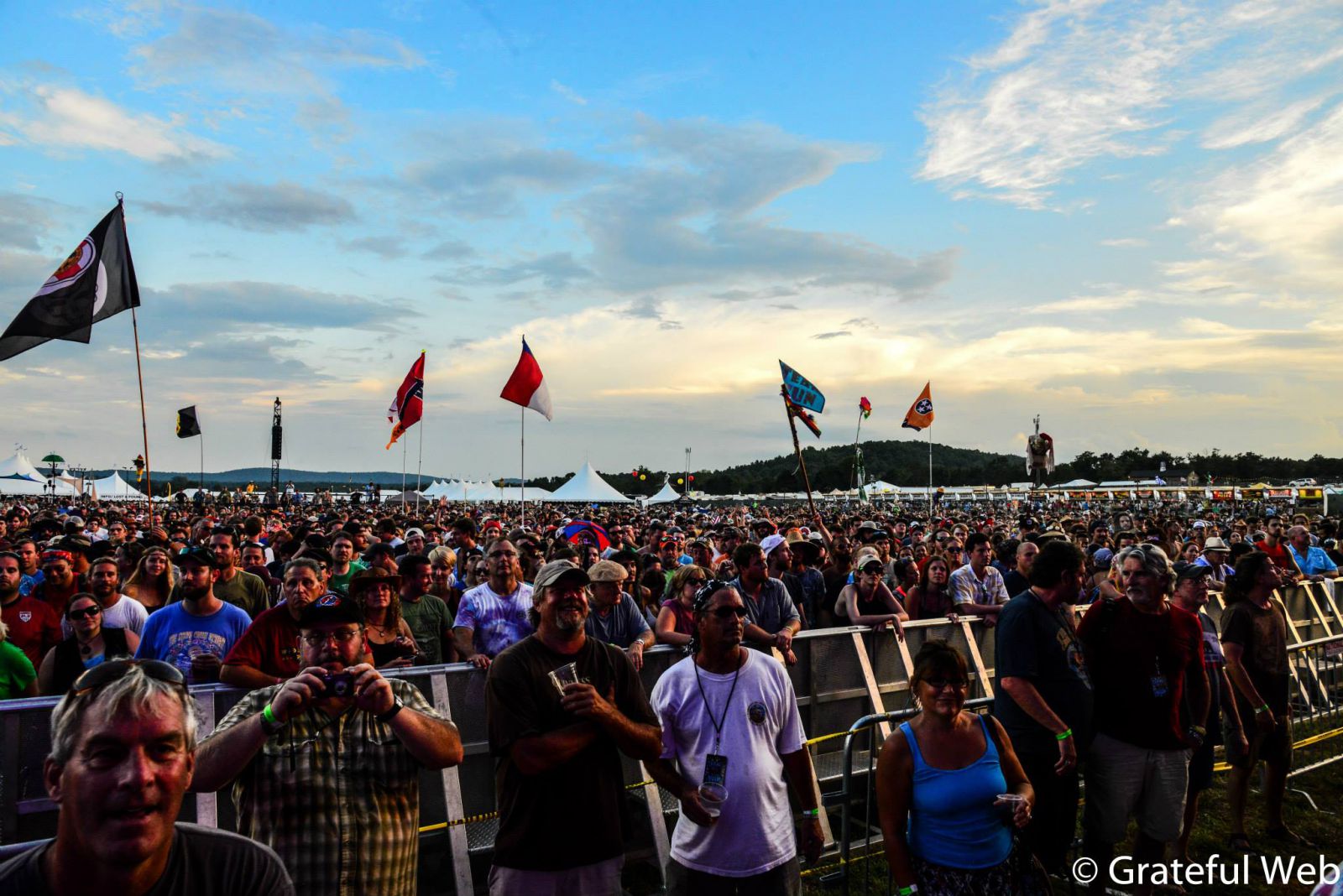 And if 1AM was too early to wind down the party, wander over to the Shakedown Stage near the festival grounds entrance for Ivan Neville's Dumpstaphunk. No doubt this swamp soul rockers had late night Lockn' goers out until nearly 3AM with a high energy set of more New Orleans classics. If Thursday was a long day, I'm not really sure how to encompass the awesomeness of Friday's up-and-coming lineup. Stay tuned all weekend long for Lockn' Updates and pics here on Grateful Web.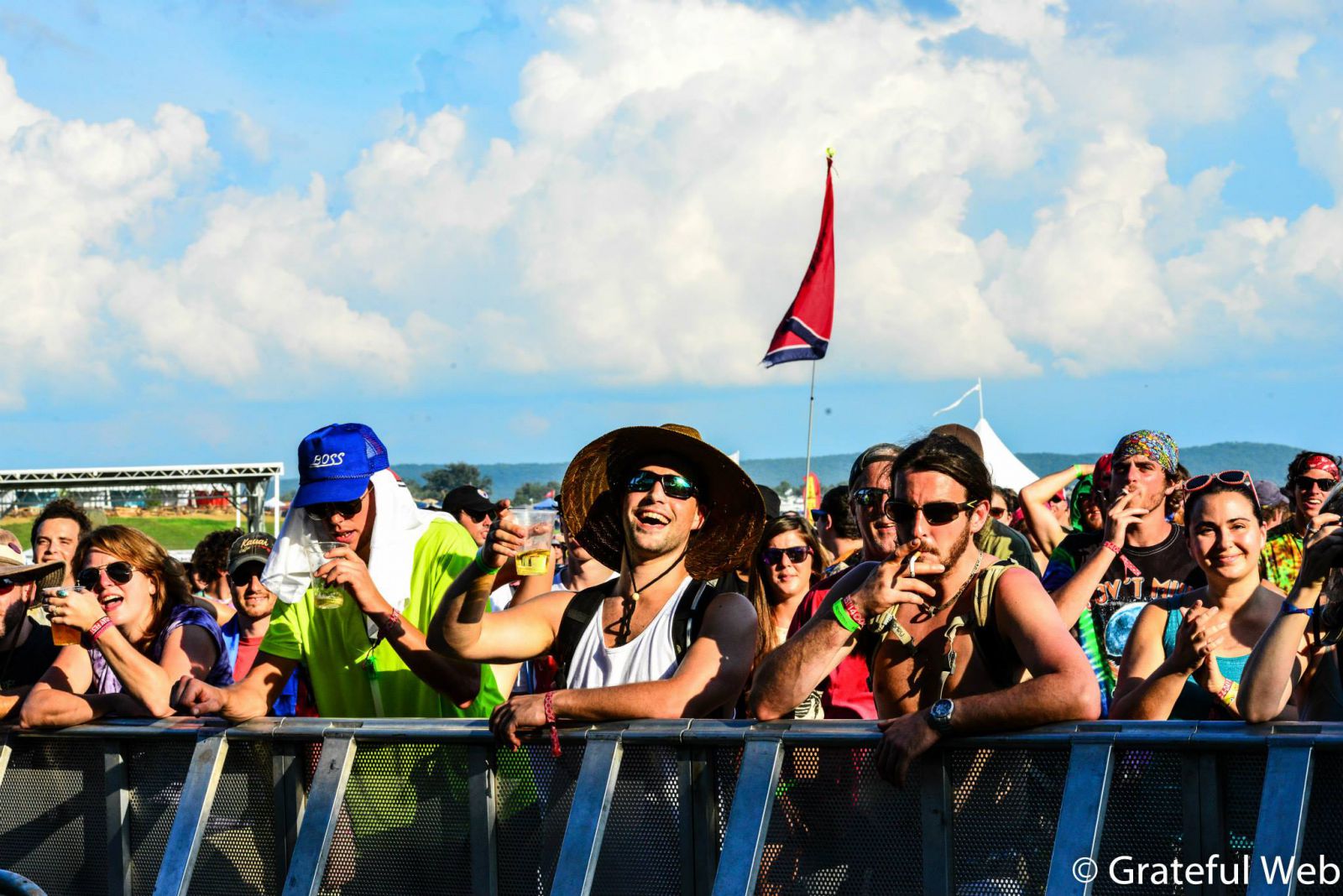 Check out more Thursday Lockn' Festival photos.