Lotus Announces New Album, Gilded Age, out 7/22
Submitted by Giant Step on Mon, 07/07/2014 - 09:42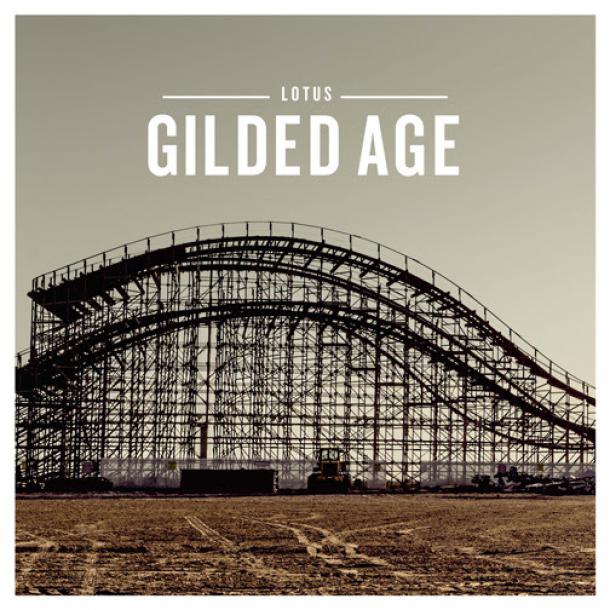 Lotus announces the new album, Gilded Age, to be self released digitally and on vinyl on July 22nd. It includes six new, rock focused tracks and four down-tempo electronic remixes. Relix premieres the album video preview offering insights into the making of the album (view). On July 14th, those that pre-ordered the album will have access to an advance download of the track "Let Me In."
When Mark Twain coined the term the gilded age, he was describing the Reconstruction Era's thin veneer that masked substantial social struggle. Nostalgia is like The Gilded Age of memory. It's easy for the mind to increase the former glory, the perfect sheen, the once timelessness of present-day ruins.
Luke Miller says, "On this album we wanted to occupy that powerful place of the human mind, the mental eye that can see erosion and cracks and envision a palace. We focused primarily on simple organic instruments: drum, bass, guitar, piano, percussion, played live in a room. The overall mood is one of reflective happiness, the joy of the impermanent, nostalgia of halcyon days."
The album was recorded with Jonathon Low (The National, Local Natives, The War on Drugs) in Philadelphia and includes guest vocalist Steve Yutzy-Burkey on three tracks. Once again, Lotus recorded live to analog tape with an emphasis on musical playing over studio tricks.
"Lotus has long been known as a band with electronic and dance influences, but we also know the power and beauty of a stripped down rock song. On this album, we went for a sound that we hope inspires nostalgia, but also the joy of a hopeful future. I imagine standing at the edge of town, looking back, knowing I'm leaving something behind, but looking forward to the unknown adventure ahead," says Jesse Miller.
Remixes from four superb down-tempo electronic producers; KiloWatts, D.V.S*, Marley Carroll, and Skytree; take the mood into deeper realms, into a place where the brain starts reflecting on reflections and mixing together dreams and realities. Welcome to the Gilded Age.
Lotus is composed of Mike Greenfield (Drums), Jesse Miller (Bass, Sampler), Luke Miller (Guitar, Keys), Mike Rempel (Guitar) and Chuck Morris (Percussion).
Gilded Age
Vinyl Pre-Order: http://lotusvibes.bandcamp.com/album/gilded-age
Side A:
Let Me In
Gilded Age
I Want it All (To Give it Away)
Side B:
The Oaks
Out of Focus
Sunset of the Giant Dipper
Remixes:
Out of Focus (KiloWatts – Bifocal Remix)
The Oaks (D.V.S* Remix)
I Want it All (To Give it Away) – (Marley Carroll Remix)
Let Me In (Skytree Remix)
Lotus on Tour
August
1 - Bridgeport, CT - Gathering of the Vibes (Lotus: Talking Heads Deconstructed)
9 & 10 - Baltimore, MD - Moonrise Festival
16 - Scranton, PA - The Peach Music Festival
29 - Turn, NY - Moe. Down
30 & 31 - Garrettsville, OH - Summerdance
September
19 - Denver, CO - Red Rock Amphitheatre (w/ Papadosio & Orchard Lounge)
December
3-7 - Punta Cana, DR - Dominican Holidaze * Sold Out