Lotus | Build | Review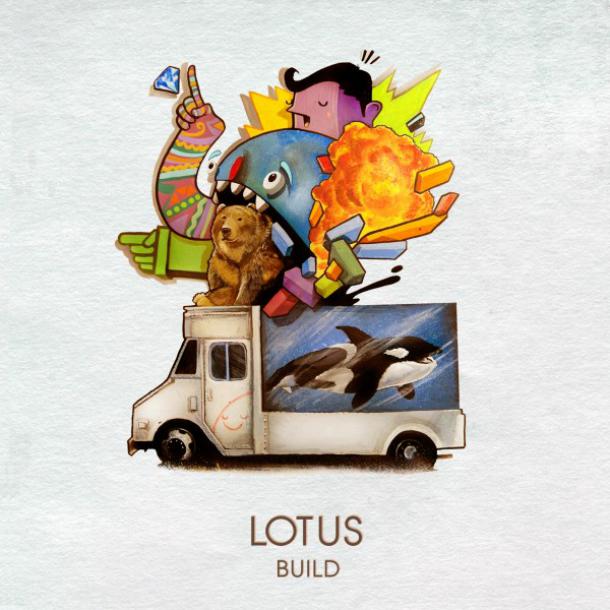 For the past decade, electronic rock group Lotus has been building a loyal fan base with their ever-changing blend of jam, funk, jazz, and recently more hip-hop style sounds. Always evolving and experimenting with new sounds, these road warriors are no strangers to adapting to different styles and going outside their comfort zone to break new ground.  Recently Lotus returned to the studio under SCI Fidelity Records to record their fifth studio album Build, which shows the group mixing and mashing their production skills with their underlying jam band roots. Taking on this newer form of hip-hop electro rock has evolved Lotus into one of the premier late-night festival acts of the summer, and opened up the page for a whole new audience of listeners.
The release of Lotus's self-titled album in 2011 showed the group stride away from their more organic roots, and pursue more of an electronic dance vibe built for a late-night club atmosphere. The band's newest release, Build, shows the group progressing in the same electro direction while still keeping it stripped down and polished. Fluid synthesizers, hip-hop samples, and an array of horns similar to those heard in "Bush Pilot" drive the opening track, "Break Build Burn." It's a much heavier Lotus than heard in past albums, with much more emphasis on deep bass grooves and towering build-ups. Resembling a more toned and organized version of The New Deal, Lotus turns up the heat during "Neon Tubes part 1" and "Neon Tubes part 2," leaving the dance floor, or in this case the studio, crumbling in their wake. "This album was recorded live to analog tape in studios in Philadelphia and St. Louis," explains Luke Miller. "We used live drums, guitar, bass, Hammond organ, upright piano, analog synths, live percussion, and live horns from the group Rubblebucket, then peppered in electronic elements. The project was mixed through an analog process to give it a deep richness."
If you've attended a Lotus show in the past few months, chances are you've heard the heavy hitting new single, "Massif," at some point during the show. Guitarists Mike Rempel and Luke Miller lead the way through this grinding, dance heavy single that personifies the newer more technologically advanced style of play Lotus is bringing to the table. One of the more laidback, funky tracks entitled,  "Middle Road" can also be found on the new Build album. Enhanced by the smooth hand drums laid down by drummer Mike Greenfield, "Middle Road" made frequent appearances throughout Lotus's past tour and is making its way into the heavy rotation of Lotus's current repertoire. Also, in celebration of the release of Build, Lotus has released an official video for "Kodiak," which will capture the band's captivating live performance at Red Rocks Amphitheatre this past fall.
Build is just another chapter in Lotus's already highly successful career. A melodic mix of beats, bass, and rhythm, Build is sure to keep their passionate fans satisfied and eager to hear more. With festival season right around the corner and a brand new album to display their ferocious, swelling dance beats, you can bet that 2013 will be a defining year for Lotus. Be sure to catch the electro-rock group at festivals such as Electric Forest, Camp Bisco, and other major venues around the US this upcoming summer.